OPERATIONS-FOCUSED
EDUCATION PROGRAMS FOR EMPLOYEES
Upskill your manufacturing, distribution, and logistics workforce.
Contact Us to Learn More
Create a Better Skilled Workforce
With Online Operations and Logistics Employee Education Programs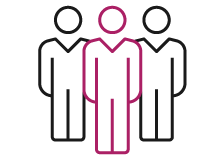 Attract
Recruit higher-potential talent by offering a competitive education benefits package.
Develop
Build a more mobile workforce, cultivate a talent pipeline, and provide opportunities for career growth.
Retain
Develop a workforce of loyal, invested employees; reduce turnover and lower external recruitment costs.
Maximize Your Return on Educational Investment With Business Operations Employee Training
Purdue Global provides workforce development for business operation employees that can be quickly mapped to your internal training. In addition, we award significant credit for prior learning and experience—you save time and money; your employees gain in-demand skills and knowledge.*

Customized Solutions
Purdue Global can create tailored training programs to address your organization's unique needs.

Full-Scale Offerings
From course bundles to certificates to undergraduate and master's degrees, we offer a comprehensive range of business programs.

Affordable
Employees can gain a valuable education—with no out-of-pocket tuition and no debt.†
Business Operations Industry News and Insights
Build employee expertise in areas such as business intelligence, information security, supply chain management, customer service, project management, procurement, and more.
Purdue Global Business Operations Educational Professionals
When you establish an education partnership with Purdue Global, you will have access to a team of experts with years of service and experience in your field. Click on a photo to learn more about our leadership team and to obtain contact information.
Contact Us Today
To learn more about our employee education programs for the manufacturing, distribution, and logistics industries, please fill out the form below.
NOTES AND CONDITIONS
*Purdue Global does not guarantee the transferability of credit from any of these sources. See the University Catalog for the Prior Learning Assessment policy.
†Refers to recipients of the Advantage Tuition Grant. Depending on the alliance partner, the Grant may cover the difference between eligible alliance organization employee tuition assistance and the cost of completion of a Purdue University Global degree. Students who choose to take out supplemental loans are responsible for their repayment in full, including interest and fees, and thus do not receive a no-cost, debt-free education. Reduced tuition recipients are not eligible for other Purdue Global scholarships, grants, military tuition reductions, tuition vouchers, or other reductions or Purdue Global Tuition Cap or ExcelTrack™ pricing.
‡Accenture, Combating the Skills Shortage in U.S. Manufacturing.
§Association for Talent Development, Bridging the Skills Gap: Workforce Development Is Everyone's Business.
#Cisco Blogs, "The Worst Problem in the Retail Industry? Turnover."