MEET THE DEMAND FOR
HIGHLY SKILLED CYBERPROFESSIONALS
Your employees can complete our accelerated CISSP prep program in just 30 weeks.*
Contact Us to Learn More
Fill Critical Cybersecurity
Talent Gaps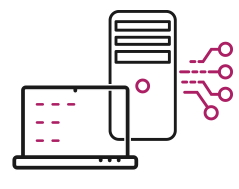 Maximize Resources
Increase your return on educational investment (ROEI).
Develop Talent
Promote from within, and save costs on external recruitment.
Retain Employees
Build a highly engaged and aligned workforce.
Strengthen Employee Skills to Combat Cybersecurity Threats
Purdue Global is partnering with businesses like yours to create custom cybersecurity education for employees. We can provide tailored degree programs for IT professionals.

Comprehensive
We provide CISSP and CEH certification preparation, antihacking educational programs, and curriculum to support other in-demand qualifications and capabilities.†

Personalized
Purdue Global can create a custom cybersecurity employee education program to fulfill a certification requirement or offer your employees an opportunity to complete their degree.
Effective
We provide educational solutions to solve talent gaps across the information technology field.
What Our Cybersecurity Education Partners Think
ManTech was unable to fill numerous positions because cybersecurity professionals were unable to pass the rigorous CISSP certification test. This put lucrative government contracts in jeopardy. We looked to university alliance programs, and Purdue Global was the only institution that offered dense content with practical connections and test-taking strategies.
Karen Gardner
Executive Director, Training and Organizational Development, ManTech

Cybersecurity News and Insights
Case Study

Customized Education Solutions for the Cybersecurity Industry

We recently partnered with ManTech International Corporation to provide tailored course offerings that prepare ManTech employees for the Certified Information Systems Security Professional (CISSP) certification. We can help your organization as well.

VIEW CASE STUDY

Infographic

The Cybersecurity Talent Gap Is Growing

With growing concerns about the nation's urgent talent shortage in this critical field, Purdue Global is partnering with industry leaders to educate cybersecurity professionals and help empower our digital society to use the internet safely and securely.

VIEW INFOGRAPHIC

Video

Purdue Global Education Solutions For The Cybersecurity Talent Shortage

Chris Wheedleton of Purdue Global and Karen Gardner of ManTech recently co-presented at the Chief Learning Officer (CLO) 2018 Symposium in Houston, TX, on the strategic benefits of building tailored employee education programs to help bridge the skills gap in cybersecurity and IT.

VIEW VIDEO
As your strategic partner, Purdue Global can help you identify critical talent gaps and address specific cybersecurity workforce needs.
Purdue Global IT Educational Professionals
When you establish an educational partnership with Purdue Global, you will have access to a team of experts with years of service and experience in your field. Click on a photo to learn more about our leadership and contact information.
Get in Touch Today
Learn more about our tailored cybersecurity employee education solutions. Fill out the form below, call us at 800-811-9819, or email education.partnerships@purdueglobal.edu.
NOTES AND CONDITIONS
*Program consists of three, 10-week courses. Completion time does not include standard term break weeks. Program will take longer for individuals who fail and need to retake a course.
†Students are responsible for understanding the requirements of optional certification exams. The University cannot guarantee students will be eligible to sit for or pass exams. In some cases, work experience, additional coursework beyond the Purdue Global program, fieldwork, and/or background checks may be necessary to be eligible to take or to successfully pass the exams.