MEET THE DEMAND FOR
HIGHLY SKILLED CYBERPROFESSIONALS
Offer your employees accelerated, customized cybersecurity education.
Contact Us to Learn More
Fill Urgent Talent Gaps
With Affordable Cybersecurity Education Programs for Your Organization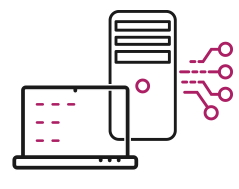 Attract
Recruit top talent by offering the benefits that matter most to today's IT professionals.
Develop
Upskill employees with in-demand credentials, provide career advancement opportunities, and promote from within.
Retain
Build a highly engaged and aligned workforce and save costs on recruitment.
Maximize Your Return on Educational Investment
Certification is a must for cybersecurity professionals. Make a vital investment in your workforce, and your business. As your strategic partner, Purdue Global can help you solve critical cybersecurity workforce challenges.

Customized
Purdue Global can create personalized cybersecurity training for employees to target your organization's specific needs.

Full-Scale
Our offerings range from CISSP and CEH preparation to antihacking programs to bachelor's and master's cybersecurity degrees.*

Affordable
Employees can complete cybersecurity training, certifications, or degrees with no out-of-pocket tuition—and no debt.†
What Our Cybersecurity Education Partners Think
ManTech was unable to fill numerous positions because cybersecurity professionals were unable to pass the rigorous CISSP certification test. This put lucrative government contracts in jeopardy. We looked to university alliance programs, and Purdue Global was the only institution that offered dense content with practical connections and test-taking strategies.
Karen Gardner
Executive Director, Training and Organizational Development, ManTech

Cybersecurity News and Insights
Case Study

Building Customized, Accelerated Cybersecurity Training for Employees

ManTech International Corp. urgently needed an effective cybersecurity training solution to fill a skills gap while allowing employees to stay engaged and productive in their current roles. We partnered with them to build a custom three-course CISSP training program.

VIEW CASE STUDY

Infographic

The Cybersecurity Talent Gap Is Growing

With growing concerns about the nation's urgent talent shortage in this critical field, Purdue Global is partnering with industry leaders to educate cybersecurity professionals and help empower our digital society to use the internet safely and securely.

VIEW INFOGRAPHIC

Articles

Upskill Your Workforce to Fill Cybersecurity Roles

Cybercrimes are on the rise and getting more sophisticated. Learn how to upskill your workforce to fill important cybersecurity roles.

Read the Article

Is Your Workforce Ready for Industry 4.0?

Industry 4.0, or the fourth industrial revolution, refers to how computerized technologies are changing manufacturing. Learn what Industry 4.0 means for businesses.

READ THE ARTICLE
A global shortage of 1.8 million cybersecurity professionals is expected by 2022.‡ Equip your employees with the certifications and training to rise to the challenge.
Purdue Global IT Educational Professionals
When you establish a cybersecurity education partnership with Purdue Global, you will collaborate with a team of experts who possess years of service and experience in your field. Click on a photo to learn more about our leadership team and get contact information.

Naomi Brezi
Vice President, National Partnerships
Email: naomi.brezi@purdueglobal.edu
Phone: 908-803-5773
As vice president, Naomi Brezi leads the national strategic partnerships team in forging and strengthening relationships with Fortune Global 500 companies to build and develop performance and organizational workforce development strategies. An experienced and knowledgeable performance executive and trusted advisor, she is passionate about helping clients achieve their business objectives and solve complex business issues.
Naomi is a graduate of New York University with a dual degree in finance and international business and is currently pursuing her master's degree in leadership and performance strategy. She serves as a regional leader for the Network of Executive Women (Carolinas region) and actively supports and volunteers at A Child's Place and Second Harvest Food Bank. Naomi enjoys time with her family, travel, and entertaining.
Naomi Brezi
Vice President, National Partnerships

Chris Motz
Executive Director, Regional Partnerships
Email: chris.motz@purdueglobal.edu
Phone: 301-739-2680
As executive director for strategic regional partnerships, Chris Motz leads the effort to bridge the skill gaps that corporate and community organizations have identified as areas of great need. Chris earned his Bachelor of Arts in Religion from Huntington College, a Master of Divinity from Huntington College Graduate School of Christian Ministries, and a Master of Arts in Higher Education from Ball State University. Chris is also a graduate of the Institute for Educational Management at Harvard University's Graduate School of Education and is currently enrolled in the Executive Juris Doctor program at Concord Law School of Purdue University Global.
In previous roles, Chris served as president of Hagerstown Business College, Kaplan College, and as an area president for Kaplan University. His combined experience in higher education and multilevel education environments enables him to drive strategy and partnership development that leads to positive growth outcomes for both the organization and the individuals who make it happen.
Chris Motz
Executive Director, Regional Partnerships
Contact Us Today
To learn more about our tailored cybersecurity employee education programs, please fill out the form below.
NOTES AND CONDITIONS
*Students are responsible for understanding the requirements of optional certification exams. The University cannot guarantee students will be eligible to sit for or pass exams. In some cases, work experience, additional coursework beyond the Purdue Global program, fieldwork, and/or background checks may be necessary to be eligible to take or to successfully pass the exams.
†Refers to recipients of the Advantage Tuition Grant. Depending on the alliance partner, the Grant may cover the difference between eligible alliance organization employee tuition assistance and the cost of completion of a Purdue University Global degree. Students who choose to take out supplemental loans are responsible for their repayment in full, including interest and fees, and thus do not receive a no-cost, debt-free education.