MEET THE TALENT SHORTAGE WITH
NURSING TRAINING SOLUTIONS
Your employees can study online while balancing job responsibilities.
Contact Us to Learn More
Build a Strong Nursing Workforce
With Affordable Nursing Training Programs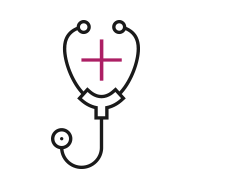 Recruit and Upskill
Attract top talent, provide career advancement, and help your registered nurses meet the Institute of Medicine goal of earning their BSN by 2020.*
Meet Business Objectives
Fill talent gaps and discover growth opportunities to meet your immediate and long-term staffing needs.
Maximize Resources
Improve retention, reduce turnover, and cut costs and time on recruitment.
Expand Expertise and Cultivate a Talent Pipeline
Our nursing training programs are mapped to employees' previous education and experience, allowing them to focus on the specific knowledge, skills, and credentials they require.

RIGOROUS
Equip your nurses to deliver the highest-quality patient care and to advance into higher-level nursing positions within your organization.

COMPREHENSIVE
Our wide range of programs include RN-to-BSN, MSN, and DNP—or we can customize a program to fit your needs.

INDUSTRY ALIGNED
Employees can customize their BSN with nursing electives aligned to certifications recognized by the Magnet Recognition Program®.†
Nursing News and Insights
Revolutionize your nursing workforce with our accelerated and personalized competency-based ExcelTrack™.**
Purdue Global Nursing Education Professionals
When you establish an education partnership with Purdue Global, you will collaborate with a team of experts with years of service and experience in your field. Click on the photo to learn about our leadership and find contact information.

Naomi Brezi
Vice President, Strategic Partnerships
Email: naomi.brezi@purdueglobal.edu
Phone: 908-803-5773
As vice president, Naomi Brezi leads the national strategic partnerships team in forging and strengthening relationships with Fortune Global 500 companies to build and develop performance and organizational workforce development strategies. An experienced and knowledgeable performance executive and trusted advisor, she is passionate about helping clients achieve their business objectives and solve complex business issues.
Naomi is a graduate of New York University with a dual degree in finance and international business and is currently pursuing her master's degree in leadership and performance strategy. She serves as a regional leader for the Network of Executive Women (Carolinas region) and actively supports and volunteers at A Child's Place and Second Harvest Food Bank. Naomi enjoys time with her family, travel, and entertaining.
Naomi Brezi
Vice President, Strategic Partnerships

Dominick Squicciarini
National Director, Strategic Partnerships, Health Care and Nursing
Email: dsquicciarini@purdueglobal.edu
Phone: 815-505-5298
With previous experience as an educator, researcher, and health care provider, Dominick Squicciarini is passionate about education and its transformative effects. In fact, for the last 10 years, as an assistant dean of curriculum, he has helped launch innovative nursing and health science programs from associate's to doctoral-level degrees at Purdue Global (formerly Kaplan University). As national director, Dominick now shares that passion by helping organizations connect their strategic goals to customized educational solutions.
Dominick Squicciarini
National Director, Strategic Partnerships, Health Care and Nursing
Get in Touch Today
Learn more about our tailored nursing employee education program. Fill out the form below, call us at 872-529-5357, or email education.partnerships@purdueglobal.edu.
NOTES AND CONDITIONS
*Source: Institute of Medicine, "Assessing Progress on the IOM Report The Future of Nursing," December 2015.
†The Magnet Recognition Program® is a registered trademark of the American Nurses Credentialing Center. Students are responsible for understanding the requirements of optional certification exams. The University cannot guarantee students will be eligible to sit for or pass exams. In some cases, work experience, additional coursework beyond the Purdue Global program, fieldwork, and/or background checks may be necessary to be eligible to take or to successfully pass the exams.
‡Source: Association of American Medical Colleges, The Complexities of Physician Supply and Demand: Projections from 2016 to 2030 (2018 update).
§Source: B. E. Smith, Industry Report: Looming Talent Shortages Require Attention
#Source: American Association of Colleges of Nursing, The Impact of Education on Nursing Practice (updated April 2019).
**ExcelTrack™ is available for select programs. Degree pace and time and cost savings will vary by individual.