FINANCIAL SERVICES
EMPLOYEE EDUCATION PROGRAMS
Helping your organization improve talent development
Contact Us to Learn More
Trained Employees
Improve Your Customer Experience and Loyalty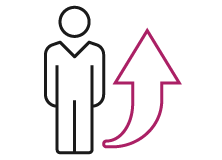 Attract and Retain
Attract and retain top talent, improving employee retention as well as customer satisfaction.
Develop Talent
Create a talent pipeline so you can promote from within, saving costs and time on recruitment.
Meet Business Objectives
Increase your bottom line—financial services organizations can realize greater ROI and net savings with education for financial services employees.
Form a Strategic Educational Partnership to Solve Core Workforce Challenges
Purdue Global will (1) help identify critical issues and talent gaps and (2) tailor innovative employee training across functions in financial services.

AFFORDABLE PROGRAMS
Your employees can earn a degree that helps them grow within your organization—with no out-of-pocket tuition and no debt.*

FULL-SCALE OFFERINGS
From customized course bundles and certificates to undergraduate and master's degrees, we offer a comprehensive range of business and IT programs.

RAPID ARTICULATION
We can quickly map our programs to your internal training, as well as maximize credit for prior learning and experience, saving time and lowering costs.†
What Our Financial Services Training Partners Think
I have been surprised by [the University's] flexibility and thinking. We have to keep blending business and academia to go beyond traditional learning models and find new ways to solve problems.
Diane Howe
Assistant Vice President, Group Claims and Operations, Principal Financial Group
Financial Services Industry News and Insights
Build employee expertise in areas such as human resources, management, investment, wealth management, finance, accounting, customer service, and more.
Purdue Global Financial Services Training Professionals
Our employee education partnership team is composed of experts with years of service and experience in your field. Click on their photos to learn about our leadership team and to access their contact information.

Karmen Spear
Executive Director, National Partnerships
Executive Director, National Partnerships
Email: karmen.spear@purdueglobal.edu
Phone: 717-377-0251

Karmen Spear is a strategic, results-oriented leader who works closely with our corporate and community partners as executive director, national partnerships. She earned her Bachelor of Science in Business Administration from Purdue Global (formerly Kaplan University), graduating summa cum laude, and is currently pursuing her Master of Science in Leadership and Management with a concentration in human resources. With a keen understanding of gainful employment and career services, Karmen is able to offer our corporate partners a student's viewpoint as well as that of a senior manager in corporate America. Focused on leadership, mentoring, and providing options for traditional and nontraditional students, Karmen understands how to drive change and embrace transformation in business.

Karmen previously served as vice president of operations with Citi and Costco, and as a senior manager and leadership specialist for organizations such as American Express and MasterCard. She has also worked extensively in higher education with Kaplan Test Prep, supporting the admissions process and career services.
Karmen Spear
Executive Director, National Partnerships

Chris Motz
Executive Director, Regional Partnerships
Executive Director, Regional Partnerships
Email: chris.motz@purdueglobal.edu
Phone: 301-739-2680
As executive director for strategic regional partnerships, Chris Motz leads the effort to bridge the skill gaps that corporate and community organizations have identified as areas of great need. Chris earned his Bachelor of Arts in Religion from Huntington College, a Master of Divinity from Huntington College Graduate School of Christian Ministries, and a Master of Arts in Higher Education from Ball State University. Chris is also a graduate of the Institute for Educational Management at Harvard University's Graduate School of Education and is currently enrolled in the Executive Juris Doctor program at Concord Law School of Purdue University Global.
In previous roles, Chris served as president of Hagerstown Business College, Kaplan College, and as an area president for Kaplan University. His combined experience in higher education and multilevel education environments enables him to drive strategy and partnership development that leads to positive growth outcomes for both the organization and the individuals who make it happen.
Chris Motz
Executive Director, Regional Partnerships

Matthew Cote
Executive Director, Strategic Partnerships
Executive Director, Strategic Partnerships
Email: mcote@purdueglobal.edu

As executive director, strategic partnerships, Matt Cote leads the effort to provide educational solutions to the corporate business community and community college systems in the northeast region of the United States. Over the past decade, Matt has served in various positions in higher education, including admissions and operations, and most recently served as a campus president for the Purdue Global (formerly Kaplan University) Augusta, Maine, campus. His passion for higher education and workforce development drives him to meet the unique business needs of each client across all industries.
Matt is very active in the communities across New England and serves as a board member of the Maine State Chamber of Commerce. He earned his Bachelor of Science in Leadership and Organizational Studies from the University of Southern Maine, and his Master of Science in Organizational Leadership from Southern New Hampshire University.
Matthew Cote
Executive Director, Strategic Partnerships
Contact Us Today
To learn more about our financial services employee education solutions, please fill out the form below.
NOTES AND CONDITIONS
Purdue Global cannot guarantee employment or career advancement.
*Refers to recipients of the Advantage Tuition Grant. Depending on the alliance partner, the Grant may cover the difference between eligible alliance organization employee tuition assistance and the cost of completion of a Purdue University Global degree. Students who choose to take out supplemental loans are responsible for their repayment in full, including interest and fees, and thus do not receive a no-cost, debt-free education. Reduced tuition recipients are not eligible for other Purdue Global scholarships, grants, military tuition reductions, tuition vouchers, or other reductions or Purdue Global Tuition Cap or ExcelTrack™ pricing.
†Purdue Global does not guarantee the transferability of credit from any of these sources. See the University Catalog for the Prior Learning Assessment policy.
‡Source: Nielsen, "In Financial Services, Customer Service Can Be a Deal Maker—Or a Deal Breaker."