MEET THE DEMAND FOR
TRAINED MEDICAL ASSISTANTS
Your employees can complete our accelerated education program in just 8 months.
Contact Us to Learn More
Grow Your
Medical Assistant
Workforce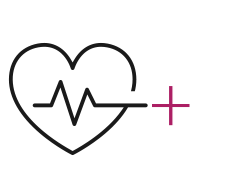 Maximize Resources
Increase your return on educational investment (ROEI).
Develop Talent
Promote from within, and save costs on external recruitment.
Retain Employees
Build a highly engaged and aligned workforce.
Fill the Growing Talent Shortage of Medical Assistants
Purdue Global offers customized medical assistant education for employees. Our expedited Medical Assistant Certificate program helps health care organizations meet critical staffing needs.

Accelerated
Employees complete our medical assistant training program in 8 months, versus the standard 15 months.*

Rigorous
The broad curriculum prepares your employees with the patient care and administrative skills needed to work in a physician's office or clinic.

Efficient
We map your employees' existing knowledge directly to our degree plans, allowing them to bypass what they already know and focus on attaining new skills, saving you time and money.†
What Our Medical Assistant Education Partners Think
We were down to just a few medical assistants. [We had] to stabilize turnover. [The program] also provided an opportunity [for employees] to do something they wouldn't do otherwise. We saw their passion and interest in patient care. Some saw it as a great opportunity to move into patient care… With the medical assistant program, we know it is something that helps the organization and the lives of people who work here.
Mason Quackenbush
Director of Human Resources and Recruitment Services, Gundersen Health System‡

Medical Assisting News and Insights
Case Study

Creating a Customized and Expedited Medical Assisting Training Program

Faced with a severe talent shortage, Gundersen Health System urgently needed trained medical assistants. The University customized an intensive training program—in 6 months, 93% of employees completed the program and moved into medical assistant positions.

VIEW CASE STUDY
In our fast-paced program, your employees gain the skills needed to hit the ground running in medical assistant positions—in just 30 weeks.
Purdue Global Health Care Educational Professionals
When you establish a medical assistant education partnership with Purdue Global, you will have access to a team of experts with years of service and experience in your field. Click on a photo to learn more about our leadership and contact information.

Chris Wheedleton
Vice President, Strategic Corporate and Community Partnerships
Vice President, Strategic Corporate and Community Partnerships
Email: chris.wheedleton@purdueglobal.edu
Phone: 202-805-3696

As vice president of corporate and community partnerships, Chris Wheedleton leads the effort to bridge the skill gaps that corporate and community organizations have identified as areas of great need. Chris earned his Bachelor of Science in Education from Pennsylvania State University and his Master of Business Administration with a focus in education leadership from Johns Hopkins University.

In previous roles, Chris served in escalating leadership roles in corporate America with Nabisco, Kraft, and Pepsi, as well as in education with EdisonLearning, Sylvan Learning, and the University of Maryland. His combination of experience in corporate as well as multilevel education environments enables him to drive strategy and partnership development that leads to positive growth outcomes for both the organization and the individuals who make it happen.
Chris Wheedleton
Vice President, Strategic Corporate and Community Partnerships

Dominick Squicciarini
National Director, Strategic Partnerships, Health Care and Nursing
National Director, Strategic Partnerships, Health Care and Nursing
Email: dsquicciarini@purdueglobal.edu
Phone: 815-505-5298
With previous experience as an educator, researcher, and health care provider, Dominick Squicciarini is passionate about education and its transformative effects. In fact, for the last 10 years, as an assistant dean of curriculum, he has helped launch innovative nursing and health science programs from associate's to doctoral-level degrees at Purdue Global (formerly Kaplan University). As national director, Dominick now shares that passion by helping organizations connect their strategic goals to customized educational solutions.
Dominick Squicciarini
National Director, Strategic Partnerships, Health Care and Nursing
Get in Touch Today
Learn more about our tailored medical assistant employee education program. Fill out the form below, call us at 872-529-5357, or email education.partnerships@purdueglobal.edu.
NOTES AND CONDITIONS
*Completion time based on cohort program sequencing and enrollment in dedicated cohort course sections. Program will take longer for individuals who fail and need to retake a course.
†Purdue Global does not guarantee the transferability of credit from any of these sources. See the University Catalog for the Prior Learning Assessment policy.