GIVE YOUR EMPLOYEES
THE EDGE TO SUCCEED IN RETAIL
Upskill your workforce with online retail education solutions.
Contact Us to Learn More
Address Core Workforce Challenges
With Retail Education Programs for Employees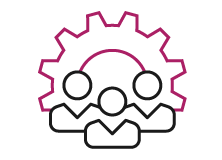 Attract
Recruit better retail talent by offering a competitive education benefits package.
Develop
Provide a path for advancement, and prepare your employees to deliver exceptional customer experiences.
Retain
Develop a workforce of loyal, invested employees; reduce turnover and lower external recruitment costs.
Maximize Your Return on Educational Investment With Training Programs for Retail Employees
Purdue Global provides education programs for retail employees that can be quickly mapped to your internal training. In addition, we award significant credit for prior learning and experience—you save time and money; your employees gain new skills and knowledge, with a faster path to a degree.*

Customized
We can tailor business training programs to address your organization's unique needs.

Full-Scale Offerings
From certificates to undergraduate and master's degrees, we offer a comprehensive range of employee education programs.

Affordable
Help your employees attain a world-class education without the burden of costly tuition or debt.†
Retail Industry News and Insights
Build employee expertise in areas such as customer service, sales, marketing, management, logistics, operations, project management, and procurement.
Contact Us Today
To learn more about our retail employee training programs, please fill out the form below.