Search for "nursing shortages" online, and you'll find news stories that go back more than 10 years, when the oldest baby boomers started to hit retirement age and projections for nursing shortages began to pop up across the country.
Is the nurse shortage real? Yes and no. Shortage depends on two key factors: one, where you live, and two, what type of nurse you're looking for. In some areas, RNs are scarce; in other areas, LPNs are in high demand.
In this post, we'll examine which locations in the U.S. are most affected by nursing shortages and how some health care organizations are getting creative to provide nursing shortage solutions.
Geography of Supply and Demand for Nurses
Nationally, the supply of nurses outweighs demand, according to the Health Resources and Services Administration (HRSA). HRSA predicts that by 2030, RN supply will outpace RN demand by nearly 300,000 registered nurses. However, before health care employers take satisfaction in the greater supply of nurses, they should consider other factors that affect workforce supply; namely, they have to look at geography.
HRSA in 2017 used a simulation model to predict supply and demand of nursing professionals through 2030 in all 50 states. The takeaway: nursing shortages depend on where you live.
States With Registered Nurse Shortages
HRSA predicts by 2030, these seven states will have the largest shortages of full-time RNs (the numbers in parentheses represent the expected shortfall of registered nurses in that state):
California—44,500
Texas—15,900
New Jersey—11,400
South Carolina—10,400
Alaska—5,400
Georgia—2,200
South Dakota—1,900
Several states in the same report are expected to have surpluses in registered nurses; however, nurses tend to stay in the states where they study. So a nursing surplus in Florida (+53,700) doesn't help offset shortages in other states.
Other Factors That Affect Nursing Shortages
Baby boomer nurses are retiring. AMN Healthcare, a workforce management and recruitment company, surveyed registered nurses in 2015 and 2017 and found that the number of RNs who say they intend to retire in the next three years had increased.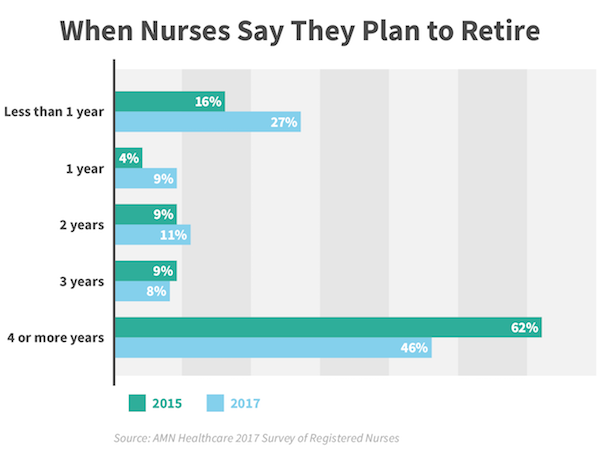 Universities are experiencing a shortage in nurse educators. In 2018, U.S. nursing schools turned away more than 75,000 qualified applicants to bachelor and graduate degree programs, according to the American Association of Colleges of Nursing (AACN). The primary reason? Faculty shortages. The reason for faculty shortages? One reason, according to the AACN, is that universities have a hard time competing with salaries that clinical and private-sector organizations offer.
Job satisfaction may be declining, causing nurses to leave the profession. The same AACN research suggests that nursing shortages increase stress levels of nurses. Staff shortages, longer work hours, and unhappy patients contribute to a negative work environment, which can cause nurses to exit the field.
To address nursing shortages, many health care organizations are doing what you'd expect: offering signing bonuses, relocation packages, and student loan forgiveness. One employer even offered new nurses a chance to win a Ford Mustang convertible, according to StatNews.com.
The next section looks at four states with the biggest deficits in RNs—California, Texas, New Jersey, and South Carolina—and the innovative ways they are addressing nursing shortages.
Nursing Shortage Solutions: How Employers Are Attracting and Retaining Nurses
California
HRSA predicts that California will have the highest deficit of RNs by 2030, so employers there have had to get creative.
Scripps Health in San Diego offers a 40-week training and development program for recent registered nurse graduates to train them in areas of critical need: medical/surgical, definitive observation/telemetry, oncology, and cardiac.
Texas
Medical City, a 14-hospital network in Texas with 11 outpatient surgery centers and 32 urgent care centers, offers a Texas Two-Step Nursing Program (yes, that's really the name) for employees who work in non-nursing jobs. In exchange for covering the costs of tuition, fees, books, and uniforms, the student agrees to a two-year commitment to working full time for Medical City as an RN, according to Advisory.com. Other health care organizations in the state offer accelerated programs to shift into specialty programs.
New Jersey
According to The Press of Atlantic City, nursing is fairly stable statewide in New Jersey, but some specialties are seeing shortages (home health, hospice, labor and delivery, and surgical). Employers in New Jersey are using strategies similar to those in California and Texas, but according to the Press story, state and federal funding is helping universities offer competitive salaries to attract nurse educators.
South Carolina
Spartanburg Regional Healthcare System in South Carolina offers tuition reimbursement, board certification programs, residency programs for new graduates, and leadership advancement opportunities. They also list "relocation incentives" for some positions.
Educational Partnerships: An Innovative Approach to Nursing Shortages Can Help Health Care Companies
An education partnership can help health care companies get ahead of predicted nursing shortages. Purdue Global partners with health care organizations all over the country to create customized employee development programs that can help build your workforce and solve staffing shortages.
A Purdue Global education partnership can help you attract, develop, and retain nurses. Advantages of such a program include:
Lower employee turnover
Growth opportunities for employees
Cost savings by promoting from within rather than recruiting and training new employees
Education that combines industry best practices with each health care organization's own standards of care
The university's team maps out customized solutions for health care organizations so they can compare costs and returns on educational investment. In some cases, we have been able to use the health care organization's existing clinical settings for onsite training and education, in combination with Purdue Global's state-of-the-art online education platform.
Find out more about Purdue Global's corporate nursing training programs.