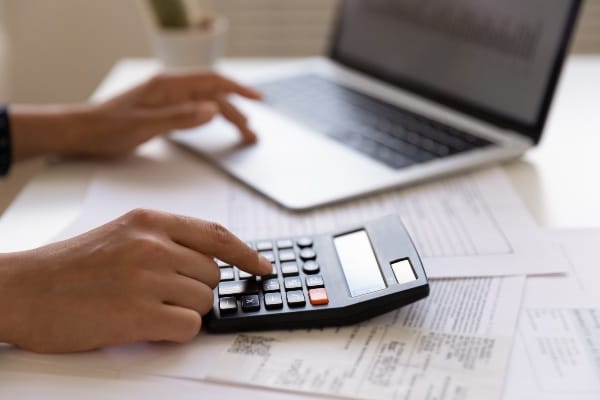 May 13, 2022 | Purdue Global
For many students, attending college presents a financial challenge. According to the Education Data Initiative, 84% of college students in the U.S. receive some form of financial aid. The average college student will borrow more than $30,000 to pay for school.
To make matters more complicated, college students need to balance academic expenses with personal expenses. This can be especially challenging for adult learners who may be financially supporting children or other dependents.
In this guide, we'll cover what you need to know about saving, spending, and budgeting. You'll also find financial literacy tips and tools to help you manage your money more effectively as you complete college.
What Expenses Should Students Expect?
Tuition is, of course, an unavoidable expense for college students. The cost of tuition varies widely depending on the school, type of degree, length of the program, and whether you are an in-state or out-of-state student. According to the Education Data Initiative, the annual cost of tuition for undergraduate students ranges from approximately $9,300 to $35,800.
Tuition isn't the only expense to consider, though. Both online and on-the-ground college students should be prepared to pay for:
Textbooks
Technology
Transportation
Fees
Housing
Childcare (if applicable)
Health care
Interest on student loans
You should also plan ahead for any lost wages that could occur if you decide to cut back on hours to focus more on school.
How Can Students Pay for School?
Most students need some form of financial assistance to pay for school. CollegeBoard's Trends in College Pricing and Student Aid 2021 report states that the average graduate student receives the following in financial aid:
$17,540 in federal loans
$8,860 in grants
$460 in tax credits
As this report indicates, it's common for students to use multiple funding sources to cover school-related expenses. Below, we dive into a few ways adult college students can pay for school.
Scholarships and Grants
Look into scholarship and grant opportunities before taking out a loan to pay for college. Scholarships tend to be awarded based on academic, athletic, artistic, or special-interest merit; grants are usually awarded based on financial need.
Scholarships can come from a variety of sources, including schools, industry associations, foundations, local businesses, and religious institutions. Some scholarships are targeted toward specific demographics, such as minority students.
Schools and foundations may also offer grants—for example, Purdue Global offers a Returning Student Relief Grant—but many grants come from the federal government. Filling out the Free Application for Federal Student Aid (FAFSA) is an essential first step in seeing if you qualify for federal grants.
>> Read: 9 Ways to Find Scholarships for College Students
Student Loans
Student loans are a common way to pay for the expenses of going to college. According to the Board of Governors of the Federal Reserve System, taking out a loan to pay for school is especially common amongst those with graduate degrees. 68% of graduate degree recipients ages 30 to 44 reported acquiring debt to pay for their education.
Some loans are offered by the federal government, while others are offered by private banks or financial institutions. Federal loans tend to have lower interest rates and more flexible repayment plans than private loans. To apply for federal loans, you will need to fill out the FAFSA.
In most situations, student loan repayment will not begin until you have graduated with your degree. However, interest usually begins accruing immediately, so it's important not to borrow more than you need to.
Employer Tuition Assistance
Gaining a degree within your field of work can grow your knowledge and make you a more well-rounded employee. For this reason, some employers offer tuition assistance for employees who are actively attending school. If you're currently employed, check in with your HR department to see if your company offers tuition reimbursement. Be sure to ask about what types of classes are eligible.
Tax Credits
College students who meet certain criteria are eligible for tax credits. These can help you ease the financial burden of college by reducing the amount of taxes you owe each year. Two of the most common education tax credits are:
American Opportunity Tax Credit: This credit is available to eligible students during their first 4 years of college. You can receive a maximum annual credit of $2,500.
Lifetime Learning Credit: This credit can reduce the taxes you owe by up to $2,000 every year. There is no limit on the number of years you can claim the credit, and many different types of students are eligible—including undergraduates, graduate students, and those taking individual professional courses.
Savings Plans
There are certain types of savings accounts that are specifically designed for paying for education—one of the most common being the 529 plan.
A 529 plan—also called a qualified tuition plan—is a state-sponsored savings plan intended for long-term savings. As long as the money is used on educational expenses, you don't have to pay taxes on your earnings.
It's common for adults to set up 529 plans for their children. However, you can take advantage of this option even if your parents never had a 529 plan. You can set up your own 529 plan savings account and name yourself as the beneficiary. Alternatively, if you have a 529 plan for your child and have funds left over after they go to college, you can roll this money into a new plan to pay for your own college education.
>> Read: 6 Tips to Help You Afford College
How Can Students Save Money?
What is financial literacy, and how does it affect college students? Simply put, financial literacy is the understanding of financial concepts and the ability to make informed financial decisions on a daily basis. Financial literacy for college students may include knowing how to budget, how student loans work, and how to manage daily expenses.
We've already covered some options for paying for school, but how can you reduce the overall cost of college? Here are five ways you can save money as a college student.
1. Avoid Paying Full Price for Textbooks
Textbooks can be expensive. Instead of buying them new, consider buying them from other students, buying used copies, renting them, or using digital copies.
Websites such as Amazon, Chegg, AbeBooks, and BookFinder can help you search for affordable copies. Sometimes you can even find PDFs of older versions of textbooks uploaded online, but be aware they may lack up-to-date information you'll need for class.
2. Explore Prior Learning Assessments
If you're an adult heading back to school, you likely already have a few years of experience in the workforce. What if you could turn this real-life experience into college credits?
With prior learning assessments, you can. Prior learning assessments are programs that give you credit for college-level skills you already have. These programs can shave classes off of your degree plan, saving you money in the long run.
In most cases, you'll need to complete a challenge exam to prove your understanding of the material. These are similar to Advanced Placement tests for students who completed AP courses in high school. The leading challenge exam is the College-Level Examination Program (CLEP). There are many CLEP exams that can take the place of intro-level college courses. Colleges and universities may vary in terms of what types of prior learning assessments they accept, so be sure to speak with an academic advisor before pursuing this option.
3. Learn Online
BestColleges' 2022 Online Education Trends Report states that 70% of students think online learning is better than or equal to on-campus learning, and it's not hard to see why. Studying online has many benefits for degree-seeking adults. From a financial perspective, you can avoid the costs associated with on-campus housing or traveling to and from class every day. Plus, if you want to continue to hold a part-time or even full-time job while going to school, having the flexibility to take classes on your own schedule can be a lifesaver.
4. Watch Your Use of Credit Cards
It can be tempting to throw your tuition payments on a credit card, but it's important to consider how this debt could compound over time. It might seem manageable now, but it could easily take longer to pay off than you anticipate. And the longer your debt goes unpaid, the more you'll owe in interest. Be sure to explore all grants, scholarships, and other financial options before using your credit card to pay for education-related expenses.
5. Use a Budget
You've probably heard that one of the best ways to control spending as a college student is to budget your money, but what is budgeting exactly? A budget is essentially a spending plan that takes into account all of your income and expenses. By tracking your money, you can keep spending under control, stay out of debt, and plan ahead for the future.
How to Create a Budget
There aren't too many steps to creating a budget—the biggest challenge is maintaining it. StudentAid.gov offers these six tips on how to budget money as a student.
1. Determine a Time Span
You can create a budget for whatever time frame you'd like, although 1 month is a popular option. As a student, you could create a separate budget for each term, carefully considering how your expenses might change over the course of the semester (for example, you'll probably pay more for education-related expenses such as textbooks and supplies at the beginning of the semester).
2. Break Down Your Income
For your budget to be effective, you need to know where your income is coming from. In addition to any income you get from your job, include financial aid that can be applied toward tuition, fees, and other expenses. Determine how much income you will be receiving over the time span of your budget.
3. List Your Expenses and Track Your Spending
Next, you'll want to list out all of your expenses over the course of your budget's time span. You can estimate expenses by looking at past bank statements and credit card statements. Anticipate the costs of tuition, textbooks, school supplies, transportation, and other costs.
Over the next month, record all of your purchases and add these to your budget, adjusting your original estimates as necessary. It can be helpful to organize your expenses into different categories, such as education, food, housing, and entertainment. Separating expenses into needs and wants can help you figure out where you can cut back.
4. Do the Math
After you've tracked your spending for long enough to get an accurate picture of your finances, it's time to see how your income compares to your expenses. Subtract your total expenses from your income, making sure you are using the same time frame for each.
You want to ensure your expenses aren't higher than your income. If you end up with a negative number after subtracting your expenses from income, it means you are losing money. Take a look at your variable expenses and consider ways to reduce nonessential spending.
5. Save Your Money
Continue monitoring your spending each month. As you make day-to-day purchases, be mindful of your budget and consider whether or not you really need what you are buying. Reducing spending on items such as coffee, eating out, and entertainment can go a long way.
If you have a comfortable amount of money left over at the end of the month or the term, don't let it tempt you. Save it for future expenses, such as next semester's tuition.
6. Revisit Your Budget
An essential part of budgeting is revisiting your budget frequently and updating it as needed. Over time, your expenses are likely to shift. It's important to have a plan for how you will cover any new or unexpected expenses. Set new savings goals that are aligned with your current financial situation.
Tools and Resources to Help Students Manage Money
Whether you're looking for budgeting help or simply want to expand your financial literacy, here are a few financial resources to bookmark.
Apps
EveryDollar: This app offers an easy way to budget. As you track expenses throughout the month, EveryDollar will do the math for you. There is a free version as well as a paid upgrade.
Mint: This popular app from Intuit tracks expenses and income. You can also set custom savings goals. The basic tool is free, but there is also a premium version.
You Need a Budget: Discover You Need a Budget's four-step method to saving and organizing your finances when you use their app. You can get a free trial for the first month.
Programs
Google Sheets: This web-based spreadsheet application is a favorite for budgeting. Since it's stored on the cloud, it can easily be shared with other family members.
Microsoft Excel: Excel offers several budgeting templates, including a template specifically for college students. All are free to use and can be saved directly on your computer.
Sites
Additional Financial Aid Support
Figuring out how to pay for college while balancing your other expenses can be difficult. At Purdue Global, we are committed to helping our students find ways to save. We'll guide you through the financial aid process and answer any questions you may have along the way. Learn more about Purdue Global's tuition and financial aid services.
If you would like to connect with an advisor on any of our online degree programs, fill out our online form to request more information.
---
Your Path to Success Begins Here
Learn more about online programs at Purdue Global and download our program guide.
Request Information