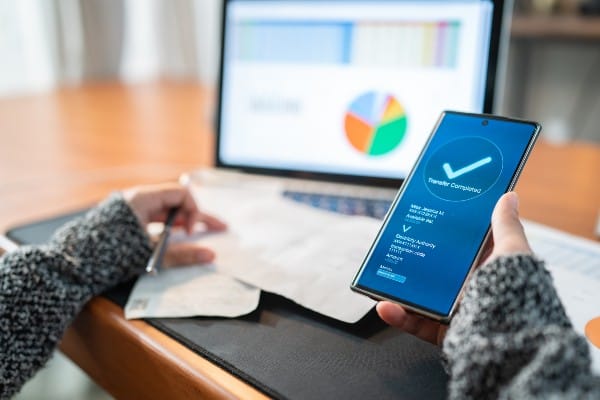 June 10, 2022 | Purdue Global
Keeping track of your expenses can be complicated, but it's an essential aspect of saving money. Thankfully, there are plenty of apps and tools designed to take some of the stress out of managing your finances.
A survey by The Penny Hoarder found that 40% of people who follow a budget manage their money with spreadsheets. In addition, 14% of budgeters use a budgeting app.
Whether you're looking to save up for a large expense or pay down student loan debt, personal finance resources can set you up for success. This guide provides a list of the best personal finance apps, tools, websites, and books that can help you stick to a budget and grow your savings.
Personal Finance Apps
1. Mint
Mint is often cited as one of the best budgeting apps for people looking to keep track of their spending. The app automatically tracks and categorizes your expenses throughout the month, allowing you to see how much you spend on certain categories. You can also create and manage different spending goals.
2. You Need a Budget
You Need a Budget follows a four-step method to saving money that involves assigning funds to digital envelopes, planning ahead for the large expenses, and consistently spending less than you earn. You can get a free trial for the first month.
3. EveryDollar
Created by Ramsey Solutions, EveryDollar lets you create a personalized budget with as few or as many categories as you would like. You can also set up savings goals and due date reminders for expenses that need to be paid on a certain day. There is a free version as well as a paid upgrade.
4. Personal Capital
Personal Capital is a free personal finance app for mobile, tablet, and desktop. It lets you view all of your accounts—including checking, savings, and investments—in one place. Unlike many of the other personal finance apps listed in this guide, Personal Capital has a retirement planning feature. This retirement tool allows you to forecast how your retirement savings may grow over time.
5. PocketGuard
The goal of the PocketGuard app is to show you how much of the money in your accounts is spendable. In other words, how much money do you have that is not allocated for bills, ongoing expenses, or automatic savings contributions? By showing you exactly how much money you will have left over after your monthly expenses, PocketGuard can prevent you from accidentally overspending.
Looking for a personal finance app that lets you share your budget with others in your household? Check out Spendee. This app offers a shared wallet feature, allowing couples, families, and roommates to track their expenses against a shared budget. Like other budgeting apps, Spendee syncs to your bank accounts, tracks your spending, and sends you reminders for upcoming bills.
7. Prism
Prism is a personal finance app that focuses on helping you pay your bills on time. It gives you a complete picture of your finances by showing you the balance of your bank accounts along with your upcoming bill payments. The app can pull in data from 11,000 other billers across the U.S.
8. Acorns
One of the signature features of the Acorns app is the ability to invest spare change into investment accounts. This app is a great choice for people who are new to investing, as it makes setting up and managing your investment accounts simple. In addition to rounding up your purchases, Acorns partners with hundreds of brands that provide you with bonus investments when you shop with an Acorns-linked account.
9. Simplifi
Like other apps, Simplifi connects to your bank accounts and allows you to create savings goals. What sets Simplifi apart is its customizable spending plans, which are automatically generated based on the goals you set. These spending plans help ensure that you don't spend more than you can afford.
10. Digit
Digit is an all-in-one personal finance app that helps you budget and invest. When you send money to the app, you can decide how much to allocate for bills, savings, and long-term investments. By separating your funds into different categories, you can make progress toward your savings and investment goals without worrying about whether or not you'll have enough money left over for monthly expenses.
Personal Finance Tools
11. Google Sheets
Google Sheets is a free application that allows you to create custom spreadsheets. It's one of the best budgeting tools out there, as long as you don't mind doing some of the legwork yourself. Since your spreadsheet is stored on the cloud, it's great for people who want to share their budget with other members of their household. The downside is that Google Sheets cannot automatically pull in any of your financial data—you'll need to track that down yourself.
12. Microsoft Excel
Microsoft Excel has a variety of budgeting templates you can use to create your custom budget. These templates make it easy for you to organize and categorize your expenses. If you prefer to have more control over how your budget is organized, you can also create a budgeting sheet from scratch.
13. Bankrate Financial Calculators
If you're trying to get your finances in order, we recommend bookmarking Bankrate's financial calculators page. This page features dozens of calculators, covering everything from mortgages to payroll deductions. Whether you want to estimate how your savings could grow over time or you're wondering how the interest rate on a loan could affect your monthly payments, these calculators can help.
14. Quicken
Quicken is a personal finance software for Windows and Mac. Features include category-based budgeting, custom savings goals, bill management, tax planning, and investment management. There is not a free version available, but you can get a free trial for 30 days.
15. PocketSmith
In addition to budget tracking, the web-based PocketSmith tool provides cash flow forecasting. These cash flow projections can give you an idea of what your daily bank balances might look like up to 30 years in the future. You can input different scenarios for each of your accounts, and PocketSmith will adjust your financial outcomes accordingly.
16. Tiller
If you're using Google Sheets or Microsoft Excel to budget your expenses, you might want to look into Tiller. Tiller is a third-party tool that imports your financial information into Google Sheets or Excel. To get started, you need to link your bank accounts and credit cards with Tiller. From there, the program can pull the daily transaction data into a budgeting spreadsheet. Tiller subscribers also have access to exclusive budgeting templates.
17. Mvelopes
Have you heard of the "envelope" method of budgeting? It works by taking a sum of cash and separating it into different expense categories. The goal is to not spend more money than you've allocated for each category. Mvelopes takes this budgeting method and adapts it to a web and mobile application. After you sign up, you create a spending plan that outlines how much money you have available for different categories throughout the month.
18. GnuCash
GnuCash is a free accounting software for small businesses as well as personal use. It allows you to track your account balances, income, expenses, and investments. What makes GnuCash unique is that it is developed and maintained entirely by volunteers.
19. Goodbudget
Goodbudget is a budgeting software that lets you sync and share budgets with family members and friends. It follows the envelope method, letting you set aside money at the beginning of each month for different expense categories. There is a web version as well as a mobile app.
20. TurboTax
TurboTax is one of the easiest ways to file your taxes. The software guides you through the process of filing, asking questions about your financial situation. In many cases, you can automatically import W-2 information from your employer. If your tax return is simple, you may qualify for TurboTax Free Edition. Generally speaking, the more complicated your return is, the more TurboTax will charge to complete your return.
Personal Finance Websites
21. Debt.org
Debt.org refers to itself as "America's Debt Help Organization." The website hosts a robust library of financial information, most of which is focused on strategies for reducing debt. Some common topics include student refinancing, debt consolidation, and how to pay off your loan faster.
22. Federal Student Aid
The Federal Student Aid website is an official source of information for how to apply for and manage federal student loans. The website breaks down different types of student loans and explains who is eligible for financial aid.
23. You Need a Budget Blog
You Need a Budget isn't just a popular personal finance app. Their website also serves as a useful resource for those looking to develop better financial habits. The You Need a Budget blog is updated multiple times a week with articles covering how to pay off debt, how retirement accounts work, tax preparation tips, and more.
24. NerdWallet
NerdWallet is a great resource for comparing the pros and cons of different credit cards, insurance companies, banks, and more. In addition to their comparison tools, NerdWallet publishes in-depth articles on topics such as saving and building your credit score.
25. Investopedia Dictionary
Financial terminology can get confusing. If you frequently come across terms you don't know, check out the Investopedia Dictionary. This page is categorized alphabetically and links out to hundreds of Investopedia articles about specific financial topics.
26. Money Under 30
Money Under 30 is a blog dedicated to providing free financial advice to young adults. Their articles cover topics such as how to choose the right credit card for you, how student loans work, and how to get out of debt. The site also has a free weekly newsletter.
27. Money Crashers
Money Crashers' goal is to provide its readers with actionable, easy-to-understand financial advice. Whether you're taking out a loan for the first time or opening up a new investment account, Money Crashers provides you with need-to-know information.
28. The Penny Hoarder
The Penny Hoarder publishes articles on a variety of financial topics, with the goal of helping people make smart money decisions. The Academy section of their website features long-form guides with titles such as Credit Cards 101 and Homebuying 101.
29. CentSai
According to CentSai, learning about finances is more effective when education is paired with storytelling. That's why CentSai integrates personal stories into its content. The website features articles, guides, quizzes, podcasts, and more.
30. InCharge
InCharge is a debt solutions company with an impressive collection of financial literacy resources. They have several guides on budgeting and saving, as well as guides specifically geared toward kids, high school students, and college students. Many of these resources are available in downloadable PDF format.
Personal Finance Books
31. "Your Money or Your Life" by Vicki Robin
"Your Money or Your Life" walks you through nine steps for achieving financial independence. It focuses on how readers can change their relationship with money and become more comfortable managing their finances. The book was originally published in 1992, but it frequently gets revised into new editions. The most recent edition was published in 2018.
32. "The Financial Diet" by Chelsea Fagan
"The Financial Diet" is designed for readers who would like to start taking a more active role in their financial wellness, but don't know where to start. The subtitle of the book is "A Total Beginner's Guide to Getting Good with Money." If you're someone who has historically not paid much attention to your finances, this might be the right book for you.
33. "The Millionaire Next Door" by Thomas J. Stanley and William D. Danko
"The Millionaire Next Door" delves into the common habits and traits shared by wealthy Americans. The book relies on specific data to show how millionaires in America manage their finances. It also explores the distinction between having a high income and having a high net worth.
34. "The One-Page Financial Plan" by Carl Richards
Published in 2015, "The One-Page Financial Plan" is intended to provide readers with a simple method of getting their finances into shape. One of the core ideas of the book is that you should be able to fit your entire financial plan onto one piece of paper. Thinking about your financial goals in this way can help you determine what your financial priorities really are.
35. "Financial Freedom" by Grant Sabatier
The goal of "Financial Freedom'' is to help readers become financially independent in a short period of time. The book is built upon the idea that the faster you achieve financial freedom, the more time you can spend on activities you love. To help the reader get to this point, the author provides step-by-step advice on saving money.
Learn How to Save Money as a College Student
With all of the expenses college students need to manage, personal finance resources can be a lifesaver. For more financial wellness information, read our guide, "Budgeting and Financial Literacy for College Students."
Purdue Global is committed to helping its students find ways to save on tuition. From tuition reduction opportunities to our Tuition and Fee Finder tool, we're focused on making the process of paying for school as painless as possible. Visit our Financial Aid and Tuition page to learn more.
If earning an online degree is in your future, reach out today to get in touch with an advisor.