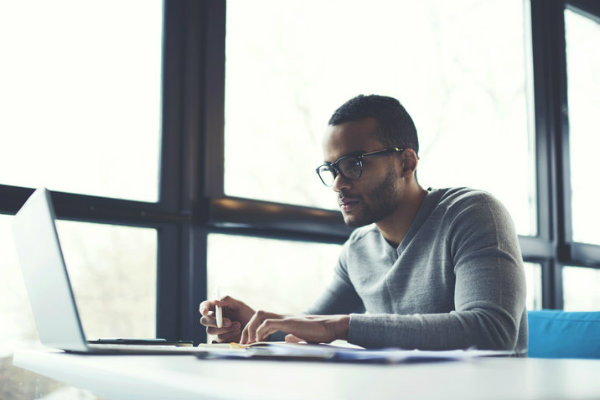 March 12, 2019 | Purdue University Global
Enrollment in online college continues to climb, according to a 2018 report from the National Center for Education Statistics. The number of students enrolled in at least one online college course was 6.3 million in 2016, up from 5.9 million in 2015, the latest years for which data is available.
Online courses are attractive for part- and full-time students, working adults, parents, military members, international students, and others who want to diversify how they learn. Here are three benefits of online education that make it a popular option today.
1. Flexibility and Convenience
One of the top benefits of online learning is flexibility. Online courses enable students to:
Learn on any connected device
Study on their own schedule
Get a degree without having to commute to campus
Online learning literally puts college in the palm of a student's hand. According to a 2018 survey of more than 1,500 online college students conducted by The Learning House and Aslanian Market Research, 67% of respondents use a mobile device to complete online coursework. This flexibility and convenience is crucial for busy working professionals looking to earn a college degree and advance their careers.
2. Same High Quality
Accredited online colleges and universities have to meet certain criteria and curriculum standards, just like traditional schools. They are held to rigorous standards similar to on-the-ground universities.
The Learning House study found that 85% of online students who had experienced both in-person and digital classrooms felt that learning online was as good as or better than going to campus for college. From instructor interaction to virtual collaboration with other classmates, there's not much students miss from the in-classroom experience when they're learning online.
The 2018 Online Education Trends Report by Best Colleges found some students prefer online courses as a way to manage social anxiety. For students whose in-classroom experience contributes to stress or presents challenges for focusing, online learning automatically adds benefits.
3. Continue in Your Profession
Most online college students work while going to school. According to The Learning House study, 72% of undergraduate students and 81% of graduate students were employed full or part time while enrolled in online college.
You have no need to quit your job or leave your profession when you go to college online. You don't need to rearrange your work schedule for school, since you study on your own time.
Many online college students who are also employed find they can directly apply what they're learning to their work roles. Taking online college courses while working can help some employees move up at their jobs or find more meaningful work before they graduate.*
Is Online College Right for You?
There are many benefits of online college, and depending on your needs, online learning may be a good fit for you. Accredited by the Higher Learning Commission (HLCommission.org), an institutional accreditation agency recognized by the U.S. Department of Education, Purdue University Global provides a world-class online education that's tailored to the unique needs of working adults—and we're part of the respected Purdue University system.† Request information about Purdue Global today.
Your Path to Success Begins Here
---
Learn more about online programs at Purdue Global and download our program guide.
Request Information
Your Path to Success Begins Here
---
Learn more about online programs at Purdue Global and download our program guide.
Request Information