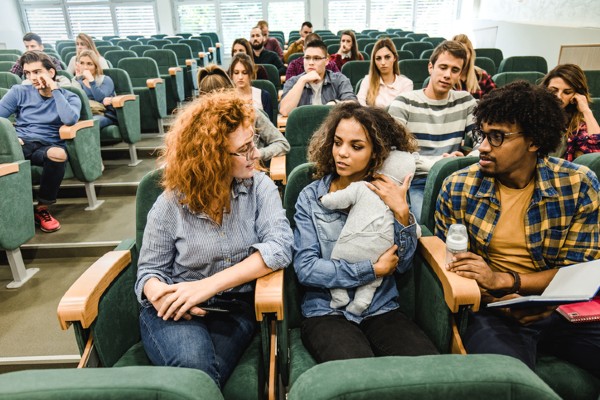 March 9, 2021 | Purdue Global
More than one in five college students is a parent, the Institute for Women's Policy Research reports. Of those 3.8 million who are in college, more than half have children under the age of 6.
For parents going back to school while raising a family, a unique support system is needed to balance family, academics, and, sometimes, work. Balancing these priorities isn't always easy. But it can be worth it because earning a college degree can help you advance your career and find more meaning in your work, which is valuable to you and your family.
Here are some tips for moms and dads going back to college, including what parents need to know about going back to school and some resources to help them out.
What You Need to Know About Going Back to School
There are many reasons to continue your education if you're a married or single parent going back to college. If you're making the momentous decision to go back to school, here are some things you should know as you prepare for your new college career:
1. Be Clear About Your Goals
According to the U.S. Bureau of Labor Statistics, the higher the level of education you have, the greater your earning potential and the lower your unemployment rate. You may be going back to school for a number of reasons, some of which may include:
To enhance your career options
To increase skills and knowledge
To set an example for your children
Whatever your reasons for going back to school while parenting, it's important to know why you're pursuing a degree. Understanding your "why" will help when balancing your priorities becomes difficult. The Grammarly blog has some helpful exercises on how to explore your "why."
2. Ask for Support
Earning a college degree is a big undertaking, and one that's difficult to do without support. Don't be afraid to reach out to friends and family for help while you're in school. Communicate your needs, and know that support comes in many forms—babysitting, patience, and understanding, to name a few.
Also look into the academic support networks offered by your school. Student advisors are there to provide support and academic success resources structured for student parents.
3. Be Conscious of Time Management
Your child needs you. Your studies need you. Your employer needs you. You're busy. Even if you weren't going to school, you'd still be juggling a number of priorities—carpools and pickups, dinner, cleaning, bills, after-school activities, and more.
So how do you manage your time now that you have your own academic responsibilities? Carve out time for all your commitments, and protect it. Time management will be crucial to your academic success and school-work-life balance. Consider some of these time management tips and resources, and establish a routine that works for you.
4. Stay Motivated
Work with your student advisor and instructors. Work through your degree program and seek out help to discuss your progress, any areas of concern, and potential improvement.
Get together with your peers for a study session. With group chats, social media, and video chat software, you can communicate with your classmates almost anytime and anywhere.
5. Develop Successful Study Habits
Set up a space in your home as your school space, much as you would set up an office space to work from home. That gives you a place to focus on school so you can work and study in peace. You should also block out time for your school work.
Find time to study with a classmate or friend who is also going back to school. Adapt your studies to your learning style, whether that means taking plenty of notes, making flash cards, or doing whatever works best for you.
6. Set Boundaries With Your Family
Support isn't the only thing you need from your family—you also need boundaries. Make sure your family understands that you need to stay focused on your studies.
Let your family know how they can respect your education. This may include giving you quiet time in the mornings or setting study hall hours when you can't be disturbed. If you have children in school, you might consider making school a family activity. Complete assignments together or quiz each other on what you learned at school.
7. Take Care of Yourself
You're used to caring for everybody else as a parent. But going to school requires you to find time to take care of yourself so you can avoid burnout.
Make sure you find time to recharge and to take care of your health. Exercise, eat well, and get as much rest as you can.
8. Enjoy the Experience
Going back to school is a special time. Celebrate the big things like doing well on a research paper or test, but also celebrate the little things, such as sorting out a difficult concept or finishing a paper before the due date. Include your children in the celebration, too, so they can understand your accomplishments.
How to Get Help If You're Going Back to School
If you're going back to school, you're going to need some help. From financial aid to help with your children, here are some resources to help you succeed in your academic career.
Academic Resources
All colleges offer students academic resources, whether you attend in person or online. Resources might include tutoring at no additional cost, a writing center to get help writing papers, a library to borrow textbooks, and more.
Use these resources as much as you need to, since they're there to help you.
Explore some of the resources Purdue Global offers its students.
Blogs and Websites
The following sites offers tips and tools on everything from parenting to finding work-life balance to making sound financial decisions:
Childcare Resources
Financial Aid
Going back to school isn't just a time commitment; it's a financial commitment. According to the National Center for Education Statistics, 86% of college students receive financial aid.* Luckily, there are plenty of scholarships for student parents.
Federal and state financial aid, plus grants and scholarships for parents going back to college, can help offset the cost of school. Check out these helpful sites:
Read Our Article: 10 Tips to Get a Scholarship for College
Student Parent Financial Aid Resources
Support Networks
Social support is essential for staying well-balanced amid varying responsibilities. Strengthen your social support network as a working parent and college student.
Family: Entering college isn't just an adjustment for you—it's also one for your children. Talk to them about why you're going to school and the benefits it will provide your family. Set boundaries at home that enable you to study and focus on schoolwork. If you're married or in a relationship, talk with your partner about the support you need. Show gratitude to your family when they help.
Friends: Maintaining friendships can be difficult when you're spread so thin, but social connections are vital for your mental health. Spend time with friends, even if it's getting together once a month or staying connected via social media. Your friends may not fully understand the challenges you're experiencing, but they can provide support when you need it.
Stress management techniques: Meditation, aromatherapy, journaling—read more about these and other tips on stress management for college students.
Time Management Tools
Managing your time wisely is an essential skill to have as a working college student and parent. The following time management methods can help:
Set a timer: The Pomodoro Technique involves setting a timer for 25 minutes and immersing yourself in work with laser-like focus, and then taking a refreshing break. Another technique from DeskTime advocates working for 52 minutes, and then following that up with a 17-minute break.
Chunk your time: Time chunking involves breaking down your responsibilities and chunking them into time frames to help you achieve them better.
Earn a College Degree Online at Purdue Global
Purdue Global salutes working parents who are heading back to school to attain their educational goals. Our innovative online programs offer flexibility to study on the go, from almost anywhere you have internet access.
With more than 175 online programs to choose from, you can learn the skills to enter a new field or advance in your current career. To learn more about Purdue Global, request information here.
---
---
Your Path to Success Begins Here
Learn more about online programs at Purdue Global and download our program guide.
Request Information