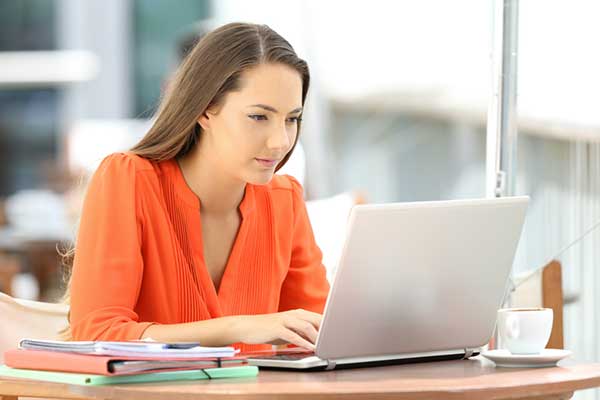 April 27, 2018 | Purdue Global
|
Updated March 8, 2022
Going to college. These words once suggested brick buildings on campus, sidewalks crowded with students, professors teaching in classrooms, and noisy dorms even at midnight.

While that scene still exists across the country, traditional on-campus enrollment is falling while online university enrollment is on the rise. This trend was in place even before the COVID-19 pandemic forced universities to transition to remote learning. According to the 2017 Distance Learning Compass report, in the fall of 2002, 9.6% of all college students were taking at least one online class; by the fall of 2015, that number had risen to 29.7%.
The pandemic quickly accelerated the growth of online education, and studies suggest that this style of learning is here to stay. As detailed by Inside Higher Ed, postsecondary institutions saw a 93% increase in distance education enrollments from fall 2019 to fall 2020. In addition, 59% of institutions surveyed reported that they would continue their distance education offerings after the pandemic.
For many adults today, it makes more financial and logistical sense to take college classes online, especially for people who:
Work full time
Serve in the military
Want to change careers
Are raising children
Online universities allow students to structure schoolwork around their lives instead of the other way around. In fact, according to the latest data from the National Center for Education Statistics, 43% of full-time undergraduate students were employed in 2018. For part-time undergraduate students, the employment rate jumped to 81%.
This guide to online college success offers tips, tools, and resources to help you understand whether distance learning is right for you.
How Does Online College Work?
Online colleges are similar to campus-based colleges: There are student fees, financial aid, class registration, lectures, syllabuses, discussions, assignments, and exams. The difference is that everything takes place online, so you can participate virtually anywhere, as long as you have a computer (or mobile device) and internet access. There are two important things to consider as you evaluate online options:
Flexibility: Some courses require you to log in at specific times; others are more self-paced (though with deadlines). Most of Purdue Global's classes comprise two components: online classroom time and live seminars. Online classrooms are open 24 hours a day, whereas live seminars are hosted at specific times.
Timelines: Some online colleges follow traditional semester time frames; others break the school year into smaller segments. For example, you might have class every day, complete assignments and tests every week, and finish that course in a month.
How to Overcome Challenges at an Online School
Online college has its advantages and challenges, just like an on-campus college. One isn't necessarily better than the other; it's more about finding the better fit for your life.
Support: In a traditional classroom, getting help can be as easy as raising your hand or knocking on your professor's office door. Online learning means being comfortable with using electronic means to communicate with faculty. At Purdue Global, faculty, staff, and students use email and message boards to make communication as easy as possible. We also offer online tutoring and paper review sources in our Academic Success Center.
Time management: When you study at home, it's easy to be distracted by family, friends, and household chores. Purdue Global Student Advisors recommend improving your time management by using a family calendar to block time for attending seminars, studying, spending time with the family, and doing chores. Post it where everyone can see it—such as the refrigerator—or use a web-based calendar that everyone can share.
Socializing: You may feel somewhat isolated when you take classes from the comfort of your home. However, many online classrooms offer the opportunity to interact with your instructors and other students in discussion forums and group projects. You might also find further opportunities to engage with others. Purdue Global, for instance, offers more than 25 student clubs and organizations.
More Tips to Succeed as an Online Student
Here are a few tactics to help you get started at an online college:
Talk to other students: Visit the school's social media pages and talk to students who are active. Ask them questions about their online learning experiences.
Do a tech check: What are the computer system requirements (operating system and available space), recommended software programs (such as Microsoft Word, Google Docs, or others), and internet bandwidth recommendations? For example, Purdue Global's web-based programs work with both PC and Mac computers, and are compatible with major web browsers.
Start small: If you've never taken an online college course, you can start with just one or two courses to see how these fit in with your busy home and work schedule.
Ask questions: Be sure you understand time requirements of the course: Are you expected to be online at specific times for seminars or discussions? Is there required participation in discussion forums? When are exams or major assignments?
Connect immediately: Make it a point to connect with your instructor in the beginning. Establish a relationship early on, so you won't hesitate to ask questions later.
Create a study space: Decide where you'll do your coursework and make sure your study environment is a place you enjoy. It doesn't have to be fancy, but it must work for you. The kitchen table may not be practical if you have to clear it off every time you need to attend a class.
Get organized: Treat your online class as a priority. Utilize a planner, establish a routine, and make a schedule, just like you would with a traditional class. Be sure to organize your digital files, too. Many online learning platforms offer a student dashboard you can use to help you stay organized.
Polish your writing: If writing and reading comprehension isn't your strongest skill, or you aren't comfortable with the rules of grammar, check out Susan Thurman's The Only Grammar Book You'll Ever Need: A One-Stop Shop for Every Writing Assignment or Grammar Girl Mignon Fogarty's website, QuickandDirtyTips.com. As you evaluate options for online education, look for universities that offer an online writing center or academic support.
Is Purdue Global Your Next Step?
Purdue Global is an online public university for working adults. We offer the flexibility of an online university and the exceptional quality of a respected institution of higher education. Learn more about our online degree programs or click here to request information.
---
Your Path to Success Begins Here
Learn more about online programs at Purdue Global and download our program guide.
Request Information