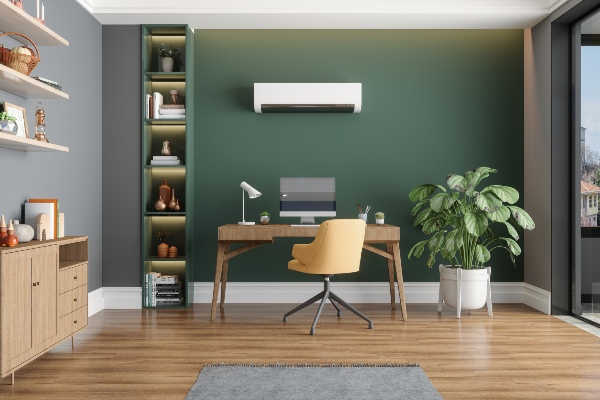 May 23, 2019 | Purdue Global
One common reason students are interested in online school is the flexibility it offers—you can take classes and study wherever you want, as long as there is an internet connection. Often, this is at home, where you may be juggling school with being a spouse, parent, or caretaker. The convenience is exceptional, but distractions can be a problem.
One way to stay focused is to create a study environment for online learning that minimizes distractions and puts you in the mindset to concentrate. Here is how to set one up.
Find a Do-Not-Disturb Space
According to a study from the University of California, Irvine, every time your work is interrupted, it can take an average of more than 23 minutes to get back on task. Your time is precious. If you have a spouse or child knocking on your office door every 10 minutes, it may be difficult to get any meaningful studying done.
Wherever you study, make sure it's as private as possible. If it's a space in your home, let your housemates know when it's study time and not to disturb you. You can even hang a "Do Not Disturb" sign up to send a clear message. If you are going somewhere public to study, consider a private room at a library instead of working in a busy coffee shop.
Remove Distractions
Similar to interruptions, try to minimize any distractions. Study in a place without a TV, bed, snacks, or anything else that can be distracting.
A study published by the Association for Psychological Science found minimalist environments increase focus and productivity. If you want to have a photo of a loved one to look at when you need motivation, that's fine, but aim for as few distractions as possible.
Embrace Nature
If you are going to decorate, get inspired by nature. Indoor plants can improve concentration and productivity by up to 15%, Time reports. They can also reduce stress levels and enhance mood.
Natural light is great for a study environment for online learning, too. If you study during the day, choose a spot near a window. Research from Cornell University found optimal daylight reduces headaches and eyestrain of office workers by 84%. If you study at night, use a lamp that mimics natural light. Make sure any light you use doesn't shine directly into your eyes.
Don't Get Too Comfortable
Studying at home is convenient, but certain cues, like what you're sitting on or wearing, can make studying less effective.
If you study in bed, for example, you may be tempted to nod off or study in a position that doesn't keep you alert. Same with studying on a giant bean bag or on a comfortable couch. Wearing pajamas can put you in a relaxed mood, compared to dressing as if you were going to class or work.
Put yourself in a studying mindset in any environment by wearing daytime clothes and sitting upright in a chair or on an exercise ball, or by standing. Straight posture is associated with confidence and happiness, which can give your studying sessions a boost.
Make Your Study Space for Studying
As much as possible, try to limit your activity in your study space to studying. When you're done studying, turn off the computer and leave until you come back to study next time.
For more tips for online students, check out our online learning resources. If you're ready to learn more about any of the more than 175 online college degree programs offered by Purdue Global, request more information today.
---
Your Path to Success Begins Here
Learn more about online programs at Purdue Global and download our program guide.
Request Information