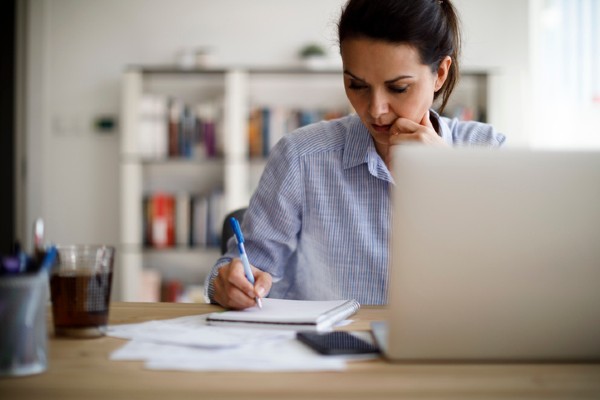 August 25, 2020 | Purdue Global
Some college students struggle with assignments because they lack sufficient reading comprehension skills. According to the National Assessment of Adult Literacy, 43% of U.S. adults lacked the basic skills to read and understand college-type and other such dense texts. They also can't determine cause and effect, make simple inferences, summarize, or recognize an author's purpose.
In high school, some savvy students can get by with doing little reading and relying on class discussions to prepare them for quizzes and tests. It's not easy to do the same in college—especially if you're taking classes online. If some reading is assigned, you are expected to do it.
If you are out of practice or your comprehension isn't up to standard, you can find yourself in trouble. Putting assignments off until the last minute won't help, either.
One way to make sure you're getting all you can from your assignments is to brush up on your reading comprehension skills. Here are some active reading strategies and tools you can use to bolster your reading for college.
1. Find Your Reading Corner
The right reading environment should fit with your learning style. The right spot will increase your focus and concentration. Consider four factors:
Atmosphere: Is there sufficient lighting? Do you have a comfortable chair?
Distractions: Is there enough quiet? Have you muted or turned off your phone?
Location: Is this spot convenient to things you need?
Schedule: Have you given yourself enough time to complete the reading and assignments?
2. Preview the Text
Survey the material and ask some questions before you start reading. What's the topic? What do you already know? What can you learn from the text from any table of contents, glossary, or introduction? What do titles, subheadings, charts, and graphs tell you?
3. Use Smart Starting Strategies
When you start reading, don't let the text overwhelm you. Use these strategies to keep your reading assignment under control.
Break up the reading: If an assignment seems daunting, break it into bite-sized sections.
Pace yourself: Dense material, such as that in textbooks, can be tough to read. Manage your time well and schedule regular breaks.
Check for understanding: As you read, occasionally ask yourself if you understand what is being communicated. If not, you may need to go back and reread a paragraph or section.
4. Highlight or Annotate the Text
Watch for important terms, definitions, facts, and phrases and highlight them or add annotations within the document—digitally if you're on a computer. However, don't get carried away with the highlighting.
If you would rather not use a highlighter, try to annotate the text with notes in the margins or in comment mode, or underline key phrases. Also, look for and mark the main idea or thesis.
5. Take Notes on Main Points
This is different from highlighting because you can take your own notes separately. Here are a few note-taking strategies:
Have your own style: Try bullet points, mind mapping, outlines, or whatever method works for you.
Turn subtitles into questions: By making section headers into questions, that can help you find the answers.
Summarize as you read: After reading a paragraph, write a sentence to summarize the paragraph's main points. Is the author's thesis supported? Is an opposing view introduced?
6. Write Questions as You Read
Asking questions can help your comprehension. The tactic also works when reading. Ask questions in your notes—who, what, when, where, how—and then look for answers as you continue. That helps you understand what you read.
7. Look Up Words You Don't Know
Don't let unfamiliar words derail you. Look them up in a dictionary before you go any further. It can be hard to recover if you miss the main point because of new words. You may want to bookmark an online dictionary, like Merriam-Webster, so you can easily find word definitions.
8. Make Connections
Look for links and connections between the text and your experiences, thoughts, ideas, and other texts.
9. Review and Summarize
After you finish reading, summarize the text in your own words. This will help you understand main ideas and take better notes. If you don't understand what you've read, reread carefully.
10. Discuss What You've Read
Describe what you have learned to someone else. Talk to your professor or another classmate. Join discussion groups. This will move the information (or content) from short-term to long-term memory.
Additional Reading Comprehension Strategies and Tools
Sometimes, charting what you learned will help you digest what you've read. Here are some sites and tools you can use to help.
Learn More About Purdue Global
Get ready for the next stage of your career—or launch a totally new one—with online college at Purdue Global. Learn more about our online degree programs. For more details, request more information.