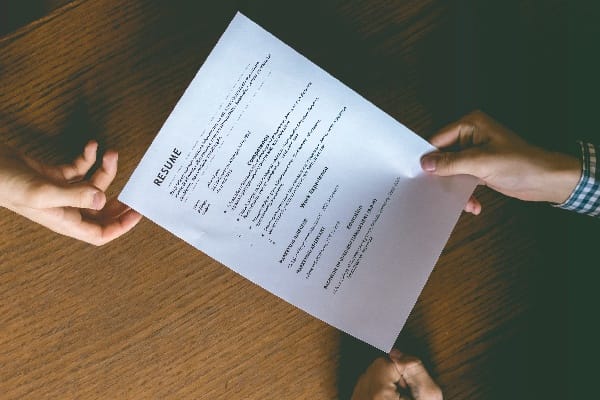 June 11, 2022 | Purdue Global
Today's employers are seeking candidates with professional skills and proficiencies—but all too often, they're not finding the talent they need. This phenomenon is referred to as a skills gap.
87% of companies worldwide are aware that they either already have a skills gap or expect that they will have one within the next few years, according to McKinsey & Company.
To learn more about how job seekers can highlight in-demand skills and competencies on their resumes, we sat down with Adam Bufka, director, Center for Career Advancement, Schools of Health Sciences and Nursing at Purdue Global. "For job seekers right now, it's not about the quantity of applications submitted—it's about the quality," says Bufka.
Below, we explain what professional skills are and highlight five professional skills for resumes.
What Are Professional Skills and Why Are They Important?
Professional skills are also called soft skills. They are abilities, traits, or workplace habits which enable you to perform the duties of your job. In most instances, professional skills are applicable for a wide variety of jobs.
Unlike hard skills or technical skills, which are teachable and quantifiable, professional skills are more difficult to measure. Some examples of professional skills include critical thinking, communication, professionalism, leadership, and teamwork. "Over time, employers have made recruiting candidates based on professional skills a top priority," says Bufka.
According to Bufka, there are two primary reasons why professional skills are important:
Bufka says that job seekers should be extracting keywords and skills from job descriptions and incorporating them into their resumes and cover letters where appropriate. "If you are a strong candidate for the role, it's imperative that you are tailoring your professional documents directly to the position you're applying for."
1. Critical Thinking
The National Association of Colleges and Employers defines critical thinking as the ability to "identify and respond to needs based upon an understanding of situational context." In other words, it is what allows you to quickly analyze a situation and find an appropriate solution.
"Hiring managers and recruiters are looking for candidates who can implement solutions to existing problems," says Bufka. In addition to including examples of critical thinking on your resume, Bufka recommends coming to interviews prepared to speak about times in which you used your judgment and reasoning to find an effective solution to a problem.
>> Read: How to Tackle Tough Interview Questions
2. Communication
Strong communication skills are helpful in almost any job, whether you're interacting with customers or simply discussing ideas with team members. Communication skills aren't limited to in-person conversations—they also affect your ability to express yourself in writing.
Even before you come in for an interview, your resume and cover letter can go a long way in demonstrating your communication skills. "It's crucial to be able to articulate your skills to employers," Bufka says. "By providing specific, well-written examples of why you're the best candidate for the job, you are simultaneously showcasing your communication skills."
3. Professionalism
Professionalism refers to your ability to work productively while presenting yourself in a way that respects others in your organization. Employees who display professionalism are punctual, courteous, and able to take responsibility for their own workload.
"Employers want to know that you are able to demonstrate effective work habits each day," says Bufka. He says it's important to keep this skill set in mind when applying for opportunities. "Since attention to detail is a characteristic of professionalism, one way to highlight this quality to employers is to thoroughly review your resume and cover letter for spelling and grammar errors."
>> Read: 15 Resume Writing Tips: How to Craft a Resume That Gets Noticed
4. Leadership
In their Future of Jobs Report 2020, the World Economic Forum named leadership and social influence as one of their top skills that will be important for employees in 2025.
Bufka explains that this skill set is not limited to those in managerial positions. Whether or not you work as a supervisor, strong leadership skills can help you collaborate with and motivate others. Leadership is also key for prioritizing tasks and delegating responsibilities to others when needed.
"Focus your resume and your interview answers on projects or initiatives you've led and what the results were," says Bufka. He also recommends getting involved with extracurricular activities whenever possible, since these could lead to additional leadership opportunities you could highlight on your resume.
5. Teamwork
In most workplaces, the ability to collaborate with others is crucial for producing quality work. "Any successful organization relies on teamwork to achieve their goals," says Bufka. "You need to be able to cultivate relationships with a common goal in mind."
Employees who embrace teamwork are typically cooperative, friendly, and willing to help others. Since these types of behaviors cultivate a supportive work environment, employers often look for candidates who have experience working in team settings.
Under the work experience or accomplishments section of your resume, be sure to provide specific examples of results you achieved as a member of a team.
Purdue Global Moves
In 2021, Purdue Global launched Purdue Global Moves, a collection of strategic initiatives designed to help guide the university's priorities. One of these initiatives is focused on helping learners develop professional skills.
Bufka explains that Purdue Global has a strong commitment to helping its students develop and assess their professional skills, both inside and outside of the classroom. "Our goal is to ensure that our graduates can accurately articulate their skills to their current or future employers."
Gain Professional Skills for Your Resume
Purdue Global's Center for Career Advancement can assist you in crafting a resume that showcases your professional skills. In addition, the Center for Career Advancement can provide you with insight on how to leverage your personalized skills report, which includes a list of professional skills and knowledge related to your degree program.
The skills report is a comprehensive picture of your growing skill set as you progress through your studies. As you gain more experience in your field, your skills report will evolve, reflecting what you've learned.
If you're looking to build your professional skills, explore Purdue Global's online programs. We offer more than 175 online degree and certificate programs designed to help learners expand their career opportunities. Request more information today to learn more.
---
Your Path to Success Begins Here
Learn more about online programs at Purdue Global and download our program guide.
Request Information