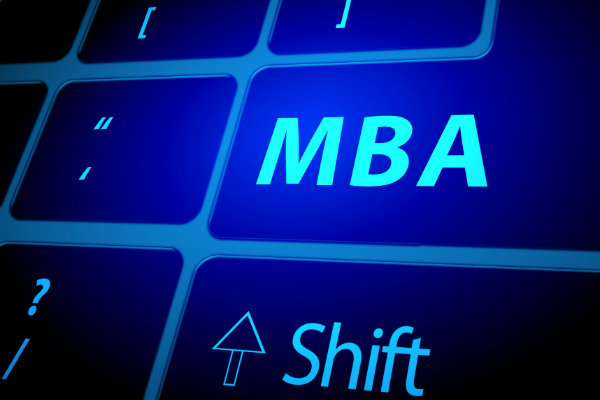 January 26, 2021 | Purdue University Global
Master's degrees remain desirable in the business world. In fact, more Master of Business Administration (MBA) degrees are earned than master's degrees in any other field, according to the National Center for Education Statistics (NCES), which tracks degrees from postsecondary institutions in the United States. NCES says master's degrees made up 23%—more than 187,000—of all degrees awarded from 2017 to 2018.
Earning an MBA or similar degree might benefit you even if your position doesn't usually require an advanced education. Getting a degree in an online MBA program might attract more job possibilities or help you open the door to higher paying jobs.*
We talked with Bea Bourne, DM, Purdue University Global faculty member, to learn more about the benefits of earning an online MBA with Purdue Global.
>> Learn More: 8 Questions to Ask When Considering an MBA Program
1. Curriculum Developed With Real-World Needs in Mind
The principles and skills you learn in the MBA curriculum at Purdue Global can be used immediately in your current role and in any future role you make take on.
"Our curriculum is developed through a partnership among a curriculum specialist, an instructional designer, and core suite faculty who serve as subject matter experts," Bourne says. "The faculty are responsible for making sure that the textbook, material, and curriculum is up-to-date and relevant."
2. Stellar Faculty
A university's reputation is built partly on the strength of its faculty. According to the QS World University Rankings, teaching quality typically is cited by students as being the most important thing to them when comparing institutions using a ranking.
"All of our MBA faculty have terminal degrees as well as practical experience in the area where they teach," Bourne says. "Not only are we able to discuss theory, but we're able to relate real-world experiences that support those theories."
Jeffrey M. Buck, dean of the Purdue Global School of Business and Information Technology, also stands by the quality of the school's faculty.
"Our highly qualified faculty leverage a unique blend of academic preparation and practical experience," Buck says. "This is important because the faculty are not only extremely competent in their discipline and the associated theories, but they have first-hand experience on how these concepts are relevant and can be applied in the work environment."
3. Our Easy-to-Use Online Learning Platform
As more schools are leaning into online platforms, those with experience stand out. Purdue Global's online learning platform is intuitive and easy to use.
"Purdue Global uses Brightspace, a very user-friendly platform," Bourne says. "Today's students need something mobile-compatible, and Brightspace can be used with tablets, laptops, and smartphones."
The online classroom is where assignments are submitted and discussions and seminars are held. Numerous online resources are available through the platform as well.
"We have an online library and many tools and resources that students can use," Bourne says. "We also have tech support available 24 hours a day, 7 days a week that can be accessed by phone, email, or live chat."
Learn more about how online college works with our Purdue University Global FAQ Guide.
4. No GMAT/GRE Required
Many schools require MBA students to take either the Graduate Management Admission Test (GMAT) or the Graduate Record Examination (GRE) as part of their application process. Those tests cost from $200 to $250, and many students take costly preparation courses as well.
Purdue Global has removed this requirement, deciding to rely on other methods of evaluating students, such as proof of experience in the management field.
"Some people just don't test well," Bourne says, explaining one reason Purdue Global doesn't rely on standardized tests. "It's not necessarily an indication of readiness or intelligence."
5. ExcelTrackTM: Earn an Online MBA Faster and for Less Money
Purdue Global offers you a quicker way to an MBA degree with ExcelTrackTM.
"ExcelTrack provides a personalized competency-based degree for experienced, self-motivated students. And it provides students an opportunity to build on skills and knowledge they have already mastered through their professional experience," Bourne says. "It's designed to let students progress at their own pace, and it could be less expensive than a traditional MBA that they would earn here at Purdue Global."
With ExcelTrackTM, you can†:
Earn the same high-quality MBA, faster and for less money
Move quickly past the topics you know and spend time on the topics you don't
Work directly with faculty to ensure you've learned all the material
6. Our Helpful Career Services Department
Purdue Global makes sure you get the career help you need through our Career Services department.
"We have specialists who offer career assistance," Bourne says. "This is very important to students, especially if they are not already employed, if they are considering advancing with the same company, or if they are seeking employment someplace else."
Career Services provides help with:
24/7 online access to job openings and career development tools via the Career Network
Career assessment and exploration
Occupational direction
Resume and cover letter reviews
Job search support and leads
Interview preparation and mock interviews
Networking tips
Social media profile reviews to assist in job search success
Virtual career events
"Career Services also offers employer spotlights, where employers are introduced to the students via a webinar or a seminar," Bourne says. "This helps students learn about employers and what they are looking for. Spotlighted employers can also tell students about potential openings, the workplace culture, and how to apply for jobs."
7. Opportunities for Student Connection and Networking
One complaint some students have about pursuing an online MBA is the lack of student connection and networking opportunities. Purdue Global offers you a way to connect and grow your network, highlight your leadership abilities, and share your skills.
"Our Student Life organization offers students a rich and exciting university experience, including involvement in various clubs and honor societies," Bourne says. "It's an excellent opportunity for students to connect with other Purdue Global students and build a professional network."
Learn about 5 Tips to Build Relationships With Faculty and Peers as an Online Student.
8. The Purdue Difference
Purdue Global is part of the respected Purdue University system. Purdue University is one of the most prestigious research universities in the world, ranked in the top 10 best public universities in the U.S. by The Wall Street Journal/Times Higher Education.‡
"We have a mission to provide greater access to affordable high-quality education," Bourne says. "By earning an MBA from Purdue Global, you're earning it from a highly respected university that understands the adult learner and their unique needs."
Connect With Purdue Global for Your Online MBA
Purdue University Global offers a traditional online MBA and an ExcelTrackTM MBA, both of which give you the same high-quality degree. Together, our faculty and leadership team strive to provide a flexible, innovative, and personalized approach to suit the needs of the adult learner. Reach out today to learn more about our online MBA program.