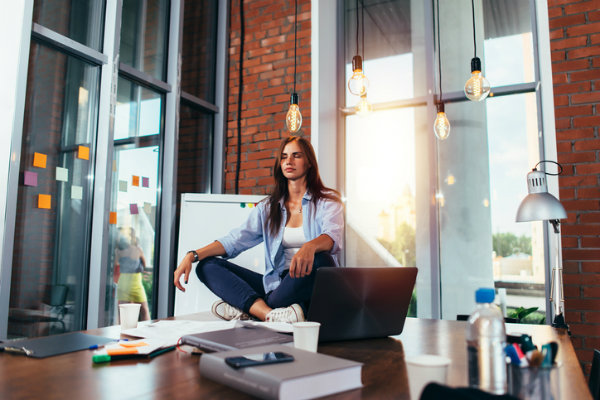 July 8, 2019 | Purdue Global
Does it seem like people have been using the word "mindfulness" more in the last decade? That's because they have. Data from Google Trends for the past 15 years shows an upward trend in searches of mindfulness: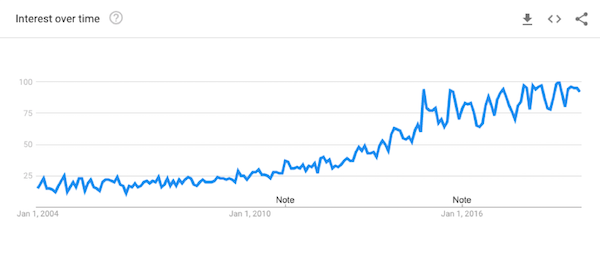 Mindfulness is often associated with meditation, and they do go well together, but mindfulness can be practiced without meditation. You don't have to light a candle, dim the lights, play quiet music, or even download a special app to practice mindfulness (although at the end of this post, we list apps that help with mindful practice).
You may be a busy parent attending online college in the hopes of furthering your career. You may be an active servicemember or veteran looking to take advantage of your military education benefits. Or, you may be midway through your career and looking for a change, a boost, or a way to update your skills.
Whatever your situation, as a college student, you're likely to encounter many distractions and challenges. That's why mindfulness practice is so important.
What Is Mindfulness?
Mindfulness is a state of awareness or focusing your attention on the present moment, free from judgment. Mindfulness has been getting a lot of attention lately, not only in popular culture but also in the scientific community, due to an increasing body of research that points to mindfulness as an important part of healthy living.
A study reported in the American Medical Association's JAMA Psychiatry suggests that patients who are treated for depression are better able to prevent relapses when they practice mindfulness-based cognitive therapy (MBCT). The study makes an important point: Mindfulness teaches people the skills to stay well after their conventional therapies are completed.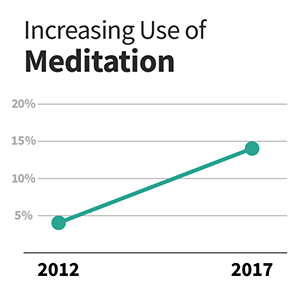 This type of therapy is also referred to as "complementary health care," because it is a holistic approach that works with (but doesn't necessarily replace) conventional medicine. Yoga, meditation, and chiropractic care are three examples of complementary health. A report from the U.S. Centers for Disease Control suggests that of the three—yoga, meditation, and chiropractic—meditation had the biggest increase in use from 2012 to 2017. In 2012, approximately 4% of adults used meditation as part of their health care practice; in 2017, it grew to more than 14%.
NOTE: Mindfulness should not replace medications or other therapies prescribed by your health care provider. If you are experiencing depression, anxiety, or other mental distress, see your doctor right away.
5 Reasons Mindfulness Is So Popular
Mindful.org says mindfulness is the fastest-growing health trend in the United States for many reasons, including these five:
It helps with stress. Scientific research reported in Oxford Academic shows a positive correlation between mindfulness training and a reduction in the stress response of the brain's amygdala, which is the brain's fear-and-response control center.
It helps with mental focus by clearing stress triggers and helps us learn to focus on the present.
It boosts compassion toward others as well as to ourselves.
It reduces negative thoughts and helps us redirect them to the present.
It improves overall mental health.
Need more evidence about the effectiveness of mindfulness? An Emory University study followed adults over 8 weeks of mindfulness attention training. The small group of adults had MRI brain scans before and after their training, which showed that amygdala activity decreased in response to images of stressful situations (reported in The Harvard Gazette).
Another study from the Journal of American College Health followed more than 400 women over two years in college and found that mindfulness practice resulted in healthier eating, better sleep, and better physical health.
How to Practice Mindfulness
Your mindfulness practice doesn't have to be perfect. In fact, it doesn't need to fit any prescription for success. This article in Forbes outlines the four components of mindfulness:
Attention regulation: Allowing the mind to wander freely and gently nudging it away from negative, obsessive, and stress-inducing thoughts to the present moment.
Body awareness: Mentally scanning yourself from head to toe, especially those stress centers where you hold tension (jaw, neck, shoulders, back).
Change in perspective of self: Increasing the ability to see yourself as always changing can lead to enduring forms of happiness.
Emotion regulation: Helping you adjust your emotional responses to unpleasant and pleasant situations.
The mindfulness practices below are in part from "Mindfulness — A Way to Tackle Stress," a presentation from Purdue Extension.
Activity 1: Mindful Breathing
Set a timer for 5 minutes. During that time, just focus on your breathing. Listen to the sound it makes in your head. Feel the breath enter through your nose or mouth, move through your body, and fill your lungs. Each time another thought tries to take over your focus, let it come and go. Consciously return your thoughts to your breath. As you practice this every day, you'll notice that your thoughts become less and less intrusive during those 5 minutes.
Activity 2: Mindful Movements
Set reminders throughout the day to focus your attention on your body. These reminders could come from your computer calendar or an app on your smartphone. The reminder is simply a conscious call to do a head-to-toe inventory. Are you holding tension in your jaw? How does your neck feel? Notice how your arms hang from your shoulders. How is your posture? Where are your feet?
Activity 3: Notice Nature
At least once a day, go outside for 15 to 20 minutes to notice nature. Use your senses to take in the sights, scents, and sounds of nature. This is also a good place and time to practice your mindful breathing. As thoughts of work, family, life, and to-do lists creep into your thoughts, set them on a mental shelf and return your thoughts to the plants, animals, and natural creations around you.
Activity 4: Mindful Eating
Our lives move so fast that eating meals can become a hurried burden between activities. For at least one of your meals each day, take time to focus on the taste of the food in your mouth. Slow down, take smaller bites, and enjoy the experience.
Tools to Practice Mindfulness
There are many online tools, applications, and books to help you practice mindfulness. The ones listed below are just a few recommendations. As you try them out and search for others, keep in mind that you don't need to pay high fees for tools to help you practice mindfulness. Read the other users' reviews—both positive and negative—and ask friends and family members for recommendations.
Apps for Mindfulness and Meditation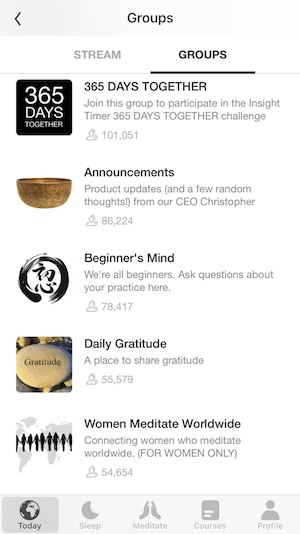 InsightTimer is a free app for Apple and Android devices that, according to the developer, is the "largest free library of guided meditations on earth." InsightTimer offers free and premium content. The free content includes a social network (you have to create an account to join groups), free music tracks to help you sleep, and over 15,000 free guided meditations. The premium version ($5 a month paid annually), which is promoted heavily throughout the app, gives you access to courses.
Download InsightTimer from iTunes or Google Play.

Calm is a popular app that offers a free library of content to help your mindfulness practice.
Like InsightTimer, Calm invites you to subscribe to its $69.99/year library, but if you're a beginner or on a budget, both apps' free resources are enough to help you start practicing mindfulness.
Books to Learn More About Mindfulness
Zen Mind, Beginner's Mind: Informal Talks on Zen Meditation and Practice, by Shunryu Suzuki and Trudy Dixon, was first published in 1973. This book is highly rated on Goodreads and Amazon, is only 138 pages, and is an easy read for beginners.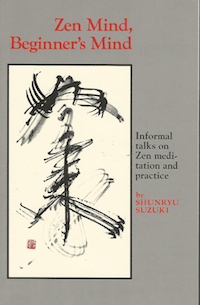 Our second mindfulness book, called You Are Here: Discovering the Magic of the Present Moment, was written by Thich Nhat Hanh, a renowned Zen monk and spiritual leader who's authored more than 100 titles in English.
You Are Here offers guidance and practical applications for developing a mindfulness practice. It's only 160 pages and has over 4 stars on Goodreads and Amazon.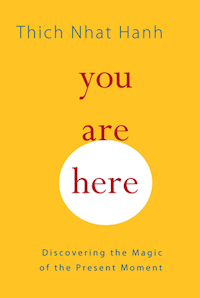 A third book recommendation is by author Dan Harris, author of 10% Happier. This companion book, Meditation for Fidgety Skeptics: A 10% Happier How-To Book is the largest of our three book recommendations. The name of the book says it all, and it's a good read for today's busy professionals and students. It is well received by both Goodreads and Amazon reviewers.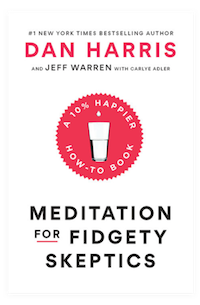 All three books—Zen Mind, You Are Here, and Meditation for Fidgety Skeptics—are available wherever books are sold.
Websites and Other Mindfulness Resources
Mindful.org is a website managed by the nonprofit Foundation for a Mindful Society. The site is packed with helpful articles and resources, including an email newsletter, podcasts, daily practices, and research about mindfulness.
Shambhala Publications publishes books, videos, and courses devoted to meditation and mindfulness. They also offer fee-based online courses, a free email newsletter, blog articles, and videos.
Plum Village is the international mindfulness practice center founded by Thich Nhat Hanh and located in France. If you're lucky enough to visit, you can visit for a day or book a retreat. The rest of us can enjoy Plum Village's website loaded with articles and free videos, and they even have a mindfulness app.
If you enjoyed this mindfulness resource, explore more topics at Purdue Global's Student Resources Blog.
---
Your Path to Success Begins Here
Learn more about online programs at Purdue Global and download our program guide.
Request Information