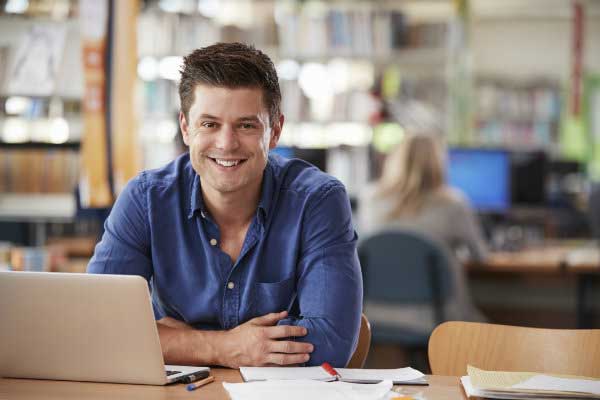 December 20, 2018 | Purdue Global
Through service to our country, many active members of the military and military veterans have earned GI Bill® benefits from the U.S. Department of Veterans Affairs (VA). Each military branch also offers tuition assistance benefits to those who are currently in service.
This article explains the steps Purdue Global has taken to reduce and, in most cases, eliminate out-of-pocket tuition expenses for servicemembers.
GI Bill® is a registered trademark of the U.S. Department of Veterans Affairs (VA). More information about education benefits offered by VA is available at the official U.S. government website at www.benefits.va.gov/gibill/.
1. We've Reduced Tuition Rates for Servicemembers and Veterans
Current servicemembers, including Guard and Reserve, receive a 55% per-credit tuition reduction for undergraduate programs.* The tuition rate of $165 per quarter credit hour falls within the maximum per credit amount that can be covered by military tuition assistance. Please note there is also an annual cap that varies by branch ($4,000 to $4,500). This allows you to take one course per each of our eight annual terms without exceeding the annual maximum. To learn more about how much tuition your branch covers, learn more about our military tuition assistance program.
Veterans receive a 38% per-credit tuition reduction for undergraduate programs.* In addition, as a public university, all expenses and fees are paid by the Post-9/11 GI Bill® for those at 100% eligibility.
Technology fees are waived for active-duty servicemembers enrolled in undergraduate programs, and fees are covered by the Post-9/11 GI Bill® for those with the full GI Benefit.
Tuition reductions are also available for graduate programs. Rates for servicemembers, including Guard and Reserve, are reduced by 16% to 30%, depending on the program of study.†
2. We Evaluate Your Military Training for Credit Toward Your Degree
Through our PME2Degree program, Purdue Global evaluates your Professional Military Education (PME) to determine which educational requirements you've already satisfied. We articulate as much of this training as possible to satisfy the outcomes needed to graduate, thereby reducing the number of courses you need to take to earn your degree.
For example, if you're a military police (31B), you may only be 6 courses away from earning an associate's degree from Purdue Global, and you may be awarded additional credit if you want to earn a bachelor's degree.
Purdue Global evaluated hundreds of occupations and mapped them to our online degrees. See our military programs for more information.
If you don't see your occupation, don't worry—your training will still be evaluated for credit against any degree program you choose. We evaluate all military transcripts from all service branches for credit.
We recognize that many of the skills you need to graduate have been mastered through military training. Our PME2Degree program ensures that you can apply those skills toward your degree.
3. We Evaluate Your Prior College Coursework
Purdue Global will also evaluate any prior college coursework you've completed to determine whether it can be applied for credit toward your degree. Any coursework from a regionally or nationally accredited institution will be evaluated.
4. We Accept Equivalency Exams
Purdue Global accepts College Level Examination Program (CLEP Exams) and DANTES Subject Standardized Tests (DSST). You may also qualify to take a challenge exam during the enrollment process to test out of additional courses, should you have those skills. Your advisor will help you identify those options.
5. We Have Special Policies to Accommodate the Military Lifestyle
Purdue Global offers a special refund policy and a military leave of absence policy in the case of deployment or change of orders.
Reach Out to Our Military Student Support Center Today
Purdue Global is proud to have a Military Student Support Center to support military families and veterans. Our support center staff has been specially trained to support you through the admissions process. Contact us to learn more about our military programs and benefits.
---
Your Path to Success Begins Here
Learn more about online programs at Purdue Global and download our program guide.
Request Information