May 15, 2018 | Purdue University Global
Both online learning and on-campus learning have pros and cons. The real question you might ask is: Which is better for me? The answer depends on a number of factors, including:
Your work status: If you are balancing a full-time job and going to school, you may need a degree program that suits your busy schedule. On the other hand, a flexible schedule may be less important for full-time students. Which statement is most true for you?

I work full time and need a flexible program that fits with my schedule. Online education may be right for you.
I work part time and have a more flexible schedule. Either online or on-campus will work well for you.

Where you live: For students who have deep ties to where they live—due to work, family, or other reasons—distance learning provides access to programs virtually all over the world. Which statement is most true for you?

Moving isn't an option. Online may be a better option, especially if your local university doesn't offer a program that interests you.
I can live anywhere. Either online or on-campus will work well for you.

Family: Add family into the mix of balancing work, life, and school, and you need a program that allows you to study on your schedule

I have a family, so I need to take classes when my house is quiet. Online education may be better for you.
Family obligations aren't a big issue for me. Either online or on-campus will work well for you.

Your learning style: Online learning provides many channels through which students and instructors interact with each other, including email, online chat, and video conferences. On-campus education provides communication through the same channels with the addition of in-person, in-classroom opportunities. Which statement is most true for you?

I am comfortable communicating through email, chat, and video conferencing. Either online or on-campus will work well for you.
I prefer in-person communication. On-campus will probably suit you better.
There are many more factors to consider as you explore your options. Most importantly, you'll want to find a college that offers a variety of programs so that you can find a degree that lines up with your career goals. For example, Purdue University Global offers more than 175 programs.
In the following sections, you'll see research that suggests a slight trend away from traditional brick-and-mortar college toward virtual learning environments. That trend doesn't mean that one option is better than the other; rather, technology has made it possible for universities to reach a wider audience. And the wider audience is responding to increased opportunities.
Traditional Classroom vs. Online Education Enrollment Statistics
The traditional classroom education experience requires you to attend classes in person, on a campus. This is still the most common way of learning, although a recent report suggests a decline in traditional college enrollment: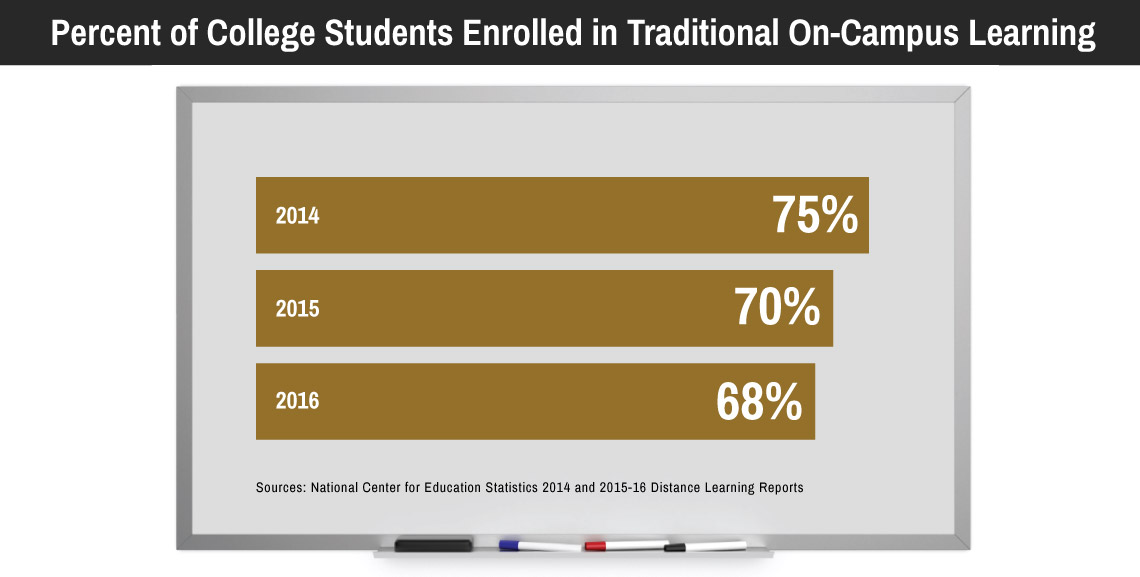 Online education is becoming a more appealing option for many students. While on-campus enrollment saw slight year-over-year declines from 2014 to 2016, online enrollments saw increases.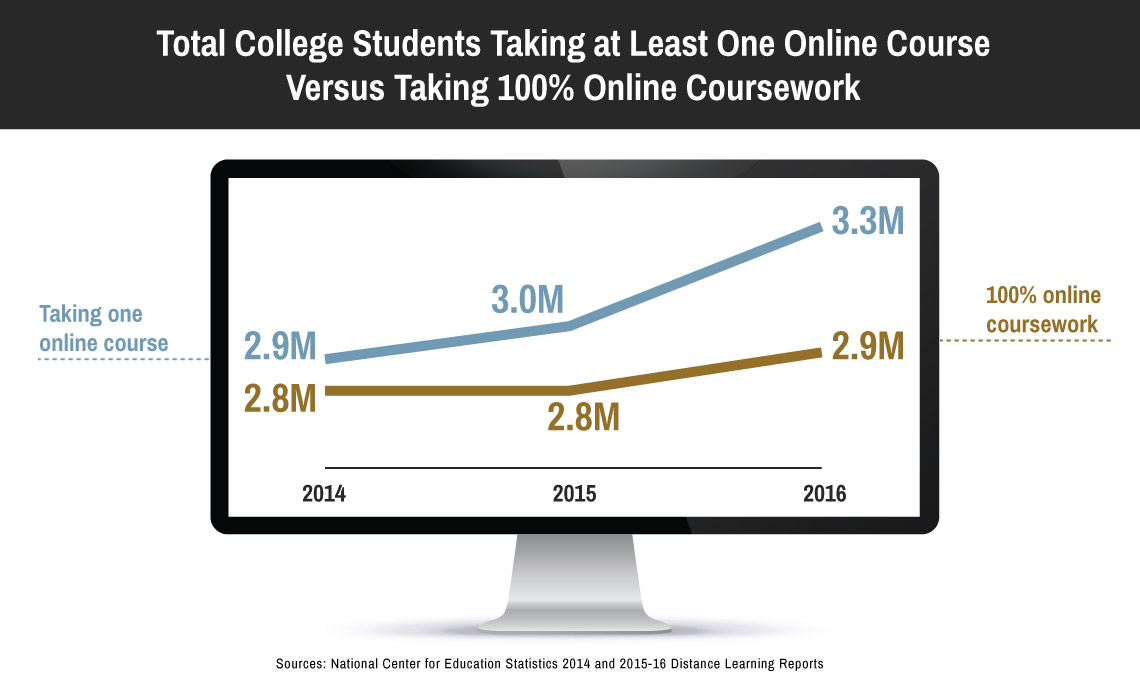 Quality of Online Learning vs. In-Class Learning
The Journal of Public Affairs Education published a study that compared the effectiveness of online learning with in-classroom learning and found that:
While online education tends to have less sense of instructor control, group dynamics were more favorable.
Group contact tends to be continually maintained in online learning, but in the classroom setting, there was little group contact between meetings.
Because of the distributed model of group studying, members may be slower to respond in the online setting.
Although response time may be longer online, the quality of feedback tends to be more detailed and focused than in the classroom setting.
The researcher also found less sense of anxiety in an online group dynamic, and the quality of the technology has a big impact on the users' experiences.
Online Programs Can Provide Greater Convenience
The convenience and flexibility of online learning allows you to study any time, virtually anywhere you have an internet connection. It's an ideal solution for people with demanding work schedules and family obligations. In many situations, you can pause the content or go back to a portion to refresh your memory. This is incredibly helpful when you need to spend extra time on a challenging topic.
Only you can decide whether online education or an on-campus college is best for you.
Visit our FAQ page for answers to common questions about the online learning experience, or click here to request more information.