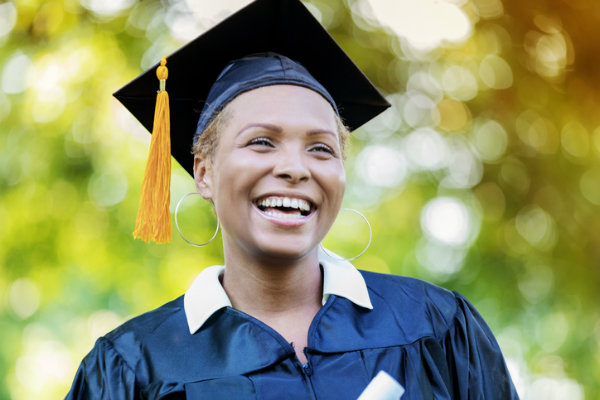 February 22, 2019 | Purdue Global
|
Updated December 23, 2020
Going back to school after you've already entered the professional world is a meaningful decision. You might work 40 hours a week or more, have a spouse and/or children, or be taking care of an elderly parent. Amid all your responsibilities, going to school requires a significant commitment.
According to the National Center for Education Statistics, college enrollment of those aged 25 and older increased 13% between 2005 and 2015. From 2015 to 2026, NCES projects more 25-and-older adults will head back to college, with a projected increase of 8%.
If you've thought about going back to school for an associate's, bachelor's, or master's degree or graduate certificate, ask yourself these five questions. They can help you make a better decision.
1. Are You Seeking to Expand Your Career Opportunities?
One of the most common reasons adults return to school is for career advancement and job security. A 2019 report by the U.S. Bureau of Labor Statistics found that the higher one's educational attainment, the more the unemployment rate decreases. At the time that report was written, those with a high school diploma had an unemployment rate at 5.4%. Workers with graduate degrees had the lowest unemployment rates and highest earnings.
If you want to advance in your career, manage a team, or move to a different company, there may be educational requirements to do so. In addition, having an education can help you stand out among competing candidates.
Some roles require specific educational training to perform the duties. Earning a degree may help you learn the knowledge you need for a certain role.*
2. Are You Switching Career Fields Completely?
Changing jobs is common today. In May 2018, the number of Americans who quit their jobs was at the fastest rate since 2001, suggesting that more workers are willing to leave one company for another, MarketWatch reports.
Maybe your current field is no longer fulfilling. Perhaps you've grown and changed from the person you were years ago, when you chose your degree program. You may have discovered a new passion. If you want to enter a new career field altogether, you may need training.
To determine if you need additional training, it can be helpful to research open jobs in your desired career field and review the job descriptions. If most of them require a certain degree, you may benefit from going back to college.
For adults who want or need to keep working while they're in school, there are options, such as online universities that allow you to attend class on your own schedule.
3. Did You Leave College Before Earning Your Degree?
Many people enter college and leave before graduating. In 2017, CNBC reported that more than 2 million American students were expected to start college in the fall semester, but fewer than 55% of those students would graduate.
Sometimes a degree is what you need to jump-start your life, especially professionally. A study by Pew Research Center found one-third of Americans without a four-year college degree said they didn't apply for a position they thought they would be a good fit for because the job required a bachelor's degree. When you complete your degree, you may find new confidence and job opportunities you didn't have before.
If you have attended college in the past but didn't graduate, you may be able to transfer your credits to a new school and earn your degree faster.
4. How Will a Degree Help You Meet Your Goals?
Before embarking on any big commitment like a degree program, you should ask yourself what you're trying to accomplish.
What are your goals? Is it a different job title? To be happier and more fulfilled? To pursue a different career in a new location?
Research whether the degree program you're considering will help you accomplish your goals. Make sure the program you choose can help you achieve the career you're considering. Diligent research can help you align the best program and type of learning with meeting your goals. The rewards can be great, but clarify what you want out of a degree program before you commit to one.
5. Do You Have the Support You Need to Be Successful?
If you work full-time and/or take care of family, you'll need to make sure that if you attend college:
You'll have a quiet place at home or somewhere else you can go to study.
You have support to help you with household and family responsibilities, such as chores or picking up the kids from school.
Your schedule enables you to continue working, if needed, without college affecting your job.
Discuss with your boss the possibility of attending college. You might be able to negotiate a more flexible schedule, or an online degree may be a good option. Your work may even provide financial assistance for you to attend school.
It's important to be realistic with your family about the demands college will present, as well. You'll need time to focus, rest, and lead a healthy lifestyle. If your family is not willing to shift responsibilities during this time, you might face challenges.
Good News: There's a Way to Try College Before You Commit
Even if you're confident with your decision to go back to school to earn a degree, you may wish to try a class before signing up for a full commitment.
At Purdue Global, we let you experience online college for a three-week trial period.† Take real classes for real credits, and if you wish to discontinue at any point during the introductory period, you may do so with no tuition cost or financial obligation except for the application fee. This gives you a better idea of the time commitment and effort you'll need to put forth in full-time school.
Learn more about Purdue Global's online college programs for all types of degrees. We offer 175+ online programs that are designed to fit the busy schedules of working adults. If you're ready to take the next step, request more information today.
---
Your Path to Success Begins Here
Learn more about online programs at Purdue Global and download our program guide.
Request Information