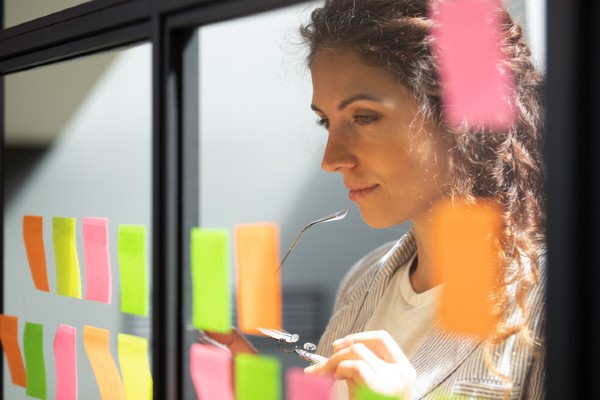 March 23, 2021 | Purdue Global
It's hard to pin down how many times people change careers. The U.S. Bureau of Labor Statistics says it has no comprehensive information on career changers, because they can't reach a consensus on what constitutes a "career change." But the bureau also says that people move to new jobs about a dozen times by their mid-50s, with half of those changes happening between ages 18 to 24.
When it's time to change careers, there's more to consider than the most in-demand jobs or best salaries. First, you need to look into career change ideas and how to discover your career path.
Here are 10 ways you might find career ideas and can learn more about the most in-demand jobs.
1. Consider: Why Now?
Ask yourself: Is it really time to start a new career? Are you sure you have the time? The inclination? The finances?
It makes sense to get a good handle on this question. If you find yourself interviewing for a new career, it's likely that you are going to be asked why you're changing jobs. You should have a good answer for prospective employers—and for yourself.
There are a variety of motives for people to choose a new career. A study by Indeed lists five primary reasons:
Unhappiness. 81% were unsatisfied in their previous job.
Inflexible work circumstances. 79% say they want more options, such as working from home or different hours.
Not enough pay. 79% said they left for more money elsewhere.
Lack of professional challenge. 78% said their work didn't challenge them enough.
Uncertain opportunities. 77% said they didn't see a clear path to career advancement.
Whatever your reason for leaving, you need to get a good feel for what you'd like to do next.
>> Should You Go Back to School? Ask Yourself These 5 Questions
2. Assess Yourself
Think about your interests and your skills when you're considering a career change. Be honest about your abilities, too.
Consider ways to tap into your current knowledge and education to find careers that incorporate the skills you enjoy using and that you're good at performing.
A career assessment test can also help you sort out your likes, dislikes, and opportunities. Purdue Global offers a quick-start assessment and a detailed assessment.
3. Have Others Assess You
Here's a chance to make use of your professional contacts. Invite current or former employers or colleagues to sit with you and brainstorm ideas.
You might also want to contact a career specialist or coach to help you sort out ideas and give you solid, unbiased opinions of your career possibilities. Be aware, however, that career coaches aren't responsible for finding or landing you a job.
4. Make a List (or Two)
Make a list of career ideas that include the kind of work you like and the kind you don't like.
One way to start would be to remember a good work day. What did you do? Did you analyze data, work with a team, or write a report? Can you find a career that uses those skills on a more regular basis?
Conversely, consider a bad day. What went wrong then? Did your work lack focus, did you shy away from presentations, or did you miss contact with team members? What would you want to avoid in your next career?
Both of these lists will help you clarify and eliminate ideas.
5. Search for Job Ideas
If you're still trying to discover your career path, search Google for jobs that match your interests, skills, talents, and values. Take your results and then plug them into job sites or the O*Net Resource Center to refine your ideas.
Once you have a clearer concept of career change ideas and titles, you can research job posting sites to find further descriptions and requirements. This will help you understand what employers are looking for. You can then identify how the jobs match up with your interests and qualifications, and whether additional training, education, or experience is required.
6. Research Job Statistics
When you're making the move, you want to make sure you're considering a career that is in demand. Go to the BLS's Occupational Outlook Handbook to research the outlook for your top career choices.
The BLS can also tell you some of the fastest-growing occupations through 2029. Some of the top careers include*:
Nurse practitioners
Medical and health services managers
Information security analysts
Data scientists and mathematical science occupations
Forest fire inspectors and prevention specialists
7. Visit Professional Associations
Most careers offer professional associations, which can be a helpful resource to the career changer.
"Professional associations are a great way to connect with others in your field and keep up to date on new industry trends, best practices, and career opportunities," says Jennifer Katz, director of career services at Purdue Global. "Take advantage of virtual and in-person seminars and conferences, volunteer for a committee, or read their blogs and newsletters to enhance your industry knowledge and awareness of career options that may be of interest to you."
8. Interview Professionals in the Field
If you've got a general idea of what career you're looking for, consider conducting informational interviews with professionals who are in that field. These professionals can give you a sense of the real-world, day-to-day responsibilities of that role and whether it might be the right fit for you.
Use LinkedIn to connect with these professionals, or see if a university or professional association, like those mentioned above, can help.
>> Read: How to Optimize Your LinkedIn Profile
9. Consider What Else You May Need
Will you need new training? Are there webinars that can help you enter the field or sharpen your skills? Are there books you can use to get more background information on the career landscape? Will your new career require a certificate or a college degree?
Find out what you need, and explore ways to get it. Find out more about Purdue Global's online degree programs.
10. Start Your Job Search
Visit LinkedIn and other job search sites related to your industry to find the best fit. A related professional association might also have job boards you can explore.
Connect with your network to find out about more job opportunities and to get introductions to key hiring managers.
Find Out More About Online Degree Programs
Purdue Global offers more than 175 online degree programs for working adults who need a college degree or certificate to meet their career goals. Learn more about Purdue Global Career Services or request more information today.
---
Your Path to Success Begins Here
Learn more about online programs at Purdue Global and download our program guide.
Request Information