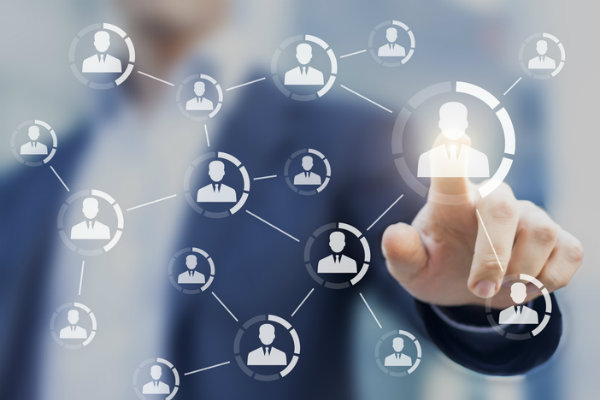 October 24, 2019 | Purdue Global
|
Updated May 9, 2023
LinkedIn is a powerful networking tool. It's the primary social media site for job seekers, recruiters, and people who want to expand their professional networks. More than 900 million people are members, according to LinkedIn, and members live in more than 200 countries. Every month, tens of thousands of companies use LinkedIn to recruit talent. In fact, 87% of recruiters say LinkedIn is the most effective platform for vetting job candidates, according to this Zippia survey.
"As a former recruiter myself, I can tell you that LinkedIn is one of the first places many recruiters go when searching for candidates for their open positions," says Jennifer Katz, director of career services at Purdue Global. "Using LinkedIn effectively can help job seekers make valuable connections, increase knowledge and visibility in their field, and open doors to new career opportunities."
The power of LinkedIn comes from its ability to match individuals with companies, groups, and other individuals who share interests, experience, knowledge, and education. For anyone looking to hire or get hired, it's important to have an optimized LinkedIn profile.
How to Create a LinkedIn Profile
Let's start with your headline. It's the first thing recruiters see, and it's searchable. Not only do you need to include keywords that hiring managers search for, but you also want to use a click-worthy headline. (If you don't customize your headline, it defaults to your current job title.)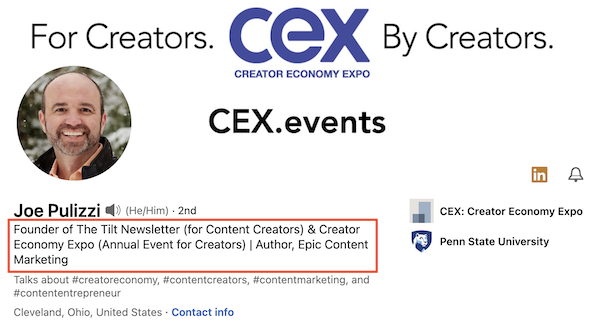 You have a limited number of characters to tell prospective employers who you are, what you've done, and what you can do for them—220 for desktop and 240 for mobile. In the example above, the LinkedIn member (Content Marketing Institute founder Joe Pulizzi) managed to pack three facts about himself into his headline.
Maximize what you add to your headline so you increase the likelihood of your profile coming up in search results for relevant positions.
Tips for Writing Your Headline
Think of it as your short elevator pitch—you have only seconds to tell the reader what you do and why they should keep reading your profile.
Avoid jargon and cutesy terms such as "chief happiness manager."
Use titles and job descriptions that are familiar to your industry ("client relations manager" might fit better than "chief happiness manager").
Include measurable facts, if you can: "Manage a portfolio of $5 million+."
Include accolades your employers, coworkers, and clients have shared with you in the past, such as, "I deliver results ahead of time."
Read your headline out loud. How does it sound? Does it roll off the tongue, or do you stumble with some phrases? Massage the message until it sounds smooth as you read it aloud.
Use titles and job descriptions that are familiar to your industry ("client relations manager" might fit better than "chief happiness manager").
Katz says it's important to optimize your LinkedIn profile to make sure it gets noticed by the right people.
She adds that it's important your profile is filled out as completely as possible and tailored to the type of position you seek. Using relevant keywords and transferable skills will ensure your profile shows up when recruiters search for candidates with experience similar to yours.
This is also a great opportunity to highlight special projects, certifications, involvement with student or professional organizations, volunteer work, and other accomplishments that speak to your commitment to your field.
Your LinkedIn Profile Photo: Do's and Don'ts
A LinkedIn profile photo can help you get noticed. The platform reports that having a profile photo results in up to 21 times more profile views and 9 times more connection requests.
Your LinkedIn profile photo should be current, professional, and show you in a positive light.
Do appear approachable in your photo.
Don't take a selfie.
Do touch up the photo if it needs to be lightened, darkened, or sharpened.
Don't distort or over-stylize your photo using Photoshop or filters. Keep your photo real.
You should have a high-resolution square image, about 400 x 400 pixels (less than 8MB in file size). When you upload, it will automatically be cropped to a circle.
Optimize Your LinkedIn Cover Photo
What about the large cover image in the background of your LinkedIn profile? Use this area to show other LinkedIn members who you are as a professional. Unless you're a photographer, save the sunsets, family photos, and vacation pictures for your other social media accounts.
Your background image should represent who you are and what you do. Look at the profiles of other people in your profession—what do they do that catches your attention (in a good way)?
Find a stock image that relates to your field, such as an image of a computer for an IT professional or medical supplies for a health care provider. The banner photo size is 1584 x 396 pixels. If necessary, use a free photo editing site like Pixlr X to edit your photo.
Browse free texture, wallpaper, and pattern images, and use one as a placeholder until you find the ideal image that says who you are.
Unsplash is a great website that has beautiful images you can download and use without restrictions. Browse their collection of free stock photos, wallpapers, textures, and patterns. See below for a couple of examples:


A financial advisor might want to use an image of stocks or financial reports.




An IT specialist might use this picture of code for their background image.

You can also add other items to your profile, including documents, photos, videos, presentations, and links to published work. These materials can engage page visitors and motivate them to learn more about you and what you've accomplished.
Best Practices for Writing Your LinkedIn Summary
Writing about yourself is no easy task, whether it's a cover letter, author bio, or your LinkedIn summary. These tips can make the process easier.
Leave out adjectives and adverbs and stick to the facts. Summarize your resume and include numbers and data to back up facts. Can you say you've reduced costs by 10%? Were you the highest-earning sales associate? Do you have skills that make you in-demand in your industry?
Summarize your experience and areas of expertise. Be honest—the internet makes it easy to fact-check claims of years of service or experience. Use a formula similar to this: "I have _________ years of experience in ___________________. I'm trained in ________________ and am an expert in ____________________."
Highlight areas of interest. Your areas of interest can be specific industries (health care, manufacturing, or travel and tourism, for example); or, they could be categorical, such as retail, B2B, or tech startups. If you are open to a broad range of opportunities, be careful not to pigeonhole yourself with interests that are too narrow.
In the absence of real-world work experience, emphasize classroom skills. Employers know that college students, interns, and recent graduates may have limited real-world experience in their chosen fields. Don't discount the customer service experience you gained while waiting tables in your younger years. Highlight coursework, group projects, and even your GPA to show employers that you're ready for their team.
Use keywords in your summary. After you've written, edited, and rewritten your summary, review it, and look for keywords that are relevant to your profession. Were there keywords you weren't able to include in your title that you can work into your summary description? Are there synonyms for those keywords that you might be able to work in naturally?
Build Out the Experience Section
Include keywords that are relevant to your profession. Review job postings that you're interested in to find commonly used words and phrases, and, if you have those skills, incorporate them into your profile.
Don't limit your experience to paid work, and don't underestimate the work you did early in your career. Waiting tables, working retail, telemarketing, and other entry-level jobs are valuable training grounds for soft skills such as handling difficult people, solving problems, meeting deadlines, and working on teams.
Highlight volunteer work, internships, clubs, and student organizations you've participated in. Describe what your roles were with those organizations, and highlight transferable skills.
Claim Your Custom URL
LinkedIn lets you claim a vanity URL, which looks like this: linkedin.com/in/yourfullname. You can change your LinkedIn URL up to five times in six months. LinkedIn recommends choosing a URL that is a combination of your name and profession, such as linkedin.com/in/janedoeengineer. You can use 3 to 100 characters for your URL, but symbols and special characters aren't allowed.
Add Your Skills
LinkedIn allows you to highlight 3 top skills and then list up to 50 subskills. Again, it can be helpful to review the descriptions of open job postings to help you identify skills.
As you expand your network, your connections will be able to endorse you for the skills they know you to have. The jury's out on whether this helps you show up in search results, but the list of skills will help prospective employers understand what you could bring to their organization.
LinkedIn allows you to highlight 3 top skills and then list up to 50 subskills. Again, it can be helpful to review the descriptions of open job postings to help you identify skills.
As you expand your network, your connections will be able to endorse you for the skills they know you to have. The jury's out on whether this helps you show up in search results, but the list of skills will help prospective employers understand what you could bring to their organization.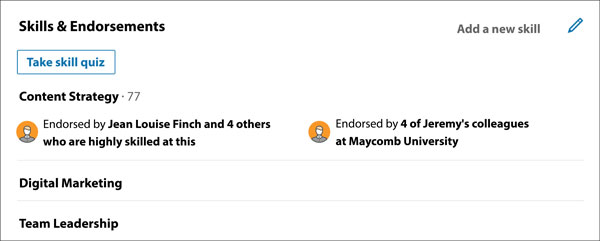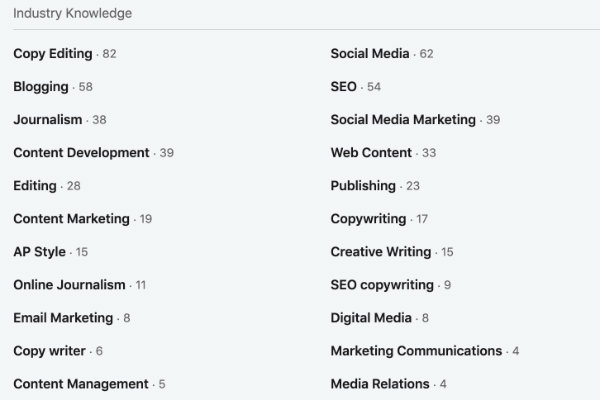 Do You Need Recommendations on LinkedIn?
The difference between endorsements and recommendations is that endorsements are keywords that your connections can click to endorse a skill you have. The issue with endorsements is that anyone can click them, and there's really no validation process to ensure the LinkedIn profile aligns with the endorsed skill.
Recommendations, on the other hand, tend to carry more weight, especially if they're well written and from someone who's worked with you. In a survey of recruiters conducted by Jobscan, 92% of respondents said they trust a recommendation made by peers. While not having recommendations won't necessarily bar you from getting a job, good recommendations can make a solid impression.
The bottom line: Make sure recommendations are well-written and reflect who you are as a professional.
Other Best Practices for Using LinkedIn
As more job seekers and hiring directors look to LinkedIn to make a connection, there are a few things you should be doing to get yourself noticed. There are new techniques that savvy users can employ.
Use Hashtags to Raise Visibility
Hashtags can help users search for and find topics and subjects. If you're looking for work, you could try hashtags in your field, such as #marketing or #realestate; or, look for #careers, #hiring, #opentowork, #jobs, #jobsearch, #recruiting, #recruitment, or #training.
Hashtags also help others find your content. According to LinkedIn, adding the right hashtags can:
Establish your credibility and expertise.
Reach people who value your insights.
Jumpstart meaningful conversations over shared interests.
Go Beyond Your Resume
While many hiring managers recommend keeping your resume to two pages or less, you have more room to detail your job experience on LinkedIn. This presents an opportunity since adding more information about what you've accomplished also makes your LinkedIn profile more visible in search engines. Featuring keywords that recruiters are including in their search can be helpful.
Another advantage a LinkedIn profile offers over a resume is that you can upload visual work samples to your positions. If you don't yet have professional industry experience, you can add samples of projects you've worked on in school that relate to the career you want. As you complete new projects or achieve new accomplishments, you can update your profile by adding them to each relevant position.
Review Your Privacy Settings
You likely want your profile to be public so that it's easy for recruiters and employers to find you and research you. But you may choose to switch some settings to private, like the actions you take on LinkedIn, such as notifying your network when you make profile updates. Check out LinkedIn's visibility settings to ensure your settings are updated.
Set Up Job Alerts
LinkedIn will send you relevant job opportunities as they arise. Click on the Jobs tab to set up job alerts for positions related to your field.
You can get email summaries with opportunities based on profession, specialty, location, and other factors. The more you tweak your settings and interests, the more precise the alerts will be.
Post About What You Know, Even Now
LinkedIn suggests posting about what you're going through as you're working or looking for work. According to HubSpot, it's ideal to post on LinkedIn four to six times a week.
Here are some best practices for your own posts:
Be yourself and offer your own perspective. LinkedIn doesn't always have to be about work. Some successful posts come from professionals about lessons they've learned, their appreciation for their team, or even about staying positive. Share and comment on those posts, and offer up similar ones.
Discover and comment on relevant conversations. Use hashtags to find things of interest to you and share. Find what people are talking about and join in. Discover a relevant new tip about job hunting and share it. You can follow and join conversations by following hashtags.
Share your experiences. Let people know what you're thinking and what you're doing. Share your experiences looking for work, interviewing remotely, and even what your home office setup looks like. There are many people out there who can relate. Be sure to hashtag your post.
Get Started Today—Career Services Can Help
From the day you start your online degree program at Purdue Global to the moment you graduate—and beyond—our career services team is here to support you. Career planning is part of our curriculum, and we partner with instructors and advisors to ensure your education prepares you for the real world.
Some of the services we offer:
Resume review and advice
Referrals to career-related resources
Social media profile review (including LinkedIn)
Coaching on how to articulate your skills and experience
Take our interactive career assessment to discover your career path, and then request more information about our online programs.
---
---
Your Path to Success Begins Here
Learn more about online programs at Purdue Global and download our program guide.
Request Information