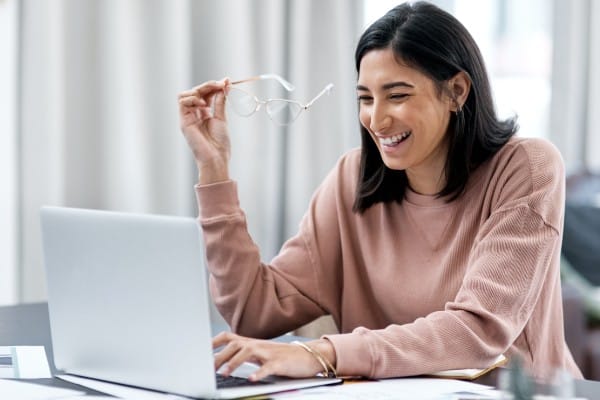 June 24, 2022 | Purdue Global
Networking is a crucial part of landing a job after graduating from college. When you think of networking, you might picture attending a career fair or shaking hands with like-minded professionals at an industry conference. However, there are plenty of ways to network without leaving the comfort of your home—and in most situations, these methods are just as effective as in-person networking.
Online forms of networking have become increasingly common as more of our daily activities shift online. In a 2020 LinkedIn survey of individuals who lost their job early in the COVID-19 pandemic, 82% of respondents said that networking is vitally important for finding a new job.
College students should begin building and maintaining a professional network before they graduate. Find out how to network as a college student while attending classes online.
1. Introduce Yourself to Classmates and Faculty
Introducing yourself to classmates and faculty is an essential first step of building relationships as an online student. During the first week of class, consider sending your professor or classmates an email or a private message on your school's online learning platform. Your introduction can include information such as where you're from, what program you're enrolled in, your career goals, and what you're hoping to get out of the class.
By initiating the conversation, you can ensure that you're creating a good first impression. You may even make your classmates feel more comfortable as they begin their lessons.
2. Actively Participate in Class Discussions
Most online classes feature some sort of online forum or discussion board. This can be a great place to make connections with your classmates.
If you're taking an online class that is specific to your degree program, it's likely that your classmates have similar career goals to your own. Getting to know your classmates over the course of the semester will make it easier to reach out to them once you're in the job market.
3. Create a LinkedIn Profile (and Keep It Updated)
LinkedIn is an invaluable tool for making connections across your industry. That's why creating a LinkedIn profile is one of our top online networking tips.
LinkedIn has approximately 830 million members, spanning more than 200 countries, so there's no shortage of opportunities to network. After you create your profile, make sure it's optimized with a headline, profile picture, summary, skills, and work experience. You can also add your education, along with your projected graduation date and a description of notable coursework.
After you add your education, check out the official LinkedIn profile for your college and university. From here, you can view other users who list the school on their profile. This allows you to easily find current students or alumni who may be working in your desired career field.
When reaching out to create new contacts, be sure to customize your invitation rather than use the standard request. By taking a moment to explain why you'd like to connect, you'll make a better first impression and increase your chances of actually building a network of contacts.
As you progress through your degree program, be sure to regularly update your LinkedIn profile.
>> Read: 4 Things You're Doing Wrong on LinkedIn
4. Maintain Your Online Presence Through Social Media
Although LinkedIn is one of the most popular social media platforms for networking, there are other sites that are beneficial for building and maintaining your online presence. According to Jobvite's 2021 Recruiter Nation Survey, these are the social media channels most commonly used for recruiting:
Facebook (68%)
LinkedIn (65%)
Twitter (48%)
Instagram (46%)
YouTube (35%)
Snapchat (20%)
TikTok (16%)
Following industry leaders across multiple platforms—and not just LinkedIn—can help you expand your knowledge and provide a means of getting to know others in your field.
That said, you want to ensure you are presenting a professional image online across all your social media accounts. If there's something you wouldn't want a potential employer to see, make sure you either delete that content or set your account to private.
>> Read: 3 Tips to Protect Your Online Reputation and Keep Your Digital Footprint Under Control
5. Take Advantage of Your School's Career Services
Most colleges offer career services to students, and in many cases, you can access these services even after you graduate.
At Purdue Global, our Center for Career Advancement offers a career assessment that helps students identify possible career paths based on their experience and interests. We also provide students and alumni with individualized assistance and access to the CareerNetwork platform. In addition to searching for and applying to jobs, this online platform allows you to post questions to the CareerNetwork community. This can be a valuable way to get more information about a particular career and network with Purdue Global students and alumni.
6. Attend Virtual Events
A common networking tip for college students is to attend career fairs or industry conferences. While you might traditionally think of these events as in-person affairs, the reality is that more events are being held virtually. Virtual events were gaining popularity even before the COVID-19 pandemic, and are expected to continue to become more prevalent.
Be on the lookout for virtual events held by notable employers in your industry or by your school's career services team. If you're a student at Purdue Global, you can view the Center for Career Advancement's events calendar online. We also send out frequent email blasts highlighting events such as employer spotlight sessions.
7. Join a Student Organization or Professional Organization
Joining a student organization or club lets you meet students and faculty outside of your regular bubble. Do some digging to see if your school offers any organizations that hold events or meetings online. At Purdue Global, for example, we have 25 clubs and organizations, all of which are fully online.
Another option is joining a professional organization outside of school. Professional organizations or associations are intended to further the interests of a particular industry or profession, so they're a great avenue for meeting individuals in your field. Sometimes professional organizations will even offer reduced membership fees for students.
8. Follow Up with Your Network
Having a robust network of connections on social media isn't much use if you never speak to any of them. To fully leverage your professional network, you need to find ways to regularly check in with your contacts. Following up with your connections helps you form more meaningful connections. Plus, it makes it easier to reach out if you ever need to turn to someone for specific career advice.
Wondering how to best keep in touch? In many cases, all it takes is occasionally sharing an interesting article with a connection on LinkedIn or sending a message to a classmate you haven't spoken to in a while. Every month or so, set aside an hour or two to check in with your network. If you're actively job seeking, you'll want to do this more often.
Reach Out to Purdue Global
If you're looking for additional online networking tips, Purdue Global's Center for Career Advancement is happy to help. Our career advisors are dedicated to providing you support both during and after your degree program.
For many individuals, a college degree is the key to opening up additional career opportunities. Request more information today about our online programs.
---
Your Path to Success Begins Here
Learn more about online programs at Purdue Global and download our program guide.
Request Information