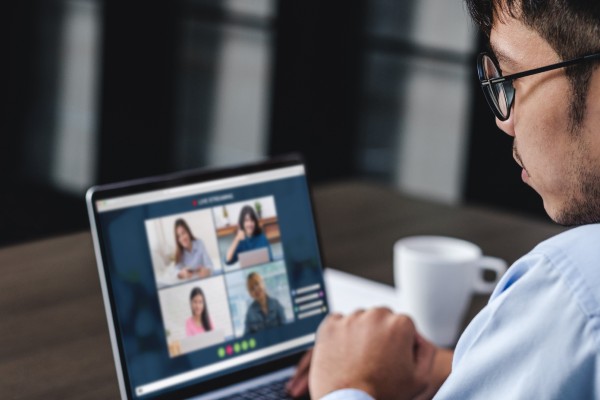 May 26, 2021 | Purdue Global
One thing COVID-19 did for the entire higher education space: it moved traditional in-person career fairs online. As an online school, Purdue Global has been hosting virtual career events for years.
As you navigate virtual career fairs and events in search of a job, learn how to make the most of these opportunities. The following tips will help you find and stand out at these events—and maybe even land a job.*
1. Create a List of Employers to Follow on Social Media
Employers have increasingly been hosting virtual recruiting events, coffee chats, and information sessions from their social media accounts. Many employers and hiring managers use LinkedIn to promote upcoming events and open positions, so it's important to be strategic about the companies and people you follow on LinkedIn so you can stay connected.
"We see many employers 'go live' on LinkedIn, where they talk about their organization and their open opportunities," says Tiffany Manning, assistant director of Career Services at Purdue Global. "Anyone is welcome to attend, and sometimes you can interview on the spot or talk directly with the recruitment staff."
Create a list of employers you are interested in working for, and then follow them on LinkedIn, Twitter, and Facebook.
"I often get alerts on my LinkedIn from employers going live," says Manning. "Some take a more formal approach and announce scheduled times for these information sessions. Job seekers should follow these companies and sign up for relevant newsletters and alerts related to hiring."
2. Purdue Global Students: Sign up for the Events Calendar
"About once a month, Career Services at Purdue Global hosts individual employers for employer spotlight sessions, which are essentially information sessions," says Jennifer Katz, director of Career Services at Purdue Global. "Employers present to students regarding career opportunities, what it's like to work for their organization, tips for applying, etc. It's a better fit for our students and a more efficient use of their time."
Purdue Global students can view the events calendar online. "We send out personal email blasts from our career specialists," Manning says, "and they're posted on our Career Network with the dates, times, and links. We also announce these employer spotlight sessions on our Facebook page, so students should like us on Facebook too, if they haven't already."
3. Have an Updated Resume and an Active Application With the Company
Prior to attending a company's virtual hiring event, make sure that your resume is up to date. If you're committed to a specific employer or see a position that you're qualified for and interested in, it's recommended to submit a tailored resume and cover letter for that position prior to attending the hiring event.
This way, if you do get an opportunity for one-on-one time with the recruiter, you can let them know your resume is on file and you've already applied for the position. This demonstrates your interest and helps you stand out from others who haven't gotten nearly as far in the process.
>> Learn More: How to Optimize Your Resume for Applicant Tracking Systems
"For those who are still exploring opportunities or aren't quite sure if this is the employer for them—it might be best to get additional information and ask questions at the event first," says Katz. "Oftentimes, employers will be able to add a little more 'color' to their postings during the event that may be helpful for the applicant to determine if it's a good fit for them."
4. Prepare as You Would for an In-Person Meeting
"Perhaps the best advice is to prepare exactly like you would if you were going to an in-person career fair, or even if you were going to interview with one of these employers in person," Katz says.
"Do your research on the organization and on positions they might be hiring for. Find out who will be presenting from that company and do some research on them, too, so that when you arrive at these virtual career events, you're prepared to ask thoughtful, insightful questions that can help make an impact."
Being able to speak intelligently about an issue in the industry or one that a particular employer is experiencing can help you stand out in a situation where employers are meeting dozens of people.
5. 'Dress for Success' Still Applies
Even in a virtual setting, it's still important to dress professionally and be prepared to be on camera.
"While not all of the participants may be on video, you just never know," Katz says. "Always be prepared. You don't want to be caught with an unprofessional appearance or background."
6. Join Professional Organizations
Professional organizations are still alive and active, even in an era of social distancing. Joining a relevant professional organization is an excellent opportunity to network and get access to their online events and workshops. You never know when an opportunity might present itself through the connections you make there.
"Just as many employers have had to move to virtual recruiting and career events, so too have professional organizations," Katz says. "Many offer wonderful opportunities to network and find companies who are hiring."
Would a College Degree Help You Go Further in Your Career?
Purdue Global offers more than 175 online programs, including associate's, bachelor's, master's, and doctoral degrees and certificates. If a college degree could help you meet your career goals, and you need the flexibility of an online university, reach out today for more information.
---
Your Path to Success Begins Here
Learn more about online programs at Purdue Global and download our program guide.
Request Information