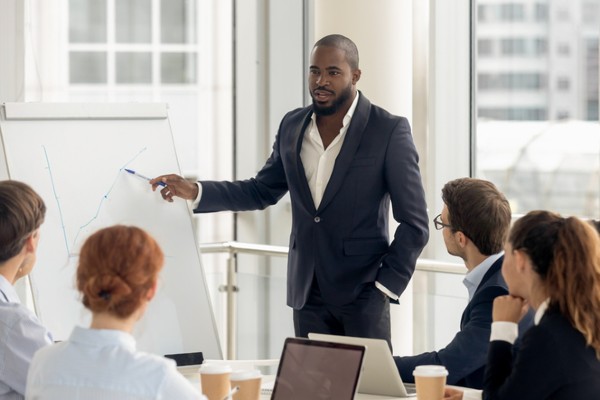 April 17, 2020 | Purdue Global
The concept of servant leadership goes back millennia, but the term itself was first used by Robert Greenleaf in his 1970 essay, "The Servant as Leader." This leadership philosophy has skyrocketed in popularity since then, with numerous books published on the topic and increased attention being bestowed on it in the media and popular culture.
We sat down with Rebecca Herman, Graduate Professor of Leadership at Purdue Global and an organizational culture expert, to learn more about servant leadership and its benefits.
What Is a Servant Leader?
"There are many ways to define it," Herman says, "but my personal favorite goes back to Robert Greenleaf's definition: 'The servant leader is servant first. It begins with the natural feeling that one wants to serve first.'"
The Greenleaf Center for Servant Leadership further defines servant leadership as "a philosophy and set of practices that enriches the lives of individuals, builds better organizations and ultimately creates a more just and caring world."
What does this mean? It means that a servant leader focuses on the growth and well-being of employees and other stakeholders in their organization. Servant leaders seek to help the people they serve grow as individuals.
"If they are growing, then they desire to perform and achieve," Herman says. "They have more capability to accomplish things, and therefore they're really serving in return, and it becomes a cycle of positive service and performance, which I believe makes servant leadership exceptional."
How Does Servant Leadership Differ From Traditional Leadership?
Traditional leadership, Herman notes, focuses on such things as strategy, goals, financial performance, and customer satisfaction. "Those things aren't bad, of course," she says. "Those are things we expect leaders to do. We want our CEO to focus on things that are going to bring us profit.
"But servant leaders go further. They focus on providing their employees with development opportunities. Employees today want to feel they have a job where they can succeed. They want an opportunity to be coached and mentored by someone. And since servant leaders put people first, they get to know them on a different level. They help them to develop, they give them opportunities because they empower them versus micromanage them."
What's Driving the Growth of Servant Leadership?
"We live in a very fast-paced technological world," Herman says. "We are inundated with information at such increasingly large levels that it's almost impossible to keep up with. We're people first, and our basic human needs are needing to be met.
"Servant leaders understand how to build a workplace culture where teams and community are valued. And people want that real feeling of community in the workplace because they don't have it in their lives."
Herman says our present culture can be disconnecting.
"We are incredibly virtual today," she says. "We have virtual jobs, serve on virtual teams, and get to know people virtually on social media. We text more than we speak on the phone or face-to-face. Even dating is done on an app—you have the option of swiping left or right to determine if you may want to meet someone. People are craving real relationships and real connections. Plus, this goes back to that whole idea that we all really want to feel we've contributed to the world, that we want work that has true meaning."
The Benefits of Servant Leadership
Increased employee loyalty and a beloved company culture are benefits of this style of leadership. Productivity and problem-solving are also bolstered with servant leadership.
"Servant-led employees don't fear that if they take a risk and try to do the right thing, they could get punished," Herman says. "I think that makes them perform at more of a risk-taking level, as long as they're doing it based on the goals, the mission, and the core values of the organization.
"And that ultimately leads to how that business performs," she says. "If every person is performing at their best, imagine what the organization is going to be like. People who receive coaching and personal development are equipped to be empowered to make decisions to serve their customers. Empowered employees are more engaged, and this increases job satisfaction, which increases retention. You want great people to stay a part of your organization."
Well-Known Servant-Led Companies
Some of the best-performing companies are well-versed in this style of leadership. Herman named the following companies with servant leaders at the helm:
Starbucks
Marriott
Nordstrom
Southwest Airlines
Zappos
Whole Foods
TDIndustries
Aflac
Men's Wearhouse
"When we think of these organizations, we often think about how outstanding their customer service is," she says. "It really isn't accidental, because they're servant-led companies, so their servant-led employees want to make sure the customer is always cared for.
"These are not just the best companies to work for, they're also very high-performing companies—some of the most profitable and successful in the business world."
And there's a reason these are familiar companies with familiar stories being told. Servant leaders are very values-based and mission-driven, so they share stories frequently. That is an additional benefit for a servant-led company looking to build or sustain a brand.
Do You Aspire to Be a Servant Leader?
Making a decision to become a servant leader is making a decision to succeed and to lead your company to success.
"You need to know that it's going to become who you are more than what you do," Herman says. "This is great because it bleeds into your personal relationships and who you are in your community.
"Being a servant leader is amazing, but it's a huge commitment because you're really going to have to take very intentional actions to be a servant leader. It's really about truly walking that talk every day, and modeling that behavior."
Herman says that the greatest leaders have a desire to serve the greater good—and that they may encounter pushback.
"There will be people who will say that you're a little crazy," she says. "They're going to say that it doesn't work if you want to call yourself a servant leader. But you have to be willing to defend that and stand up for it. Be prepared because you will face a lot of resistance."
Herman compares servant leadership in the workplace to the ultimate servant leadership in the home.
"I don't want to say that leadership is like parenting, but parents are really servant leaders in many ways," she says. "And I don't know many parents that would be considered soft or weak. They want to have the best for their kids. That's why they discipline. That's why they try to help them be the best they can be.
"Being a servant leader will change you, and it will change those around you. It can be a little frightening, but the results are worth it."
Learn More About Being a Servant Leader
Herman recommends these books to read more about servant leadership:
On Becoming a Servant Leader by Robert Greenleaf and Peter Drucker
The Servant Leader: How to Build a Creative Team, Develop Great Morale, and Improve Bottom-Line Performance by James A. Autry
The Serving Leader: Five Powerful Actions to Transform Your Team, Business, and Community by Ken Jennings and John Stahl-Wert
Seven Pillars of Servant Leadership: Practicing the Wisdom of Leading by Serving by James W. Sipe and Don M. Frick
The Servant: A Simple Story About the True Essence of Leadership by James C. Hunter
Reach Your Career Goals With Purdue Global
Purdue Global offers more than 175 online programs to help busy adults earn a college degree or certificate while working. Part of the respected Purdue University system, we are accredited by the Higher Learning Commission.* If furthering your education would help you meet your career goals, request more information today.