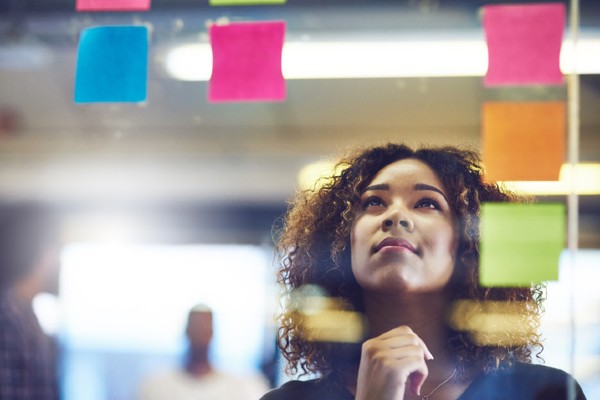 June 11, 2021 | Purdue Global
Marketing seems to be driving many decisions in the business world. Increasingly, businesses are depending on marketers and their expertise to decide how to allocate funds, focus advertising, and reach new customers.
But marketing is more than just influencing, persuading, and selling to the public. Marketing has grown to focus on serving and satisfying customer needs and supports strategic objectives of the organization.
"Marketing is a company-wide undertaking," says Bea Bourne, DM, faculty member at Purdue Global. "Marketing drives the company's mission, vision, and strategic planning. It includes high-level decision-making, including those about product development, pricing, distribution, promotion, and communication."
An MBA with a concentration in marketing can teach the critical decision-making and problem-solving skills management needs to support revenue generation, lead teams, and allow organizations to thrive.
We talked to Bourne and Rita Gunzelman, DM, also of Purdue Global, to find out more about the Master of Business Administration with a concentration in marketing and why it might be a useful degree for you.
What Is the Career Outlook for Marketing?
"Marketing is absolutely an exciting and dynamic field, which brings together many aspects of business strategy and organizational management," Gunzelman says. "Marketing is the only aspect of business focused on revenue generation and thus is essential to any organizational endeavor. The marketing plan supports the business plan and is a requirement whether an organization is a for-profit or a not-for-profit."
Because of the essential need for marketers, the Bureau of Labor Statistics reports that employment in business and financial operations occupations—which includes marketing—is projected to grow faster than the average for all occupations from 2019 to 2029.*
"A growing economy, increasing usage of technology, and use of data are contributing factors to that growth," Bourne says. "All of these factors contribute to the growing demand for marketing-related occupations."
Should You Choose a Career in Marketing?
Earning an MBA degree with a concentration in marketing may enhance your career opportunities and help you develop the skills for leadership positions. It would be a good fit for almost anyone looking to become a business leader in marketing or management, Bourne says.†
"In addition, those who are highly motivated to learn and invest in their own personal growth and development would be ideal candidates for an MBA in marketing," she says.
Gunzelman says some students entering a marketing MBA program aren't necessarily focused on marketing-related endeavors.
"They want to learn business and leadership skills to apply to their own career fields, from engineering to health services," she says. "They are looking to grow into an executive leadership role or to own their own business."
>> Find out some questions to ask when researching an MBA program
What Characteristics Are Typical of Marketers?
According to Gunzelman, some of the characteristics of successful marketers include:
Passion for both qualitative and quantitative thinking
Ability to think creatively and manage risk
Comfort with constant change
Talent for seeing "both the forest and the trees"—that is, to see both the small and big picture
Why Seek a Marketing MBA?
Bourne says one of the best reasons to pursue the MBA marketing degree is to stand out in an aggressive job market.
"An MBA in marketing could provide the competitive edge that differentiates one candidate over other well-qualified candidates," she says. "In a marketplace with a rapid rate of change, an MBA in marketing could help an individual develop the skills and knowledge that are beneficial in consulting or entrepreneurship."
She said an MBA in marketing could also provide valuable skills for the future in the aftermath of job loss.
What Are Some Typical Marketing Careers?
Following are four typical career outcomes after earning an MBA in marketing.
1. Marketing Manager
According to the BLS, typical job duties for a marketing manager include:
Estimating the demand for products and services that an organization and its competitors offer
Identifying potential markets
Developing pricing strategies to help maximize profits and market share while ensuring customers are satisfied
"For people who have not had formal marketing training or education, they view marketing as just being sales or advertising or even social media, and marketing is so much more than that," Bourne says. "Marketing managers analyze industry trends, create marketing plans, recommend responses, and meet with clients to provide marketing strategy and advice."
The BLS projects that marketing management will grow faster than average from 2019 to 2029.
2. Market Research Analyst
According to the BLS, market research analysts examine complex data and convert it into understandable tables, graphs, and reports. They make recommendations to clients and management on how to use the information to make smarter business decisions.
"They collect and analyze data on customers, their preferences, their needs, and their buying habits, so companies can identify potential markets," Bourne says. "Analysts also gather data on competitors, because it's important to also know what competitors are doing with their pricing, their sales, their methods of marketing, and their distribution."
The BLS expects job growth for market research analysts to be about 18% through 2029, much faster than average.
3. Advertising and Promotions Manager
These professionals understand the nuances of advertising and the best way to deliver messages.
"This requires ample knowledge of media planning and strategy," Gunzelman says. "They analyze how many people receive marketing messages and how frequently. They also know the importance of connecting with the overall branding strategy in promotions that are not advertising related."
The BLS projects that advertising and promotions manager jobs will grow faster than average from 2019 to 2029.
4. Search Marketing Strategist
According to O*Net Online, typical job duties for a search marketing strategist include:
Using search marketing tactics to increase visibility and engagement with web content and online products or services
Examining search query behaviors search engines
Analyzing research, data, or technology to understand user intent and measuring outcomes for ongoing optimization
"Search marketing strategists connect with other marketers who need to understand the consumer behavior decision process," Gunzelman says.
O*Net Online projects growth for search marketing strategists to be much faster than average through 2029.
Find Out More About an MBA in Marketing
If you feel you've gone as far as you can in your career, an online MBA with a concentration in marketing from Purdue Global may provide a kick-start. Find out more reasons to get your MBA from Purdue Global. Contact us to learn more today.
---
Your Path to Success Begins Here
Learn more about online programs at Purdue Global and download our program guide.
Request Information