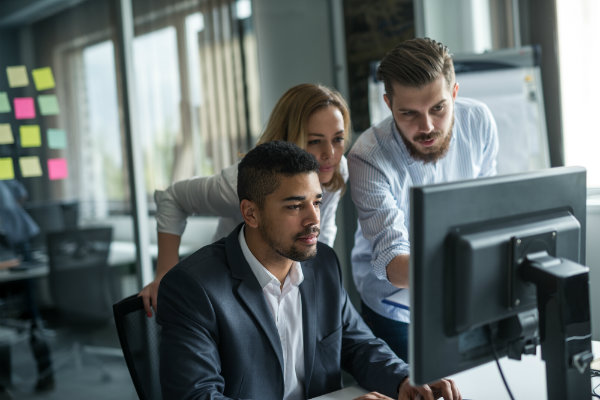 February 12, 2020 | Purdue Global
|
Updated December 23, 2020
The U.S. Bureau of Labor Statistics projects that business and financial occupations will grow 5% from 2019 to 2029, faster than the average for all occupations.* Specific marketing roles are expected to grow as well, including:
A combination of soft and hard skills is important in marketing. If you're looking to launch or expand a career in marketing, these are the top marketing skills you need to be successful.
Interpersonal Skills
Writing Skills
Listening Skills
Teamwork Skills
Digital and Social Media Skills
Ability to Analyze Data
Competency With Numbers and Measurement
Problem-Solving Skills
1. Interpersonal Skills
In 2018, LinkedIn CEO Jeff Weiner told CNBC that the biggest skill gap in the U.S. workforce was interpersonal skills.
"Interpersonal skills are people skills, things like empathy, diplomacy, the ability to get along well with others and resolve conflict," says Martin McDermott, DBA, marketing faculty member at Purdue Global. "These are increasingly important today, especially because, for the first time, we have four distinct generations in the workplace: the millennial generation, Generation X, baby boomers, and traditionalists.
"Each of these generations has different values, opinions, learning styles, customs, goals, and aspirations. Strong interpersonal skills are vital in such an environment. Every successful marketing team is built on trust and rapport."
Learn More: Generational Differences in the Workplace [Infographic] >>
How to Develop Interpersonal Skills
Take an interest in others
Have good manners
Watch your body language
Show compassion
2. Writing Skills
Writing skills are "scarce everywhere," according to a report from Burning Glass Technologies, an analytics software company that identifies labor trends. Yet, they are "in demand across nearly every occupation."
Solid writing skills enable you to express yourself clearly and get what you want. If your writing is sloppy and filled with errors, people may assume that you take the same approach to your work.
"Writing skills are critical to success in marketing," McDermott says. "Much of communication between employees, customers, and vendors typically takes place through email. Sometimes, creative writing is necessary when you're communicating with a prospective customer, and sometimes letters should be written in a more professional manner.
"In addition, marketers are often responsible for writing brochures, newsletters, and blogs. The quality of the writing must be top-notch for the message to be well-received."
>> Learn More: Why Is Writing Important
How to Improve Your Writing Skills
3. Listening Skills

People spend between 70–80% of their day engaged in some form of communication, and about 55% of this time is devoted to listening, LinkedIn reports. Having good listening skills means giving your full and active attention to the people who are speaking to you.
"In marketing, listening is even more important than speaking," says McDermott. "Marketing, at its core, is about listening to the customer and identifying a need. The best marketers and salespeople I've ever worked with have been exceptional listeners."
How to Improve Your Listening Skills
Be attentive—focus on the person who is speaking to you, not your laptop or phone
Make eye contact
Don't interrupt
Ask questions only to clarify
4. Teamwork Skills
Teamwork skills are the ability to cooperate and collaborate with your coworkers, working together to achieve a common goal, manage conflict, etc.
"It's rare to find someone working alone on a marketing project," McDermott says. "You not only work with members of your own team, but with other departments within the organization, such as sales, finance, and accounting. The ability to cooperate and collaborate is a very important marketing skill."
How to Improve Your Teamwork Skills
Communicate more, share ideas, and be open to feedback
Don't clamor for credit
Celebrate others' accomplishments
Use collaboration tools such as video conferencing and chat/messaging tools
5. Digital and Social Media Skills
Just about every marketing job out there requires digital skills, and many require you to at least be familiar with social media.
Seventy-seven percent of U.S. small businesses use social media to facilitate key business functions including sales, marketing, and customer service, according to SCORE, the nation's largest network of business mentors.
"Employers want people who are experienced in digital and social media marketing," McDermott says. "Today, we have search engine marketing, content marketing, mobile marketing, and online advertising. People who are comfortable working in these channels are in high demand."
How to Improve Your Digital and Social Media Skills
6. Ability to Analyze Data

Insights-driven businesses are growing at an average of more than 30% each year, and by 2021, they are predicted to take $1.8 trillion annually from their less-informed peers, Forrester reports. And according to MicroStrategy 2018 Global State of Enterprise Analytics Report, 90% of enterprise analytics and business professionals say data and analytics are key to their organization's digital transformation initiatives.
"The ability to analyze data is a highly sought-after skill," McDermott says. "Marketers now have access to a vast amount of data, and these raw facts and figures need to be converted into information, to give that data meaning. The ability to analyze data enables marketers to identify trends and forecast demand."
Learn More: Rise of the Data Analyst—What's Behind the Boom? >>
How to Improve Your Data Analytics Skills
7. Competency With Numbers and Measurement
Eighty-nine percent of leading marketers use strategic metrics, such as gross revenue, market share, or CLV, to measure the effectiveness of their campaigns, according to Think With Google.
You need to be able to measure the performance of your marketing initiatives and be comfortable with budgeting and campaign tracking. Many marketing jobs require familiarity with metrics around website traffic, page views, search engine rankings, engagement, leads, conversions, and content consumption.
"Comfort in evaluating numbers is one of the top skills needed for marketing," says McDermott. "You should be comfortable with specific measures of performance in marketing, such as CPM, cost per sale, cost per lead, and cost per click, as well as with financial models, such as measuring revenue, cost of goods sold, gross margin, and, of course, profit."
How to Improve Your Measurement Skills
Practice measuring campaigns and delivering KPI data
Define the channels you want to track and master them, then move on to another
Collaborate with peers
8. Problem-Solving Skills
Problem-solving skills are important across all industries. Sixty percent of hiring managers believe candidates lack critical thinking and problem-solving skills, according to a report from PayScale.
"Marketing is constantly changing, and new problems occur frequently in the business environment—changes in the economy, with competition, technology, socio-cultural trends, and political and legal forces," says McDermott. "Employers want people who can maneuver these changes with grace and solve challenges as they come up."
How to Improve Your Problem-Solving Skills
Brainstorm often—it's an excellent way to develop original and creative solutions
Engage with mind mapping tools such as Ayoa and MindMeister
Work logic puzzles and games like Sudoku
Evaluate the results and learn from them
Launch a Marketing Career With Purdue Global
A bachelor's degree in business administration with a concentration in marketing can teach you these valuable marketing skills and give you the knowledge you need to succeed in your career. Purdue Global is an accredited online university that caters to the needs of working adults.† Request more information today to learn how we can help you meet your education and career goals.
---
Your Path to Success Begins Here
Learn more about online programs at Purdue Global and download our program guide.
Request Information