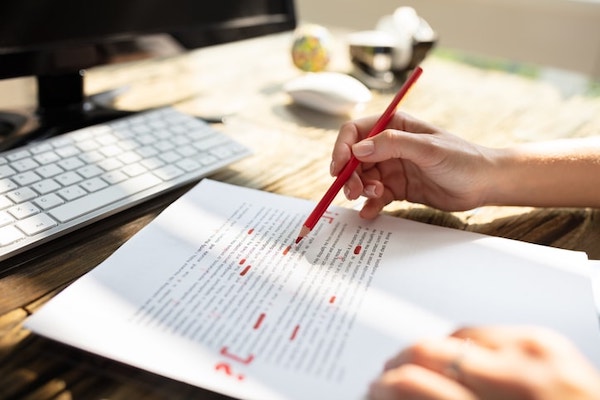 June 11, 2020 | Teresa Marie Kelly, MAT
As one of the "3 Rs" of learning—reading, writing, and arithmetic—writing has always been a cornerstone of learning, but the disruption of the COVID-19 pandemic and resulting seismic shift to remote working have shown that the ability to communicate at a distance with strong writing skills has grown in value and importance. Capitalizing on that trend and improving writing skills begins with five steps.
Step 1: Acknowledge That Writing Is Both a Necessary and a Marketable Skill
Writing skills are vital to personal, professional, and educational growth, but they are also highly marketable. In his December 2019 blog entry "Why Is Writing Important?," Michael Keathley, PhD and academic department chair of the Department of Composition and Writing Across the Curriculum at Purdue Global, notes that employers want and need good writing and communication skills. In "5 Skills You Need to Demonstrate to Land a Remote Job," Stephanie Vozza of Fast Company explains this need has only grown in the age of COVID-19.
Increasing numbers of professionals began working remotely during pandemic lockdowns. Many employers, including some government agencies and tech giants such as Facebook and Square, plan to make a permanent transition to at least a partially remote workforce. Email, online document collaboration, and other types of writing form the core of communication for remote employees. Once someone acknowledges the vital role writing skills play in personal, educational, and professional development, identifying how to advance those skills becomes the next logical step.
Step 2: Recognize That Improving Writing Begins With Mastering Basic Skills
Like children learning the alphabet before they learn to read or spell, any learning process starts with the basics. Improving writing involves practicing fundamentals like grammar and punctuation while expanding other skills such as vocabulary, effective use of language, and sentence structure. Just as chefs must learn to master certain fundamental techniques before they can progress, everyone must begin somewhere. For instance, Hayley Milliman of ProWritingAid recently identified "10 Websites to Help Improve Your English Grammar" that make excellent starting points for writing skills development. The list includes several blogs that offer periodic grammar tips and sites that are dedicated to grammar microlearning. These sites allow writers to improve their grammar skills slowly but steadily.
Step 3: Consider Using a Writing Improvement App
One place to begin improving basic writing skills is using a writing improvement app or add-on such as ProWritingAid, ZohoWriter, or Writing Assistant. Writing improvement apps help people identify and improve basic writing skills deficits while they complete everyday tasks such as emails, texts, personal messages, work documents, and education assignments. Writing apps expand on the concept of spelling- and grammar-check tools and include reasons for the corrections they suggest.
Many apps help users track their errors so that they can identify areas for development. Eileen Brown, a writer with ZDNET, recently spent time using one of the most popular writing apps, Grammarly, to develop her writing skills. She writes about her experience in "I Spent One Week With Grammarly to Help Improve My Writing Skills." With tools in place to improve basic skills, attention can shift to developing ideas and language via a writing process.
Step 4: Play to Strengths to Develop a Personal Writing Process
The writing process—pre-writing, planning, drafting, revising, editing, and polishing—encompasses a common series of steps that most effective writers employ to create finished writing of all types: personal, professional, and academic. The Purdue University Online Writing Lab explains more about the "Stages of the Writing Process."
While each stage has a common goal for everyone—such as developing ideas in pre-writing or organizing during planning—how to achieve this goal is left to the individual. Playing to strengths certainly helps with any goal. For instance, someone who makes lists to accomplish tasks at work or home might find listing an effective strategy for pre-writing, or a visual learner might prefer a mind map. Technology provides many additional options, including voice-to-text as explained in Microsoft's article "Dictate Your Documents in Word." Educational Technology and Mobile Learning and "Here Is How to Teach Writing Using Technology" have great examples of tools everyone can use in their writing process.
Leveraging these steps and tools effectively allows the writing process to be recursive and function as an ongoing tool for growth.
Step 5: Accept That Improving Writing Skills Requires Continuous Development Over Time
Like almost every skill, writing develops over time. No one ever stops developing as a writer unless they stop trying to do so. There is no line that says, "There! My writing is the best it will ever be." The only way to continue to improve writing is to focus on the idea that practice makes progress. Using feedback and reflection at the end of every writing task—no matter how small—provides guidance on what skills and areas of writing to work on developing next.
Improving writing skills requires a systematic approach and continuous effort, but in a rapidly changing economy and workforce landscape, those same skills may improve marketability and the chance of gainful employment. To learn more about how Purdue Global improves writing skills throughout its programs, request more information.
---
Your Path to Success Begins Here
Learn more about online programs at Purdue Global and download our program guide.
Request Information