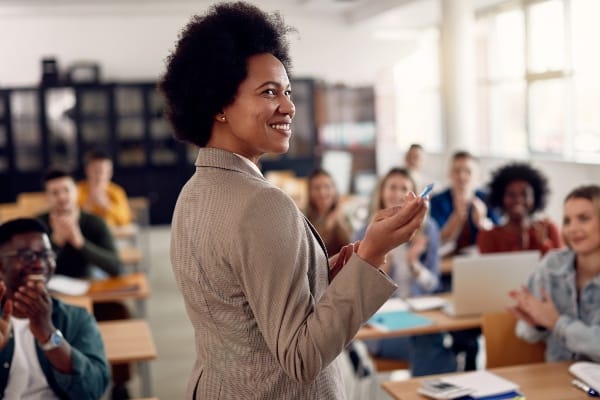 August 3, 2022 | Purdue University Global
Black women have played a vital role in industries such as business, education, science, and politics, but their contributions often go unrecognized. This resource provides an overview of famous American Black women—both past and present—who have made history through their achievements. In addition to excelling in their fields, these women have worked hard to overcome adversity and challenge social institutions.
Prominent Black Women in Business
Black women in business and leadership have been historically underrepresented, but this is beginning to change. From 2014–2019, businesses owned by Black women saw the highest rate of growth compared to other women-owned businesses, according to a 2019 report commissioned by American Express. In 2021, Harvard Business Review estimated that in that year, 17% of Black women in the United States were in the process of starting or running a business.
Famous African American women in leadership roles have paved the way for today's Black entrepreneurs. Below, we take a look at five notable Black women who have built a name for themselves in business.
Oprah Winfrey
Media mogul and the first to become a major shareholder in a television network, Winfrey helped launch the careers of many talk show hosts and television personalities, such as Rachael Ray, Dr. Phil, Dr. Oz, Nate Berkus, Suze Orman, Rhonda Byrne, and Bob Greene. In 2011, she stepped away from her talk show to focus on managing the Oprah Winfrey Network (OWN), an American cable channel. In addition to her career in television, she has produced films, written books, published magazines, and operated a radio channel.
Sheila Johnson
In 1979, Sheila Johnson cofounded the Black Entertainment Television (BET) network. In 2001, she became the first American Black woman to have a net worth of $1 billion. She is currently the CEO of Salamander Hotels and Resorts, which she founded in 2005. This company manages luxury hotels across the United States and Jamaica.
Tyra Banks
Originally entering the public eye as a fashion model, Tyra Banks has since branched out into several industries, including producing, acting, writing, and entrepreneurship. Her production company Bankable Productions produced "America's Next Top Model," as well as Banks's own talk show, "The Tyra Banks Show." In 2014, she founded the cosmetics brand Tyra Beauty.
Madam C.J. Walker
Madam C.J. Walker was a notable business leader in the early 1900s, known for developing hair care and beauty products and founding the Madam C. J. Walker Manufacturing Company in 1910. She is regarded as the first Black female millionaire. In addition to being an influential businesswoman, she was an advocate for the advancement of Black Americans.
Rihanna
Rihanna is well known for her music career—but she's also an accomplished businesswoman. She launched her cosmetics brand Fenty Beauty in 2017. Fenty Beauty is widely acclaimed for its focus on creating products for a wide range of skin tones. Since its inception, Rihanna has also launched spin-off lingerie and skincare brands. According to Forbes, Fenty Beauty was worth approximately $2.8 billion as of 2021, and Rihanna has a 50% stake in the company,
>> Read: Resource Center for Women in Business
Prominent Black Women in Education
Education can be a catalyst for initiating change, breaking barriers, and building bridges. According to the latest data published the National Center for Education Statistics (NCES), Black women make the following percentage of college graduates in the United States:
16.4% of bachelor's degree graduates
14.3% of master's degree graduates
11.1% of doctor's degree graduates
These numbers have steadily increased since the 1970s, when the NCES first started collecting data. Let's take a look at some notable African American women who have made strides in the world of academics.
Eve J. Higginbotham
Eve J. Higginbotham is the Vice Dean for Inclusion and Diversity at University of Pennsylvania's Perelman School of Medicine. She was first to assume this position and has held it since 2013. She has previously held senior positions at the University of Maryland School of Medicine, Morehouse School of Medicine, and Howard University. Outside of her academic work, she is a practicing ophthalmologist, focusing on glaucoma.
Johnnetta B. Cole
Johnnetta B. Cole was the first female president of Spelman College, an all-female historically Black liberal arts college. She served as president from 1987 to 1997. Later on, she became president of Bennett College, which is the only other HBCU in the nation that is specifically geared toward women students. Over the course of her career, she has taught subjects such as anthropology, women's studies, and African American studies.
Amanda Aiken
Amanda Aiken is an educator, leader, and advocate. She is the founder of A. Leigh Solutions, a consulting firm that provides support and coaching to school districts, with the goal of improving education outcomes. Notably, Aiken's consulting firm launched the first teaching residency program to partner with an HBCU. On top of all of this, she is an education leadership doctoral student at Harvard Graduate School of Education.
Ruth Simmons
Currently president of Prairie View A&M University, Ruth Simmons has extensive experience in academic administration. She started her academic career as a professor of French, and soon made her way into administrative roles. From 1995–2001, she served as president of Smith College, the largest women's college in the U.S. In 2001, she became the first African American president of an Ivy League school when she was named president of Brown University.
Monica Cox
Monica Cox is known for becoming the first African American woman to earn tenure in engineering at Purdue University. During her time at Purdue University, she was named the inaugural director of the College of Engineering's Leadership Minor. She is currently a professor of Engineering Education at Ohio State University.
>> Read: 6 Top Trends in DEI for 2022
Prominent Black Women in Science and Medicine
There has long been a gender imbalance in STEM careers. According to Pew Research Center, as of 2018, women accounted for 85% of bachelor's degree receipts in health-related fields, but only 22% of engineering degree receipts and 19% of computer science degree receipts. This gender inequality makes it all the more important to celebrate female pioneers in computer science and other technical fields.
Even though women are overrepresented in health care jobs overall, only 36.3% of physicians are women, and only 5% of active physicians are Black, according to the Association of American Medical Colleges.
The following American Black women serve as an inspiration for those pursuing a career in STEM.
Dorothy Lavinia Brown
Born in 1914, Dorothy Lavinia Brown was a medical pioneer of the 20th century. She was the first female African American surgeon from the Southeast United States, practicing during a time in which segregation was still law in many parts of the country. In addition to her medical work, she was an outspoken advocate for women's rights and civil rights.
Shirley Ann Jackson
Shirley Ann Jackson was the first Black woman to earn a doctoral degree at the Massachusetts Institute of Technology (MIT) when she received her PhD in nuclear physics in 1973. She has held several high-profile positions, including Chairman of the U.S. Nuclear Regulatory Commission and president of Rensselaer Polytechnic Institute. In her research, Jackson specializes in condensed matter physics.
Gladys West
Gladys West's research was influential in the development of the Global Positioning System (GPS). Throughout her career, she created computer models of the Earth's surface and calculated the orbits of satellites. In 2018, she was inducted into the United States Air Force Hall of Fame. This was a formal recognition of the computing work she had done for the U.S. military over the years—much of which was completed without electronic systems.
Katherine Johnson
Katherine Johnson is celebrated for her work for NASA during some of the first U.S. crewed space flights. She spent over 30 years working for the National Advisory Committee for Aeronautics (NACA) and NASA, calculating the flight paths of space shuttles. She was instrumental in the success of the orbital mission of John Glenn in 1962, which marked a turning point for the U.S. space program.
Mary Jackson
Mary Jackson was a mathematician and engineer who spent much of her life working for the NACA and NASA. Notably, when she was hired at NASA in 1958, she was the agency's first Black female engineer. In 1979, she advanced to the highest engineering position available. Much of her work centered on air flow and how to improve the design of U.S. aircrafts.
Prominent Black Women in Government
According to the Higher Heights Leadership Fund's Reach Higher: Black Women in Americans Politics 2021 report, Black women only make up 5% of officeholders elected to statewide offices, state legislatures, and Congress, despite making up 7.8% of the population. That said, a record number of Black women ran for and won congressional races during the 2020 election cycle. Here are some notable American Black women in politics.
Carol Moseley Braun
Carol Moseley Braun was the first Black woman to serve in the U.S. Senate, elected in 1993. Before becoming a Senator, she served in the Illinois House of Representatives and as the Record of Deeds in Cook County, Illinois. She was an advocate for civil rights issues during her time in office, creating legislation designed to assist divorced and widowed women.
Barbara Jordan
A notable leader in the Civil Rights Movement of the 1960s, Barbara Jordan was the first African American elected to the Texas Senate. Later on, she served as a member of the U.S. House of Representatives. She is remembered for her eloquent speeches during the impeachment process of Richard Nixon. She was also the first African American to deliver a keynote address at the Democratic National Convention.
Kamala Harris
Currently Vice President of the United States, Kamala Harris is recognized for being the first woman, first African American, and first South Asian American to hold the office. She began her political career as a deputy district attorney in Alameda County, California in the 1990s, and rose up the ranks over the next few decades, becoming Attorney General of California in 2011. She entered national politics with her election to the U.S. Senate in 2016, where she fought for issues such as improved maternal health care and racial justice.
Stacey Abrams
Stacey Abrams gained national attention during her 2018 campaign for Georgia governor, where she focused on expanding voter accessibility across the state and encouraging new voters to come out to the polls. She was the first Black woman from a major political party to run for governor. She is still an outspoken advocate for voter rights and runs Fair Fight Action—an organization that targets the key issues behind voter suppression.
Shirley Chisholm
In 1968, Shirley Chisholm became the first Black woman elected to Congress. She was also the first woman and the first African American to run for a major political party's presidential nomination. Chisholm ended up serving in the U.S. House of Representatives for seven terms and was an advocate for women's rights. She was a founding member of the Congressional Black Caucus and the Congressional Women's Caucus.
Ketanji Brown Jackson
In April 2022, Ketanji Brown Jackson made history when she was confirmed to the Supreme Court. She is the first Black woman to ever hold the title of Supreme Court Justice. Jackson is a Harvard Law School graduate with several decades of experience in the legal field. Most recently, she served as a circuit judge for the U.S. Court of Appeals for the D.C. Circuit.
Prominent Black Women Activists
Our roundup of prominent Black American women in history would be incomplete without highlighting some accomplishments of Black women activists. It's thanks to these individuals that other Black women have been able to make advancements in the fields of business, education, science, and politics. While there is still a long way to go, the work of these activists was instrumental in enacting change.
Harriet Tubman
Born into slavery herself, Harriet Tubman devoted her life to helping enslaved people gain freedom. She helped hundreds of slaves navigate the network of safe houses known as the Underground Railroad. During the Civil War, she served as a Union spy and scout. In her later life, she regularly gave money to causes supporting former slaves, despite living in near poverty.
Rosa Parks
Rosa Parks is best remembered for refusing to give up her seat to a white passenger in 1955—an event that sparked the Montgomery Bus Boycott. This boycott was one of the first major protests of the American civil rights movement. In 1987, she cofounded the Rosa and Raymond Parks Institute for Self Development. This organization focuses on civil rights education and advocacy.
Afeni Shakur
Afeni Shakur was a political activist who fought against racial discrimination in the 1960s as a member of the Black Panther Party. She is also remembered for being the mother of rapper Tupac Shakur. Following his death, she spoke out about grief, social injustices, and her own struggle with addiction, frequently traveling the country and giving speeches.
Coretta Scott King
The wife of Martin Luther King, Jr., Coretta Scott King was an influential leader in the civil rights movement. She helped her husband prepare for his speeches and spent much of her time organizing events for the community. After Martin Luther King, Jr.'s assassination, she took on a more prominent role in the movement. She was the founder of the King Center for Nonviolent Social Change, a not-for-profit organization that carries out education and training to support nonviolent movements for justice.
Fannie Lou Hamer
Fannie Lou Hamer was an outspoken supporter of voting rights and women's rights, beginning her activism work in the 1960s. She was a founder of the Mississippi Freedom Democratic Party, which challenged initiatives to block African Americans from participating in politics. She also organized Freedom Summer in 1964, a campaign focused on registering Black voters across the South.
Online Education That Incorporates Diversity and Inclusion
Of course, there are countless Black women who have made their mark on history, and the list continues to grow.
Purdue University Global is proud to teach a diverse population of students. We offer 175+ online degree and certificate programs, including programs in business, education, information technology, health sciences, and public policy. We even have several degree programs with a focus on diversity and inclusion. To learn more about our online programs, contact us today.