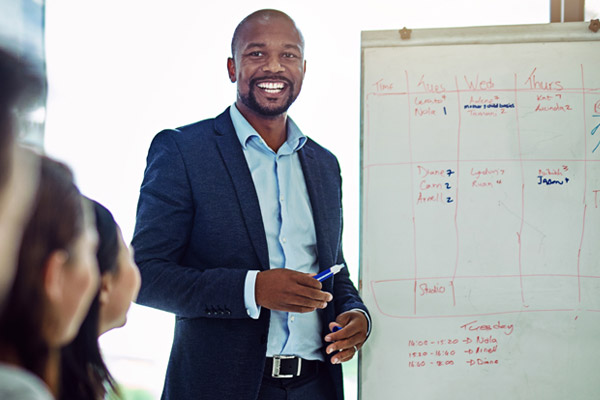 July 18, 2018 | Purdue Global
|
Updated December 23, 2020
The Bureau of Labor Statistics projects that employment of business and financial occupations will grow faster than the average for all occupations from 2019 to 2029.* Marketing is a prominent function of many business roles and continues to grow and change as technology evolves. Marketers use a variety of tools and methods to gain customers including email, search engines, social media, influencers, events, direct mail—and even word of mouth.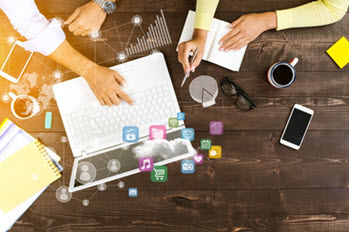 If your goal is to work in marketing, an online bachelor's in business administration with a concentration in marketing can be an excellent educational pathway. Let's look at what you'll have the opportunity to study before exploring some career options.
Build the Skills for Business
An undergraduate degree in business administration with a concentration in marketing provides a foundation of skills that you can build upon as your career progresses. At Purdue Global, for example, you can develop such important skills as:
Communication
Critical thinking
Team building
Decision-making
Leadership
Business operations
In addition, a business degree explores important business functions such as human resources, finance, accounting, and, of course, marketing. These things apply to many different roles, from marketing and sales to research and entrepreneurship.
To help you decide if a Bachelor of Science in Business Administration with a concentration in marketing is right for you, we will explore some of the related occupations along with job outlook data.
Advertising, Promotions, and Marketing Managers
These positions manage advertising, promotional, and marketing activities for businesses. The goal of these activities is to attract consumer interest. Responsibilities may include developing pricing strategies, working with others to plan and deploy marketing campaigns, managing the marketing and advertising budgets, negotiating contracts with vendors, and more.
The entry point of this position is a bachelor's degree, according to the BLS. These positions will continue to be essential for business growth, and they're expected to increase faster than average in the decade between 2019 and 2029.
Marketing Research Analysts and Marketing Specialists
Market research analysts and marketing specialists study market conditions to help determine the direction for marketing campaigns, and they may contribute to product development and product pricing. Job responsibilities include:
Gathering and analyzing data on consumers and competitors
Forecasting marketing trends
Tracking effectiveness of marketing campaigns
Preparing results, graphs, and reports and presenting these to managers
The entry point for these positions is usually a bachelor's degree. Relevant courses can include statistics, marketing, scientific methods, and/or math.
The job outlook for market research analysts is very positive. Employment of these roles is expected to increase 18%, more than 4 times the average for all occupations, between 2019 and 2029, according to the BLS.
Sales Manager
Sales managers set sales goals and develop training programs to assist their team in reaching these goals.
According to the BLS, to become a sales manager you typically need a bachelor's degree. Courses in management, business law, marketing, math, accounting, economics, finance, and statistics can help you develop relevant skills for this position.
The number of sales manager positions is expected to grow between 2019 and 2029.
Self-Employed
If you've ever dreamt of owning your own business, a bachelor's degree in business administration with a concentration in marketing may be valuable in establishing and growing your enterprise.
Among the classes recommended for those who seek self-employment are marketing, finance and accounting, economics, public speaking, management, writing, and computer science. According to BLS data, self-employed workers are expected to grow by 7.9% by 2026, particularly in service occupations.
If your goal is to work independently on your own business idea or provide a service, such as marketing or business consulting, the education you receive in a business administration bachelor's degree program can be valuable.
A Business Administration Degree Tailored for Working Adults
If you decide a bachelor's degree in business administration with a concentration in marketing is a good choice for you, look for a respected educational institution that offers flexible class options. Purdue Global offers an online program that's designed for busy working adults. Learn more about our online Bachelor of Science in Business Administration and how it can help you launch a successful marketing career. Request more information today.
---
Your Path to Success Begins Here
Learn more about online programs at Purdue Global and download our program guide.
Request Information