Ask any business executive about top challenges today, and you'll likely hear about hiring and retention difficulties. Finding talented employees in a tight labor market that's rapidly changing—and then retaining those professionals—is frequently cited as a significant problem to solve. Employee development programs, also known as talent development programs, can be one effective way for mid- and large-size organizations to both retain employees and improve their skills. High quality learning and development (L&D) programs are designed to improve employee engagement as well as increase productivity throughout your organization.
It's important to remember that excellent L&D programs are not static and unchanging. On the contrary, the best training programs are updated regularly and designed to be somewhat future proof. The current trend of shifting employee development programs online can better facilitate frequent updates and improvements.
Forbes reinforces that these improvements are desperately needed; their survey uncovered that 47% of respondents were dissatisfied with their employer's existing L&D initiatives. According to a study conducted by the Harvard Business Publishing Corporate Learning, only 20% of employees recommend their company's L&D opportunities.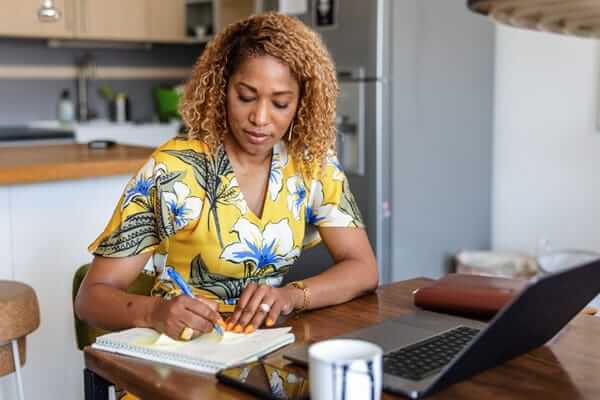 Constantly updating and improving employee talent and development programs can be costly and labor-intensive for businesses. Many companies have recognized the value of partnering with education providers like Purdue Global that can apply its seasoned expertise to help:
Adopt L&D as a business strategy to create greater HR and financial efficiencies and maximize the return on educational investment (ROEI)
Establish education benefits that create a competitive advantage for attracting and retaining top talent
Solve current talent gaps by upskilling employees and offering continuous learning
Plan for company sustainability with ongoing development programs that leverage institutional knowledge
Why Is Employee Development Important?
Training and development programs bring a myriad of benefits to both the company and individual employees. Continuous improvement is only achieved at the macro level if every member of the team is learning and growing, striving always to improve performance. Let's explore two areas of critical importance:
First, from the business standpoint, training and upskilling existing employees costs less than hiring and training new employees.
According to Glassdoor, the average U.S. employer spends $4,000 and 24 days to find and train a single new hire. The cost of recruiting and hiring executive-level positions is more than three times as much, near a staggering $15,000 per hire, according to BuiltIn.
In contrast, the cost to train existing employees is significantly lower. According to the 2020 Training Industry Report, U.S. companies spend an average of $1,111 per year per employee on training. From an organizational perspective, training and development makes perfect economic sense.
Second, quality training and development programs contribute to worker satisfaction.
The Association for Talent Development (ATD) advised that more than half of respondents of a ResumeLab survey said they would leave an employer that did not deliver professional development offerings. Employees said they valued learning and development so they could do their jobs better, leading to increased pay and advancement opportunities. This translates to better retention and greater loyalty of trained, experienced professionals, which is critical in a tight labor market.
Given the importance of employee training and development programs to both your organization and your employees, as well as the general dissatisfaction of many when it comes to existing learning offerings, it may be time to make some improvements. Here are some initial steps to get you started.
1. Take a Top-Down Approach
Without the support and example of your topline executives, it can be difficult to implement an effective learning and development program. Start by empathizing with your C-suite and their concerns about employee acquisition and retention. Present high-quality learning and development programs as a solution to a pressing problem with clearly defined quantifiable key performance metrics.
With that buy-in, develop programs that will support and incentivize managers to better train and develop their teams. They need a framework, timeline, and goals to upskill successfully.
Provide tools, processes, company infrastructure, and most importantly, time to make training part of the regular workweek.
2. Enable L&D Programs to be Agile and Ongoing
Some knowledge and skills can become obsolete, especially with rapid innovations in technology. For example, Industry 4.0 is currently the gold standard for helping companies move successfully into the future. Developments in artificial intelligence and machine learning demand that today's workforce learn new skills at a rapid pace.
Since more and more learning and development opportunities are available online, there's no excuse for not keeping content up-to-date and on the cutting edge of developments. Feedback and suggestions from previous attendees as well as industry and market changes should be incorporated regularly so that training materials are always fresh and relevant.
3. Measure What You Want to Improve
Empower your managers to set SMART goals (specific, measurable, attainable, realistic, and time-bound) for L&D activities. Online learning platforms often offer intuitive dashboards and flexible coursework that allow employees to work at their own pace and track their progress easily.
Learning platforms such as Purdue Global's corporate learning solutions makes setting goals and measuring progress easier than ever.
Key performance indicators may include:
Number of hours completed
Scores on aptitude tests
Productivity rates
Reduced costs
Be sure to clearly communicate expectations with employees and schedule regular status meetings or performance reviews to check progress.
4. Match Learning Options to Learning Styles
All individuals learn differently, and matching learning styles to presentation styles can help increase the effectiveness of learning and development programs.
Incorporate visual, aural, reading, and kinesthetic tools into training programs to meet the needs of unique employees.
Visual: Use graphics, illustrations, and videos to better reach visual learners. Offer quick reference pages of key points from L&D programs to allow them to easily glance at what they've learned.
Aural: Aural learners prefer to listen while they learn. Online learning programs can be beneficial to aural learners because they can back up, rewind, and listen to key points multiple times.
Reading: Text-based materials effectively reach learners who absorb materials by reading and detailed study. Allow these learners to download, print, and save manuals, handouts, and presentations so they can read the details of the training program.
Kinesthetic: Kinesthetic learners learn by doing. They do well with case studies and simulations, as well as group exercises and activities that mimic the actual roles of their job and the new skills they are learning.
Ideally, your corporate learning program incorporates all four types of learning experiences since most employees are some combination of visual, aural, reading, and kinesthetic learners.
5. Partner With a Reputable Educational Organization
Organizations such as Purdue Global have years of experience and expertise to share with businesses such as yours. We have partnered with many midsize, large, and enterprise-level organizations to provide online training for their workforce and want you to benefit from our experience.
Purdue Global offers a collaborative partnership that is dedicated to your organization's success. We'll begin listening to you and conducting a needs assessment of your organization, your industry, and your employees. What skills are missing from your workforce? What do industry experts in your business say are emerging skills? What do your employees want to learn?
We'll work closely with you to review your existing L&D coursework, helping you keep your strongest programs as well as phase out or update older or ineffective programs. Together, we can identify gaps in content and suggest new or existing coursework from Purdue Global's many online programs, including undergraduate and graduate degrees, certificates, and micro-credentials.
Get Started Today: Talk to a Corporate Learning Expert
Education partnerships are a core offering of Purdue Global. We have helped health care facilities offer medical assistant certifications to their employees to meet workforce shortages. We have partnered with an environmental and industrial services company to provide tuition grants with no out-of-pocket expenses to support workforce development.* We've collaborated to create information technology and cybersecurity degree programs as well as critical industry certificate training for an organization that needed to fill talent gaps in order to win government contracts.
What does your organization need? Get in touch today to learn more about our tailored partnership solutions.