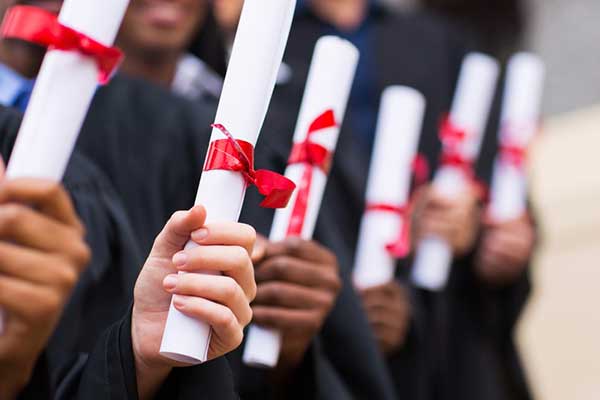 May 14, 2018 | Purdue Global
You are successfully making your way through your online education journey, and the end goal is in sight: graduation. You're getting close to earning your degree.
A lot of time and effort have gone into this moment. As you approach this significant milestone, keep track of everything with this checklist.
1. Keep an Eye on the "My Degree" Page in the Online Portal
Your personal degree plan is available in the Purdue Global student portal. Here you'll find your remaining credits and expected graduation date. Get in the habit of checking this regularly.
If you have any questions about your remaining requirements, contact your Student Advisor at 866-522-7747.
2. Complete Your Required Courses and Fulfill Other Requirements
Complete all requirements for your program of study within the timeframe allowed.
Reach the cumulative grade point average (CGPA) required for the program as defined in the University Catalog.
3. Return All Property Belonging to the University
If you've attended on-campus classes, you will need to return anything belonging to the University, like books or other materials.
4. Fulfill Financial Obligations and Attend the Financial Aid Exit Interview, If Applicable
You must fulfill all financial obligations to the University unless other arrangements have been made. If satisfactory arrangements are not made, the graduation credential will be withheld.
If you received a federal student loan, you will also need to attend a financial aid exit interview.
5. Are You Attending a Graduation Ceremony?
If yes:
If no: You don't need to do anything if you aren't attending a ceremony. The Office of the Registrar will mail your diploma about eight weeks after you complete your final class and the University confirms you have met all program and financial requirements as outlined in the University Catalog.
Still Have Questions?
Please reach out. Here is the contact information for all graduation questions, both ceremony and non-ceremony related. You'll find email addresses and/or phone numbers to inquire about caps and gowns, ceremony information, verifications, payments, etc. We're happy to assist you.
---
Your Path to Success Begins Here
Learn more about online programs at Purdue Global and download our program guide.
Request Information