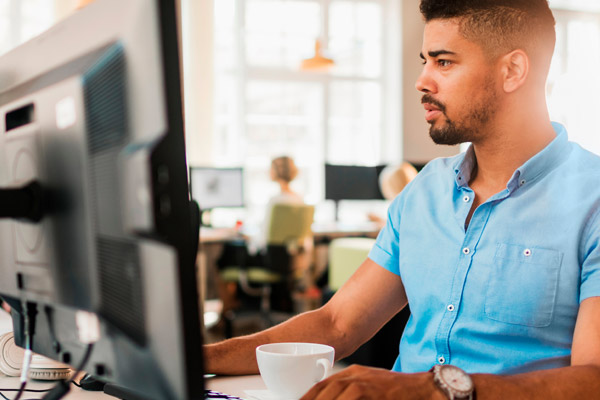 November 30, 2018 | Purdue Global
Social media enables us to share our thoughts about the world and connect with others—but it can also turn off employers and cost you a job. According to a 2018 CareerBuilder study:
70% of employers use social networking sites to research job candidates during the hiring process.
57% of employers have not hired someone based on what they found online.
48% of employers check up on current employees on social media, and 34% have punished or fired an employee based on online content.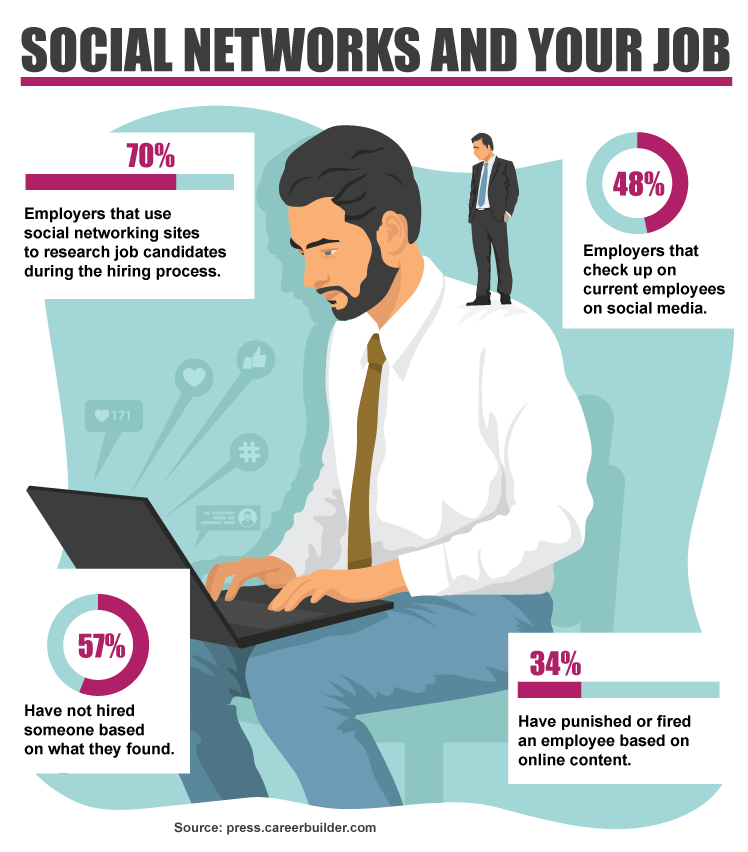 An Instagram image of you having a little too much fun at a party, a lengthy Facebook rant, retweets of oft-offensive public figures—these aren't exactly the types of content that paint you in the best light to recruiters, human resources, and managers. In some cases, it's the photos and posts your social contacts tag you in that hinder your job search or current employment.
Social media channels comprise just one portion of your "digital footprint." For many kids and teens today, their digital footprints were created before they were even born, when their parents uploaded photos of ultrasounds online. A Common Sense Media study found that half of kids have some form of social media profile by the age of 12.
In addition to social media, other digital footprint components include:
Blog posts
Emails
Data submitted to websites
Comments in forums and on articles
What you post online could affect your future, including your ability to secure a job, move up in the company, or run for public office. Here are three tips for managing your online reputation.
1. Perform Regular Social Audits
At least once a year, search the social sites where you have accounts. Check your profiles, both to analyze what you've posted and to see what others have shared.
Review your posts first. Is there anything you've posted that, in retrospect, may not have been the best decision? If you are questioning a post or photograph, that probably means you should remove it or make it private.
Next, take a look at posts you're tagged in. Who has tagged an image of you, and what is happening in the image? Untag yourself on images that can be misinterpreted or found to be offensive, whether at first glance or out of context. Make sure to read what has been said in the accompanying post, too.
Don't ignore the comments, these are just as important. Go through comments others have made on your posts and remove inappropriate comments. While you may not have made the particular comment, by not removing it, others may assume you are like-minded and approve of what was said. Make sure to review any comments you have made, too. Polarizing posts and comments can be risky without the opportunity to discuss and put them in context.
2. Search Yourself Online
Find out what the web knows or says about you. Is the information accurate, and is this something you want everyone to see? Conducting an online reputation audit is easy using search engines like Google, Bing, and Yahoo. Simply type in your name to see what comes up. Many people are surprised by the results when they've searched their name online.
Try to correct erroneous information. If you find information about you that is incorrect, try to locate the source of the content and request a correction or retraction.
Update any outdated images and information. This is especially important for professional profiles such as your LinkedIn page. Make sure the information about you is accurate and up-to-date, including your profile image. For instance, a profile image of you right out of college can be a bit misleading if you have been in the workforce for the last 5 or 10 years. Also, invest in a professional headshot to put your best face forward online. Don't use a selfie or a picture of you at a ball game on a professional account.
Do a background check on yourself. There are many inexpensive online profile services that will provide you with a full background check. The 2018 Identity Fraud Study from Javelin Strategy & Research found that 16.7 million Americans were victimized by identity theft in 2017. There may be another person or other people who are using your identity to commit crimes.
3. Take Control of Your Profiles and Posts
Change the following settings on your social media profiles.
Limit friends and followers. On social networks such as Facebook, your friends can share your public posts and add their own comments to them. Consider who you keep in your online circles, since other people's comments on shares may be seen as a reflection of your own views.
Limit who can view posts. If you share personal information on your social media profiles, ask yourself whether you really want those details exposed to the public. The best way to protect personal information from being shared with employers and recruiters is to make your social accounts private. Or, you can set the default post setting to private and only publicly share posts that enhance your professional image.
Control the tagging. Consider changing your settings to require your approval before being tagged in posts and images. This gives you the ability to reject being tagged in something with which you may not want to be associated. If you've been tagged on sites such as Instagram and Twitter, check every post and remove yourself where appropriate by asking the user to un-tag you or by blocking the user.
Following the high-profile Facebook data breach that affected 50 million Facebook users in September 2018, you'll likely see increased privacy settings that enable you to take greater control of your profiles. Keep in mind, however, that despite all these settings and filters, once a post or image is out on the web and has your name or image attached to it, it can be saved in a screenshot and permanently recorded. If you participate in online activity, you run the risk of people negatively interpreting any online content you're featured in.
Your Online Reputation Matters
Much like dressing appropriately for a job interview is important, maintaining a respectable online presence is also important in today's digital age. Don't take your online presence for granted.
Perform digital audits of yourself routinely, and again when you are applying for a job, looking to become promoted, or applying to school. Your digital footprint can be your best advocate or potential nemesis; it all depends on you. Make sure it clearly defines how you want be viewed.
Enhance Your Career Profile with Purdue Global
If you're thinking about pursuing higher education, learn more about Purdue Global and explore our undergraduate and graduate degree offerings. We're an online public university that's tailored to meet the needs of working adults, and we're part of the respected Purdue University system. Request more information today.
---
Your Path to Success Begins Here
Learn more about online programs at Purdue Global and download our program guide.
Request Information