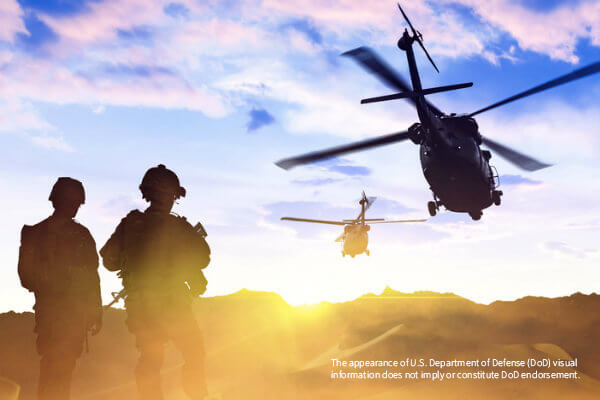 May 30, 2019 | Purdue University Global
All branches of the U.S. military value education, and it's never been easier to earn a college degree while serving. If you're in the Army and thinking of pursuing a degree, not only is it possible, it's a smart idea.
"Regardless of the military service, those who work on civilian education while they're in the military tend to do better. And in every case, those who earn a degree before they leave service do better after they transition," says Thomas Gills, retired U.S. Army veteran," and member of the Military Outreach Team at Purdue University Global.
This article examines four reasons to go to college while serving in the Army.
1. A College Degree Earns You Promotion Points
Promotion points are a tool used to promote a segment of the total Army population. Promotion is extraordinarily competitive, and civilian education can often be the discriminator. Earning a college degree can easily be the difference between making or not making the cutoff for promotion.
"Regardless of whether you're a junior soldier looking for a promotion at the local level, a sergeant or staff sergeant looking for promotion at the decentralized or semi-centralized level, or whether you're a senior NCO, civilian education is very important in terms of your success up the ladder," Gills says.
As you progress in your Army career, a college degree becomes even more important to your success.
"Every level of degree you hold demonstrates to the leaders evaluating you for promotion that, while doing good work on the job, you are also using your free time to hone your professional capability," Gills says. "There is no doubt that achieving an associate's degree—and then a bachelor's and a graduate degree—is going to make you a more capable enabler to the commander, the command team, and the unit."
2. A Degree Prepares You to Transition Back to Civilian Life
If you plan to transition out of the Army, having a college degree becomes even more vital. "This is the reality of the civilian workforce leadership," Gills says. "To be able to walk into a civilian agency and drop a resume with some kind of a credential on it is extraordinarily important."
Having the credential employers in the civilian workforce require can help you get hired.* It shows you've met or exceeded the minimum requirements for employment. If you're wondering which fields might be a good fit for you, consider a career in these 5 growing industries.
3. It's Possible in as Few as 6 Courses
With Purdue Global's Associate of Applied Science in Small Group Management, servicemembers and veterans of the U.S. Army can earn their associate's degree in as few as 6 courses when they apply their professional military education and additional learning to fulfill degree requirements.†
"This degree program was designed specifically for Army servicemembers and veterans," Gills says.
Purdue Global's AAS in Small Group Management can also be applied toward a Purdue Global bachelor's degree.
4. To Take Advantage of Tuition Assistance
It's important to take advantage of the education benefits the U.S. government provides to you.
"There are two ways to get monetary support for your education through your military service," Gills says. "One is tuition assistance, which provides up to $4,500 a year while on active duty, and the other is the GI Bill®. Soldiers need to get their money's worth, because Uncle Sam is certainly getting its money's worth out of them for their service. It's a shame every time a soldier leaves without using that education benefit."
To learn how Purdue Global has reduced and, in most cases, eliminated out-of-pocket tuition expenses for servicemembers, read "A Guide to Purdue Global's Military Benefits."
GI Bill® is a registered trademark of the U.S. Department of Veterans Affairs (VA). More information about education benefits offered by VA is available at the official U.S. government Web site at www.benefits.va.gov/gibill/.
Learn How Purdue Global Can Help You Earn a Degree
Gills encourages those who are considering earning a degree while serving in active duty to do so.
"The Army embraces a lifelong learning model," he says. "Those who strive to earn higher levels of degrees during their career will be seen and recognized for fully embracing that ideal."
Purdue Global is proud to support those who serve our country. In fact, nearly one-third of our students have a military affiliation.‡ Learn more about our military degree programs and benefits. If you're ready to request information about your program of interest, contact us today.