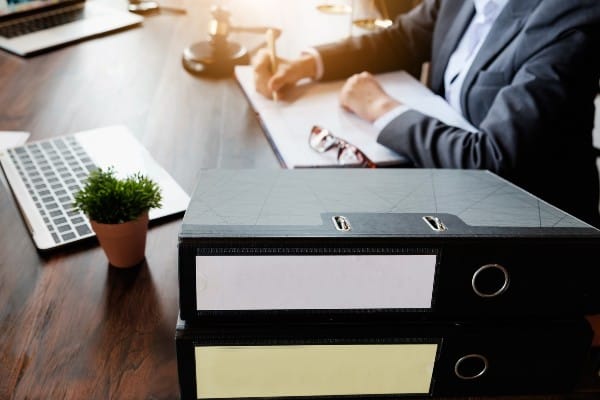 August 23, 2022 | Purdue Global
Careers in law are more varied than you might think. There are a variety of career paths that require a deep understanding of legal principles, but do not involve actually practicing law.
For example, in law firms, attorneys rely on legal assistants to help them prepare for cases. Corporations and government agencies have professionals whose job is to help the organization adhere to legal requirements.
With a master's degree in legal studies, you can expand your knowledge of the law and prepare for several non-lawyer legal careers. Find out if a legal studies degree makes sense for your interests and career goals.
What Is a Master of Science in Legal Studies Degree?
A Master of Science in Legal Studies—sometimes referred to as a Master of Legal Studies or MLS—is designed for individuals who are interested in legal subjects but are not looking to practice law. This type of program covers a wide range of legal principles, including legal writing, legal research, and regulations.
To learn more, we spoke to John Gray, JD, faculty member at Purdue Global. "A master's in legal studies is intended for students who want to work in a support role in a legal environment but do not want to become lawyers themselves," says Gray. "It is not a degree that acts as a stepping stone to law school."
Master's in Legal Studies vs. Juris Doctor
A master's in legal studies and a Juris Doctor (JD) are both advanced degrees exploring legal topics, but there are significant differences between the programs.
Degree Outcomes
A master's in legal studies helps you build a strong foundation of legal knowledge that can be applied to careers that interact frequently with the law, but it does not prepare you for actually practicing law. In contrast, a Juris Doctor is a terminal degree that prepares you for becoming a lawyer.
Length of Program
An MLS degree program generally takes one or two years to complete, depending on whether you study full time or part time, while a JD program generally requires three years of full-time study or four years of part-time study.
Although some JD programs offer online, part-time formats—such as Concord Law School's JD program—it is more common for law school students to focus on their studies full-time.
Ability to Work While in School
According to Gray, many of Purdue Global's legal studies students pursue the degree while working, but this is not always possible for students enrolled in JD programs.
"Law school is often a full-time job for students," says Gray. "It can be very difficult to attend law school and work a job at the same time. In fact, many law schools don't allow students to work in the first year."
Up until 2014, if a law school was accredited by the American Bar Association, students were not permitted to work more than 20 hours per week in their first year of law school. Although this rule has been modified, many law schools across the country still have similar guidelines in place.
What Do You Learn in a Master's in Legal Studies Program?
An MLS program provides students with an overview of legal principles and terminology. Compared to a JD, the information is more top-level, but it can prepare you for a wider range of careers.
Some of the subjects covered in the curriculum of an MLS program include:
Legal ethics: MLS programs strongly emphasize the ethics of working in a legal profession. As an MLS student, you will learn about the responsibilities attorneys have toward their clients and the rules pertaining to legal professionals.
Legal research: Gray explains that legal research comes up frequently for individuals in supporting legal roles: "Even if you don't work at a law office, there are other organizations that rely heavily on legal research, such as insurance companies. We make sure that our students are proficient with Westlaw, a legal research service that a lot of attorneys and law firms use."
Legal writing: Individuals working in the legal field may be responsible for preparing a variety of legal documents. As an MLS student, you can expect to learn about how legal writing differs from other forms of academic or professional writing.
Legal regulations: One of the main focus areas for non-lawyer legal professionals is compliance. "The compliance area is huge, and there is so much regulatory work that's done in almost every industry," says Gray. "In certain careers, being able to navigate regulations is absolutely essential."
Possible Career Paths for Legal Studies Students
Graduates with a master's degree in legal studies may go on to work in private practice law firms, government offices, or large corporations. Below are a few common career paths for legal studies students.
Paralegal or Legal Assistant
Paralegals—also known as legal assistants—are responsible for assisting attorneys as they prepare for trials and meetings. They handle various administrative duties and perform legal research on behalf of the attorney.
Demand for paralegals is expected to grow 12% from 2020–2030, according to the U.S. Bureau of Labor Statistics (BLS). "Many areas in the U.S. are saturated with attorneys but have a high demand for paralegals," says Gray. "Private law firms are often in need of legal assistants who can perform background legal research on cases and help the attorney team assess the importance of going to trial vs. settling."
Becoming a paralegal typically requires at least a bachelor's degree, but earning an MLS degree or a paralegal postbaccalaureate certificate may help you stand out when applying to jobs.
>> Read: What Does a Paralegal Do?
Legal Support Workers
Legal support worker is a broad term used to refer to individuals employed by a law firm and provide administrative support, such as investigators or secretaries. Duties for legal support workers may include filing paperwork, reviewing documents, or scheduling appointments on behalf of an attorney.
Working in a legal support role can be a great way to gain experience in the legal field.
Title Examiner
Title examiners, abstractors, and searchers closely examine legal documents to verify facts or compile information. The documents they work with include real estate records, insurance records, and property titles. According to the BLS, most title examiners are employed by the legal services, insurance, or real estate industries.
Since legal studies programs teach you how to perform legal research, an MLS degree can act as an excellent foundation for becoming a title examiner.
Compliance Specialist
Compliance specialists help companies or government agencies adhere to laws and regulations. According to the BLS, some common employers of compliance officers include:
Federal, state, and local government agencies
Insurance companies
Pharmaceutical and medical companies
Companies that distribute nonfinancial assets, such as patents or trademarks
Natural gas distribution companies
"There are compliance roles available in many different settings," says Gray. "For example, medicine and government contracts are two areas where there are a lot of regulatory requirements. As a compliance officer, you can help your organization navigate these requirements."
Who Is a Good Fit for a Legal Studies Degree?
Whether an MLS degree is worth it depends on your individual interests and career goals. According to Gray, you may be a good fit for a legal studies degree if:
You're interested in a legal career but do not want to become a lawyer.
You work in a management or administrative role that involves navigating legal concerns, and learning more about the law could help you advance within your career.
You want to learn about a wide variety of legal topics and how they affect different aspects of our lives.
You want to refine your writing and communication skills.
Gray recommends that students who are interested in a legal career carefully consider whether an MLS or JD better aligns with their career goals.
If you know you want to become a lawyer, you can bypass earning a traditional master's degree and go straight to law school. "I would not recommend an MLS program to a student determined to practice law, as this type of degree is not intended to prepare someone for becoming a lawyer," says Gray. "However, if you're interested in law but don't want to take three years out of your life to go to law school, an MLS degree presents a great alternative to still work in a legal environment without actually serving as a lawyer."
>> Read: 3 Trends Shaping the Future of the Legal Services Industry
Learn More about Purdue Global's Master of Science in Legal Studies
Ready to begin your legal studies education? Purdue Global's Master of Science in Legal Studies degree program is offered 100% online and can be completed on a flexible schedule, making it easy for you to balance work and school. The online format also allows you to interact with students from across the country and learn how legal principles vary from state to state.
"I think the greatest advantage of completing this program online is the diversity that we have," says Gray. "Having students from all over the country makes our discussions much more enriching.
Reach out today for more information on the Master of Science in Legal Studies program, or any of our other legal studies degrees and certificates.