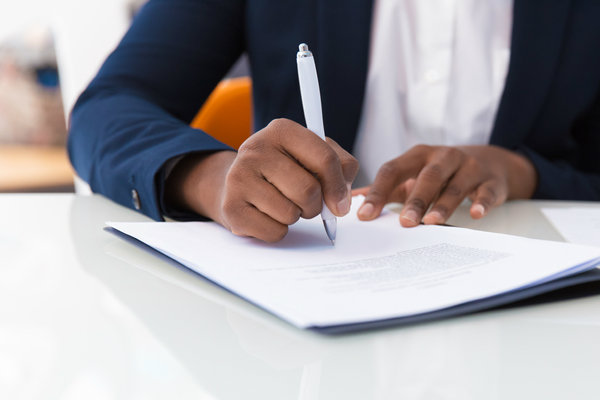 December 20, 2019 | Purdue Global
|
Updated January 5, 2021
As law firms aim to increase efficiency and reduce costs, demand for paralegals, legal assistants, and other legal services jobs is expected to increase. In fact, the U.S. Bureau of Labor Statistics projects that employment of legal occupations will grow 5% from 2019 to 2029, faster than the average for all occupations.*
If you're interested in pursuing a career in the legal field but do not want to become a lawyer, explore these eight non-lawyer legal careers.†
1. Paralegal and Legal Assistant
Paralegals and legal assistants help attorneys prepare for hearings, trials, and meetings. Employment of paralegals and legal assistants is projected to grow 10% from 2019 to 2029, much faster than the average for all occupations, according to the BLS.
"Two words are driving this growth of paralegals and legal assistants: economics and efficiency," says Jeffrey Gulley, JD, legal studies faculty member at Purdue Global. "Having paralegals as part of the legal team allows a law firm to operate more efficiently, and it's less expensive to hire a paralegal compared to hiring and staffing an attorney.
"There is no significant difference between a paralegal and a legal assistant," adds Gulley. "The terms are used interchangeably."
What Does a Paralegal Do?
Investigate cases
Research relevant laws and regulations
Gather, arrange, organize, and maintain legal documents
Write reports to help attorneys prepare for trial
During trials, take notes, handle exhibits, review transcripts
Schedule interviews, meetings, and depositions
File exhibits, briefs, appeals, and other legal documents with the court or opposing counsel
"As a young lawyer, I had some great paralegals who made my life a lot easier," says Gulley. "They really helped me with overall trial preparation and organizing trial notebooks. A good paralegal is invaluable."
2. Legal Secretary
O*NET defines a legal secretary (sometimes known as a legal administrative assistant) as someone who performs secretarial duties using legal terminology, procedures, and documents.
What Does a Legal Secretary Do?
Prepare legal documents such as subpoenas, motions, pretrial agreements, and complaints
Mail or otherwise arrange for delivery of legal correspondence
Make phone calls and schedule appointments as necessary
Organize and maintain documents and files
"When comparing the duties of a paralegal to a legal secretary, paralegals generally conduct more legal research and draft legal documents," says Gulley. "A legal secretary is unlikely to do research and may draft some legal documents, but probably spends more time revising an attorney's work product."
3. Title Examiner, Abstractor, and Searcher
Title examiners, abstractors, and searchers are job titles of those who search real estate records, examine titles, and summarize legal and/or insurance documents, according to O*NET.
What Does a Title Examiner/Abstractor/Searcher Do?
Examine real estate records (such as mortgages, maps, contracts, liens, judgments) to verify certain facts (such as ownership or restrictions)
Examine titles for restrictions and verify accuracy of related documents
Prepare rejection notices
4. Conflict of Interest Manager
Sometimes law firms cannot take on new clients due to ethical concerns—mainly, a conflict of interest with another client represented by the firm. This is where a conflict of interest manager comes in.
"As new business comes in, every potential client has to be checked for a possible conflict of interest," Gulley explains. "Midsize to large firms often have a conflict of interest manager dedicated to checking for these conflicts."
What Does a Conflict of Interest Manager Do?
Identify potential ethical conflicts in a firm's new business efforts
Stay abreast of conflict of interest standards and requirements
Maintain computer systems and databases related to conflict of interest management
5. Legal Technology Support Specialist
Law firms need people who are skilled in the use of computer software and hardware specific to the field.
"Insurance companies that insure lawyers and firms for malpractice require certain safeguards be in place even to write the policy," says Gulley. "A legal technology support specialist has expertise with security protocols and billing programs."
What Does a Legal Technology Support Specialist Do?
Troubleshoot failing hardware and software
Stay abreast of legal technology innovations and make recommendations to the firm
Look for ways to increase the security, quality, and efficiency of services provided
Respond to related requests and questions from staff
6. Electronic Discovery Specialist
Also known as an e-discovery specialist, this person collects, processes, reviews, transmits, and maintains digital evidence. The global e-discovery market is projected to reach $17.32 billion (USD) by 2023, according to a report from the market research group Research and Markets.
"This role is in demand in midsize to larger firms, even some smaller ones," Gulley says. "Firms that handle a lot of litigation have an especially great need for an e-discovery specialist."
What Does an Electronic Discovery Specialist Do?
Collect, process, and analyze digital information
Create and maintain electronic discovery preservation policies
Stay abreast of the tools and processes related to e-discovery and provide support in litigation technology
Create and support document review and production workflows
7. Compliance Specialist
In highly regulated fields such as health care and finance, compliance specialists (sometimes known as regulatory affairs specialists) are needed to ensure business is conducted in accordance with all pertinent laws and regulations.
What Does a Compliance Specialist Do?
Ensure contracts, policies, and procedures adhere to existing regulations
Promote a strong code of ethics and integrity within a firm's operations
Perform compliance audits and draft documents for review
Monitor for unusual or suspicious activity
8. Contract Administrator
Also known as a contract analyst, this person is responsible for the management of contracts, including making any necessary changes and ensuring all parties adhere to the contract's terms.
What Does a Contract Administrator Do?
Draft and negotiate new contracts
Handle disputes and conflicts that arise in the process or from existing contracts
Oversee the closeout process when a contract has been fulfilled
Launch or Advance Your Legal Career With Purdue Global
Purdue Global offers a number of online certificates and degrees in the legal services industry, including‡:
If you're interested in learning more about any of these programs, request more information today.