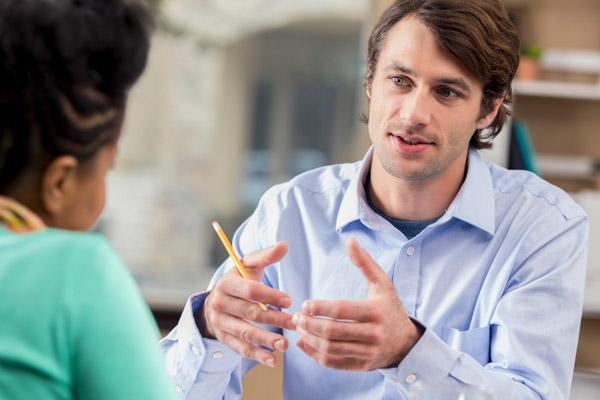 July 5, 2018 | Purdue University Global
|
Updated December 24, 2020
Health care occupations are growing much faster than the average for all occupations, according to the Bureau of Labor Statistics. Between 2019 and 2029, the rate of growth is projected at 15%, which represents about 2.4 million new jobs. But there's more to considering a career than simply following a growing employment sector. You must make sure it's the right fit for you. This advice will help you determine if you might thrive in a health care career:
1. Ask Yourself: What Are You Passionate About?
There are many aspects of a career that affect how you feel about it: the day-to-day job duties, the hours, the pay, the level of autonomy you have, job security, and the possibility of advancement. But high on that list should be your passion for the job.
Dr. Keith Smith, dean and vice president of the Purdue University Global School of Health Sciences, believes the equation is even simpler. "You must have some passion for the position. If you don't have passion, you won't spend the time, the energy, and the money that's necessary to earn a degree in any field."
Find the intersection of what you love and where you excel professionally. If that's in health care, you're off to a good start.
2. Talk to People Who Have Health Care Jobs
Are you considering becoming a registered nurse? A medical assistant? A health educator? Do your research. Look up BLS statistics for specific jobs. Read articles and blogs written about and by the people who have the job you're considering. And then go one step further: Talk to them. "Do your research on areas that you have some interest in, and don't let that research just be on the internet," says Dr. Smith. "Go and talk to people. Get a real feel for what they do."
Find someone in your city in the occupation you're considering. Talk to a friend of a friend, meet a member of a networking group. Have good questions ready; ask about daily work, details, the highs and the lows, and why the career is worthwhile. Finish by asking the person what they wish they'd known before they got into the field.
3. Know the Degree Requirements
In the area of health care there are a variety of educational options, including certificates, degrees, and advanced degrees. And these are offered by career schools, on-the-ground colleges, and online universities.
As you're researching your desired career, explore its educational requirements. Do you need a certificate, an associate's, a bachelor's, a master's, or a doctorate? For instance, becoming a registered nurse requires an associate's degree and passing the NCLEX, but many hospitals now are seeking nurses who have a bachelor's degree in nursing plus the RN certification.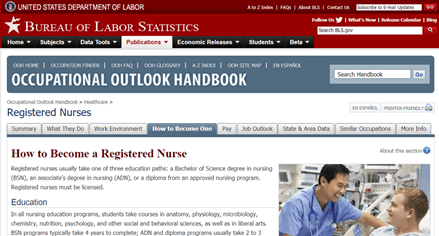 Visit the BLS website to learn more about common degree requirements. The Occupational Outlook Handbook provided by the BLS outlines various aspects of being a registered nurse—what they do, what the work environment is, and so on.
The section titled "How to Become One" tells you what courses are common in nursing education programs and which degrees are generally required for certain levels of work. After you learn the education requirements, you can explore schools that provide those programs.
4. Look Into Required Professional Credentials
In addition to degree requirements, many health care occupations require specific licenses or certificates. Some are required on a state-by-state basis, others by specialty.
Registered nurses, for instance, must pass a national licensing exam (NCLEX-RN), and a certain level of continuing education is usually required to keep that license. Nurses also can earn professional association certifications in certain areas, such as pediatrics or rural health care.
5. Find Real-World Experience
Don't forget how much you can learn by finding a place to volunteer within the occupation that most interests you. "I strongly encourage you to go out there and volunteer in some capacity in the health care system," says Dr. Smith. Potential future employers may also be interested when they see this on your resume.
Learn About the Online Degree Programs Offered by Purdue Global
Purdue Global is an online public university for working adults. We offer a variety of online degree programs in nursing and the health sciences. Explore the possibilities in a health care career—request more information today.