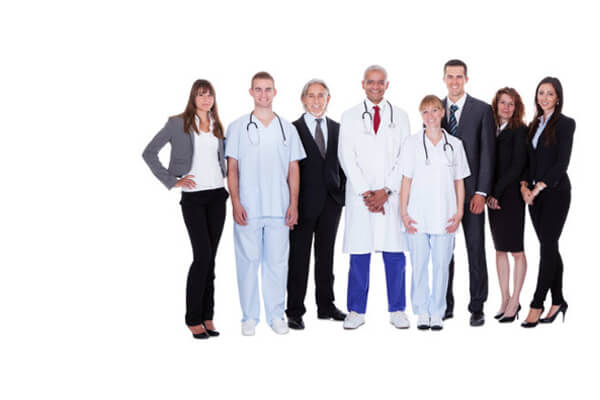 January 7, 2019 | Purdue University Global
|
Updated March 25, 2020
According to the Bureau of Labor Statistics, job growth in 20 occupations is expected to meet or exceed 23% from 2018 to 2028.* Such in-demand positions are great for those thinking about changing careers because they can provide:
Easier entry compared to more competitive industries
Job growth potential as entry-level people move into management and leadership roles
Career stability (depending on location, position, and area demand)
If you've decided your current job isn't your forever career and you're thinking about changing careers, here are four of the most in-demand occupations for 2020 and beyond.
1. Nurses/Nurse Practitioners
Positions for registered nurses and nurse practitioners are growing much faster than the average for all occupations, according to the BLS.
What Do Nurses and Nurse Practitioners Do?
Nurses assess patient conditions, record medical histories, observe patients, administer medicine and treatment, and much more.
Nurse practitioners, also referred to as advanced practice registered nurses or APRNs, coordinate patient care and may provide health care services like diagnosing health problems or evaluating patient response to treatments.
What Education Do Nurses and Nurse Practitioners Need?
Nursing programs are not available in all states. Refer to the University Catalog for additional information.
2. Software Developers
The BLS reports that employment of software developers is expected to grow 21% between 2018 and 2028, much faster than average for all occupations. As technology rapidly develops, so does the growth of tech-centric occupations such as software developers.
What Do Software Developers Do?
Software developers create computer programs or applications for computers or technology devices. Software developers may also create systems that control networks or run technology devices. In addition to being technology pros, software developers work with diverse teams in business to understand their needs and develop the best programs to meet those needs. Software developers use skills in:
XML
Research
Python
Node.js
Software engineering
ASP.NET
Continuous integration
Object-oriented analysis and design
Quality assurance and control
What Education Do Software Developers Need?
The BLS reports software developer positions typically require a bachelor's degree in information technology or a related computer science field.
3. Medical Assistants
In addition to the approximate 686,600 medical assistants working today, the BLS reports about 154,900 new medical assistant positions will be added between 2018 and 2028—an increase of 23%, which is much faster than average for all occupations.
What Do Medical Assistants Do?
Medical assistants work in doctors' offices and other health care facilities. They perform administrative and clinical tasks that can help the entire health care operation run more smoothly. From checking patients in and recording patient histories to measuring vital signs and performing blood draws, the roles and responsibilities can vary.
What Education Do Medical Assistants Need?
The BLS reports that a postsecondary nondegree award, such as a medical assistant certificate, is typically the minimum education required for an entry-level position.
4. Information Security Analysts
Cybersecurity affects businesses, governments, utilities and power industries, individuals, and more. According to the 2018 State of Endpoint Security Risk Report by Ponemon, a survey of 660 IT and security leaders, 64% of companies experienced one or more successful attacks that compromised IT infrastructure and/or data. Between 2018 and 2028, the BLS projects that more than 35,500 new information security analysts jobs will be added to help combat growing threats. This is a job growth rate of 32%, much faster than the average for all occupations.
What Do Information Security Analysts Do?
Information security analysts work on projects that help protect computer networks and systems security. They complete tasks that enhance security and fight threats, including monitoring networks for breaches, installing security software, analyzing data breaches, conducting penetration testing, and developing security standards for an organization.
What Education Do Information Security Analysts Need?
According to the BLS, at least a bachelor's degree in cybersecurity is typically required for entry-level information security analyst positions.
Grow Your Career With a College Education in the Field You Want to Work In
All of the positions highlighted prefer applicants to have a certificate, bachelor's degree, or master's degree to be considered. A college education in one of these fields from a school like Purdue University Global can help you land a career by:
Teaching you essential skills for your chosen field
Introducing you to industry contacts through online networking
Providing job search support through career services
Learn more about the online degree programs at Purdue Global or request more information.
Your Path to Success Begins Here
---
Learn more about online programs at Purdue Global and download our program guide.
Request Information
Most Popular Posts
Your Path to Success Begins Here
---
Learn more about online programs at Purdue Global and download our program guide.
Request Information