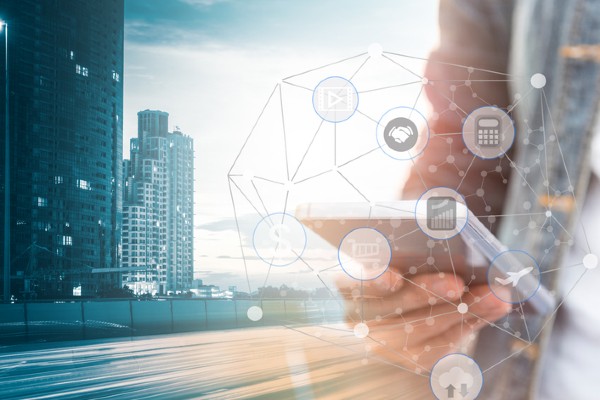 April 22, 2020 | Purdue University Global
Merriam-Webster defines marketing as "the process or technique of promoting, selling, and distributing a product or service." However, because of the shift toward digital technology, this definition doesn't fully capture marketing or the skills it requires today.
To learn more about how technology has impacted marketing activities and job growth, we talked with Martin McDermott, DBA, marketing faculty member at Purdue University Global.
What Is Marketing?
Marketing is a method for creating a good or service and:
Promoting it via advertising, public relations, blogging, personal selling, trade promotions, and social media
Distributing a good or service by making it readily available to customers when and where they want it
Pricing a product so it provides value for customers
Developing and maintaining strong relationships with customers
"The contemporary definition of marketing puts more emphasis on value and relationships," says McDermott. "These relationships typically lead to loyalty, which also produces referrals and has become more powerful with the shift towards digital, mobile, and social media."
Technology and Marketing at a Glance
The evolution of technology has changed the way people communicate and interact. It also broadened the scope of typical marketing activities, creating more opportunity for professionals and graduates in the field.
50% of people around the world use social media, according to Hootsuite.
Globally, people spend an average of 2 hours and 24 minutes on social media each day, according to GlobalWebIndex.
96% of Americans own a cellphone and 81% own a smartphone according to Pew Research Center.
4 Ways the Rise of Technology Drives Growth of Digital Marketing Roles
If you're wondering whether marketing is a good career for you, know that technology changes can create a demand for marketing, advertising, and promotions jobs. Let's dive into four specific technology trends driving the growth of marketing roles.
1. E-commerce
E-commerce enables constant selling to customers in a variety of geographic and demographic markets. In fact, KPMG cites the ability to shop 24/7 as the top reason consumers shop online versus in stores.
"Today we can reach customers anywhere and everywhere—24 hours a day, 7 day a week," says McDermott. "It's almost like a vending machine; it never sleeps."
"It's not like the old times where a retailer would open up at 10:00 am and close at 8:00 pm. Basically, now there are more hours in a day to sell to customers. I think that's why there has been job growth in this area," he adds.
Digital Commerce 360 analyzed the U.S. Department of Commerce's quarterly e-commerce figures and reported that consumers online spent $601.75 billion with U.S. retailers in 2019—up 14.9% from the previous year.
2. Social Media
"Social media gives customers a lot of control," says McDermott. "For example, they go out to dinner, and if that dinner was satisfying, they can tell 500 of their closest friends. If they don't like the dinner, they can also tell 500 of their closest friends."
The "2018 Customer Experience (CX) Index" white paper from Sitel Group, a customer service company, reports that almost one in three U.S. consumers say they'd share a negative review if they had a negative experience with a brand. At the same time, 49% say they'd post a positive review about a good customer experience.
"There's much more emphasis today on providing value to customers. Even more, it's about having a relationship with a customer. There's more of a long-term focus," McDermott says.
Cultivating long-term customer relationships builds trust and helps businesses' bottom lines. For example, 57% of consumers will increase spend with a brand they feel connected to, according to social media software company Sprout Social. To properly leverage social media, it's important to understand that technology and marketing go hand in hand.
3. Mobile Technology
Ever since mobile and tablet internet use passed desktop usage, times have changed. According to Pew Research, almost one in five American adults is a smartphone-only user of the internet.
McDermott says increase in mobile device usage is a significant factor in the increase in marketing job growth. "I keep coming back to this idea of connectivity and how it's used in conjunction with traditional media. Consumers buy products differently today. They may see or hear an advertisement on television or radio, but what they typically do from there is further research the product—usually from their mobile devices."
The mobile experience is a fundamental part of customers' journeys. According to a 2018 report from BrightEdge, an SEO and content marketing company, 51% of consumers say they find new products and brands by using their mobile devices. Additionally, more than 40% of online transactions are performed on mobile devices, Google reports.
4. Lower Barriers to Entry
Technology hasn't only changed consumers' lives; it's also impacted companies.
"The internet and connectivity have enabled companies to enter industries that they would not have been able to enter in the past," McDermott explains. For example, Uber and Airbnb were able to compete in highly competitive markets—the taxi and lodging industries.
"In the past, these industries typically had high barriers to entry," he says. "I think many of those barriers have come down today. The internet has leveled the playing field. In other words, small companies can now compete with big companies."
However, lower barriers to entry doesn't necessarily make it easier to sustain business success. Information Age claims that barriers to exit are still high. This could mean that the cost of leaving a market or industry is higher than continuing to operate, forcing businesses to continue when they want to close.
Is Marketing a Good Career for You?
If you're intrigued by technology-driven marketing jobs, a bachelor's degree in business administration with a concentration in marketing can help. Purdue Global offers an online degree program with multiple start dates so you can balance your work, life, and education schedules. Request more information today.