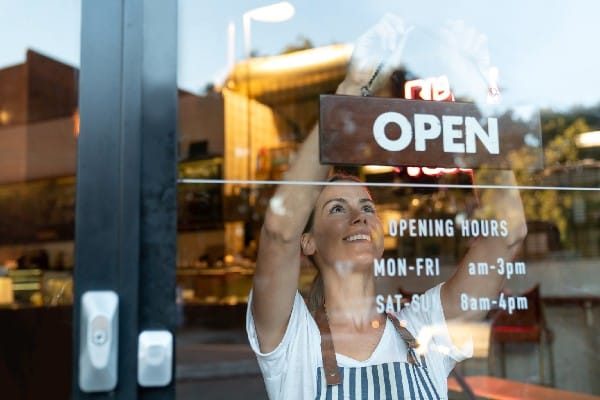 October 17, 2022 | Purdue Global
In 2021, nearly 5.4 million new businesses were formed in the U.S., according to data from the United States Census Bureau. The Economic Innovation Group found that more business applications were submitted in 2021 than any other year on record. The numbers were a 23% increase from 2020 and a 53% increase from 2019.
Whether you're brand new to running a business or have been managing your own company for years, a wealth of entrepreneur resources are available that can help you grow your business.
Funding and Grants for Entrepreneurs
There is no shortage of programs that provide funding to small business owners. Many of these programs are backed by the federal government, local governments, or professional organizations. Explore the options below to see if you qualify.
1. U.S. Small Business Administration (SBA) Funding Programs
The U.S. Small Business Administration offers several different funding programs for small business owners, including loans, investment capital, grants, bonds, and disaster assistance. Some benefits of SBA-backed funding are competitive rates and access to counseling.
2. Grants.gov
Grants.gov is a government-run website that helps small business owners search for and apply for grants. Since grants do not have to be repaid, they are often a more attractive choice than loans. Users of Grants.gov can filter available grants by eligibility, category, and agency.
3. U.S. Department of Agriculture (USDA) Rural Business Development Grants
The USDA offers Rural Business Development Grants to businesses benefitting rural areas. These grants are intended to provide technical assistance and training to rural business owners. Qualifying businesses include state agencies, nonprofit organizations, and higher education institutions.
4. National Association for the Self-Employed (NASE) Growth Grants
The NASE provides grants of up to $4,000 to small business owners, with the goal of helping entrepreneurs get their business up and running. Four winners are awarded the grant each quarter.
5. Minority Business Development Agency (MBDA) Programs
The Minority Business Development Agency offers several funding programs for minority-owned businesses. The organization has MBDA centers located throughout the U.S. which can assist business owners with obtaining grants and loans.
6. U.S. Economic Development Administration (EDA) Funding Opportunities
The U.S. Economic Development Administration actively accepts applications for grants and other forms of small business assistance. You can find active funding opportunities on the EDA website.
7. Small Business Innovation Research (SBIR) and Small Business Technology Transfer (STTR) Programs
Powered by the SBA, SBIR and STTR programs provide funding to businesses focused on advancing science and technology. This SBIR and STTR website allows you to view available funding opportunities by industry and technology area. Many of the grants offered as part of this program are administered by the Department of Health and Human Science or the National Science Foundation.
8. State Trade Expansion Program (STEP)
The STEP grant program provides financial assistance to small businesses exporting their products internationally. These grants are intended to help small business owners with the costs of entering and expanding into international markets.
Support Organizations for Entrepreneurs
The following professional organizations and nonprofits provide education and support to small business owners around the country. Joining these organizations may also help you network with other entrepreneurs.
9. SCORE
SCORE is a network of business mentors from across the country focused on helping other entrepreneurs grow their businesses. The organization has been around since 1964 and has provided mentorship to an estimated 11 million entrepreneurs. The majority of their resources can be accessed for free.
10. Small Business Development Centers (SBDC)
The SBA has Small Business Development Centers located throughout the U.S. At these centers, entrepreneurs can access counseling and training that can help them secure capital, develop new technologies, or improve business operations. The SBA also operates Veterans Business Outreach Centers (VBOCs) and Women's Business Centers (WBCs).
11. National Women's Business Council
The National Women's Business Council is a non-partisan federal advisory committee that doubles as a supportive resource for women entrepreneurs. It hosts webinars, roundtable discussions, and public meetings on the latest policies impacting women in business.
12. Women's Business Enterprise National Council
The Women's Business Enterprise National Council is a nonprofit organization that certifies women-owned businesses in the U.S. In addition to certifying businesses, it offers programs and events for women entrepreneurs.
13. National Veteran Owned Business Association
The National Veteran Owned Business Association certifies veteran-owned businesses and helps veteran entrepreneurs obtain corporate contracting opportunities. It also offers networking opportunities for veteran business owners.
14. National Federation of Independent Business
Since 1943, the National Federation of Independent Business has been advocating on behalf of small business owners across the U.S. Business owners who join the organization gain access to reports on legal rulings impacting small businesses. They are also able to connect with legal experts specializing in business law.
15. International Franchise Association
The International Franchise Association is the largest professional network for franchise owners and suppliers. The organization hosts events focused on helping franchise owners grow their businesses. It also advocates for public policies benefitting franchise owners.
Websites and Blogs for Entrepreneurs
Websites and blogs can be a great source of information for budding entrepreneurs. Here are some of the best entrepreneur websites for staying up to date on the latest business trends.
16. SBA Blog
The SBA blog features insights and advice from small business leaders. It also includes success stories that highlight entrepreneurs from around the country.
17. U.S. Chamber of Commerce CO—
Run by the U.S. Chamber of Commerce, CO— teaches entrepreneurs how to start, run, and grow their businesses. The website also includes a "Good Company" section where industry leaders share their personal advice for succeeding in business.
18. Entrepreneur
A companion to the magazine of the same name, Entrepreneur.com publishes articles on leadership, marketing, finance, technology, and more. The website also features helpful videos and webinars focused on growing your business.
19. Inc.
The mission of Inc.com is to provide business owners and managers with ideas, information, and inspiration. The website includes a whole section dedicated to startups, with articles discussing topics such as how to obtain funding and how to write a business plan. Inc. is also known for its annual Inc. 5000 list of the most successful companies in the U.S.
20. Bplans
Bplans features a library of business planning guides, articles, and templates. Other guides include how to perform a SWOT analysis, how to forecast cash flow, and checklists for new business owners.
21. AllBusiness
AllBusiness publishes articles from industry experts, covering everything from starting a business to staffing and HR topics. The site also features a dictionary of business and finance terms.
22. Noobpreneur
Starting in 2008 as a personal business blog, Noobpreneur has grown into one of the best websites for entrepreneurs. Articles cover the latest technology and finance trends and provide tips for new business owners.
23. Small Business Trends
Small Business Trends publishes articles on business management, marketing, finances, technology, and more. In addition to articles, the website features small business statistics and calculators.
24. Startup Nation
Startup Nation is dedicated to helping entrepreneurs start, grow, and manage their businesses. Their content covers everything from small, home-based businesses to enterprise companies. The Growth Hacks series is a great place to start if you're looking for tips on growing your business.
25. Women on Business
Women on Business is one of the best entrepreneur websites for women business owners and managers. The website is largely focused on thought leadership, with articles authored by a diverse group of female leaders and executives.
Podcasts for Entrepreneurs
Entrepreneurship podcasts give you the opportunity to build your business acumen while you're on the go. Here are some of our top podcast recommendations for small business owners.
26. This Week In Startups
As the name implies, This Week In Startups is a weekly podcast covering the latest in business and technology. It is hosted by Jason Calacanis and Molly Wood, both of whom have experience in management and venture capitalism. The podcast also features interviews with notable business owners and investors.
27. Entrepreneurs On Fire
Entrepreneurs On Fire is a podcast that interviews inspiring entrepreneurs from various industries. The goal of the podcast is to help listeners find inspiration from the stories of successful business owners. To date, the podcast has interviewed over 3,000 entrepreneurs.
28. How I Built This
Hosted by Guy Raz, How I Built This is an NPR podcast exploring how well-known entrepreneurs built their brands. Through these interviews, you'll learn how entrepreneurs were able to overcome hardships and make a name for themselves in competitive environments. New episodes are published twice a week.
29. HBR IdeaCast
Part of Harvard Business Review, HBR IdeaCast is a weekly podcast discussing important topics in business and management. For example, recent episode topics include how the metaverse could affect business leaders and the pros and cons of selling your products on Amazon. It is hosted by two HBR senior editors and often features interviews with industry experts.
30. Mixergy
Mixergy is a series of interviews with entrepreneurs and business leaders. It is hosted by startup veteran Andrew Warner. In each episode, Warner talks to his guests about what they learned while growing their businesses. Episodes are published every week.
Books for Entrepreneurs
Reading a book on entrepreneurship can go a long way in motivating you to move forward with your business venture. Here are a few of the best books on entrepreneurship that new business owners should read.
31. "Built to Last: Successful Habits of Visionary Companies" by Jim Collins and Jerry I. Porras
Originally published in 1994, "Built to Last" examines 18 top-performing companies and explains what these companies have done to differentiate themselves from their competitors. The book is filled with specific examples of what contributed to the success of each company.
32. "The Pumpkin Plan: A Simple Strategy to Grow a Remarkable Business in Any Field" by Mike Michalowicz
"The Pumpkin Plan" guides readers through the process of starting and growing a company. The author, Mike Michalowicz, found inspiration for this business strategy by studying how pumpkin farmers grow their crop. Michalowicz claims that the Pumpkin Plan can be applied to businesses in any industry.
33. "Delivering Happiness" by Tony Hsieh
Written by Tony Hsieh, the former CEO of Zappos, "Delivering Happiness" explores how focusing on company culture can help you achieve your business goals. This book provides valuable advice for long-standing business owners as well as new entrepreneurs who are getting ready to hire their first employees.
34. "The E-Myth Revisited: Why Most Small Businesses Don't Work and What to Do About It" by Michael E. Gerber
"The E-Myth Revisited" debunks entrepreneurship myths and delves into the real reasons why many new businesses do not succeed. The book covers the lifecycle of small businesses and provides tips for avoiding common pitfalls.
35. "The Young Entrepreneur's Guide to Starting and Running a Business" by Steve Mariotti
"The Young Entrepreneur's Guide to Starting and Running a Business" tells the stories of young entrepreneurs who managed to get their business idea off the ground. It provides tips on how to turn your hobbies, skills, and interests into a profitable business. If you're interested in starting your own business but haven't nailed down an idea quite yet, this could be the right read for you.
Launch Your Business Career With Purdue Global
Earning a business degree provides you with the foundational skills and knowledge you need to get your business off the ground. Purdue Global offers online business programs at the associate's, bachelor's, and master's levels.
Reach out today to learn more about how a business degree from Purdue Global could help you become a better entrepreneur.
For more of our favorite resources for entrepreneurs, check out our "Resource Guide for Veteran Entrepreneurs" or "Resource Center for Women in Business."
---
Your Path to Success Begins Here
Learn more about online programs at Purdue Global and download our program guide.
Request Information