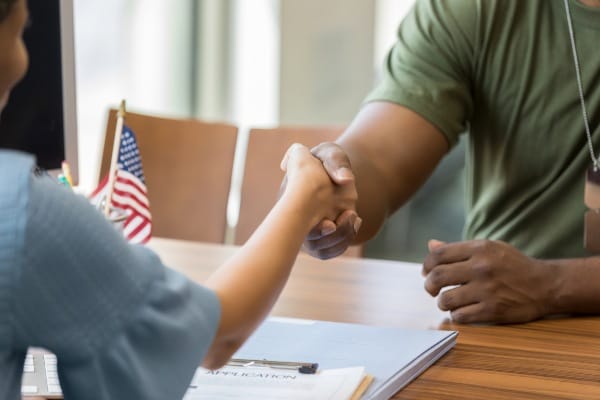 August 16, 2022 | Purdue Global
Veteran-owned businesses are more common than you might think. According to the United States Census Bureau, approximately 5.9% of all businesses in the United States are owned by veterans. Almost 338,000 businesses are veteran-owned nationwide.
During their time in the service, veterans pick up skills and traits well-suited for entrepreneurship. The U.S. Small Business Administration (SBA) has found that veterans are 45% more likely to be self-employed than non-veterans.
Whether you're an experienced veteran entrepreneur or are just beginning to form an idea for your business, a wide array of support and resources are available to you.
What Makes Veterans a Good Fit for Entrepreneurship?
Some skills learned in military service that are also applicable for running a business include:
Resilience
Perseverance
Self-motivation
Leadership
Communication
Problem-solving
Adaptability
"Veterans tend to have a 'can-do' mindset ingrained into their thinking when they're on active duty, in the National Guard, or in the Army Reserve," says Mike Erwin, founder and executive director of Team Red, White & Blue and lieutenant colonel in the Army Reserves. "The resilience and grit that's needed in the military sticks with you even after you leave. It gives you the willpower to lean in and try something new."
Because many veterans naturally excel at operations, planning, logistics, and executing on ideas, they can make great entrepreneurs.
>> Read: Getting Ready to Leave the Military? Consider a Career in These 5 Growing Industries
How to Start a Business as a Veteran
Starting your own business can be overwhelming, especially if you don't have experience in entrepreneurship. As you begin to plan your own business, the steps below can act as a guideline.
Decide What Type of Business You'd Like to Start
The first step to starting your own business is to come up with an idea. Think about services that your community might have a need for and ask yourself if these services align with your own interests.
Over time, your business idea may change based on feedback and reflection. "Very rarely do you launch with an idea, and then it remains exactly the same over the next few years," says Erwin. "You have to be able to adapt your concept as needed."
If you're having trouble deciding what type of business you would like to start, these articles can help:
Conduct Market Research
After you come up with an idea for your business, you'll want to gather information about similar companies. This is called market research, and it is an essential step for refining your business idea. If you don't spend time researching competitors before launching your business, it will be hard to know how to position yourself in the market.
During the market research phase, think about what type of customers your business would target. You may want to interview individuals who fall within your target demographic and ask them about their needs and preferences.
Many free resources are available that can help with market research, including:
Census Business Builder: Developed by the Census Bureau, this tool allows you to research businesses based on industry and location. Find out how many businesses within your niche are operating in a given area, and learn about the socioeconomic traits of potential customers.
Consumer Expenditure Surveys: This data from the U.S. Bureau of Labor Statistics shows how consumers are spending their money. By studying these reports, you can gauge the relative importance of certain goods and services.
Statistics of U.S. Businesses: Every year, the Census Bureau publishes statistics on how many businesses are operating in the country. You can use this data to find information on enterprise size and employment levels of companies in your industry.
Even after you launch your business, you'll want to conduct research periodically to make sure you are adapting to any changes in customer preference or economic conditions. A common mistake new entrepreneurs make is not adapting their business to align with consumer needs.
"You're not going to set sail with a perfect product," says Erwin. "You should expect to spend a lot of time analyzing, bringing in data, and making changes accordingly."
Develop a Business Plan
After researching and developing your idea, it's time to write a business plan. This plan outlines the details of your new business and how it will be structured. Your business plan can be formatted in several ways, but in general, it should contain the following parts:
Executive summary
Description of your business
Market analysis
Company structure
Description of your product or service
Funding requirements
Financial projections
Appendix
One of the key functions of a business plan is attracting investors and business partners. While putting together a business plan is a lot of work, it's an important step for setting your business up for success.
The following free resources include examples of business plans:
If you're having trouble garnering support for your business after presenting your business plan to potential investors, don't lose hope. You can always make adjustments to your business plan based on feedback you receive.
Get Certified as a Veteran-Owned Business
As a veteran, you have the opportunity to certify your business through the VA's Vets First Verification Program.
Getting certified as a veteran-owned business, or VOSB, has several benefits. It may allow you to receive certain government contracts that are not available to other businesses. In addition, customers may prioritize buying from businesses who have the VOSB status.
To register as a veteran-owned business, you need to meet these qualifications:
At least 51% of your business must be owned by veterans
The business owner must be honorably discharged from the military
The business owner must be involved in the day-to-day operations of the company
Due to the governmental benefits it provides, the Vets First Verification Program is one of the most popular ways to get certified as a VOSB, but there may be state or local agencies in your area that offer certification programs as well. Several private organizations, such as the National Veteran Business Development Council and National Veteran-Owned Business Association, also certify VOSBs.
Resources for Veteran Entrepreneurs
Running a business isn't easy—thankfully, plenty of available resources are specifically designed to help veterans through the process of launching and operating a new business.
"You're likely going to have a lot of struggles, especially in the first few years, since that's where you're fighting to become a legitimate company," says Erwin. "But if you stay the course and are open to learning and growing, you'll be fine."
The following programs for veterans starting a business can be helpful as you take your new organization from idea to reality:
Further Your Business Education With Purdue Global
If you're interested in running a business, our online business degree and certificate programs can provide you with the foundational skills and knowledge needed to get started. We take pride in offering programs that maximize your military benefits, and we work with you to see if your prior military training and experience can be applied as credit toward your Purdue Global degree.
Learn more about our degree programs and benefits for active-duty military and veterans, or reach out today to connect with an advisor.
---
Your Path to Success Begins Here
Learn more about online programs at Purdue Global and download our program guide.
Request Information