Transfer Community College Credits Through Our Alliance Program
Discover how you can apply your associate's degree toward a Purdue Global bachelor's to save on tuition and graduate sooner.
Purdue Global has partnered with schools across the country to help those with community college credits transfer them and earn a bachelor's degree faster.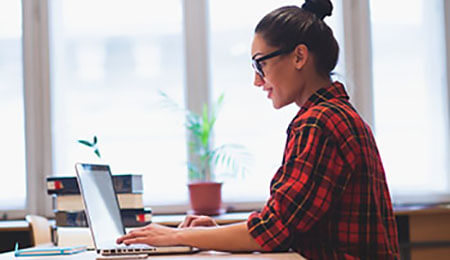 Why Should You Choose Purdue Global to Further Your Education?
Purdue Global Community College Alliance Program
Purdue Global has an educational alliance (through an articulation agreement) with the following institutions.
Blue Ridge Community and Technical College
Davis College
Delaware Technical and Community College
Des Moines Area Community College
Eastern Iowa Community College
Fayetteville Technical Community College
Gateway Technical College
Hagerstown Community College
Indian Hills Community College
Iowa Central Community College
Iowa Valley Community College District
Ivy Tech Community College
Kirkwood Community College
National Paralegal College
Northeast Iowa Community College
North Iowa Area Community College
Northwest Arkansas Community College
Pima Community College
Southwestern Iowa Community College
Waukesha County Technical College
Western Technical College
Start at Your Community College. Finish at Purdue Global.
Ivy Tech Community College Associate's Degree Graduates: Continue to a Bachelor's Degree With Purdue Global
Explore opportunities to apply your associate's degree credits toward a Purdue Global bachelor's degree. Indiana residents receive a 40% tuition reduction. To learn more, call 317-208-5311 or email Michelle Lavelle at mlavelle@purdueglobal.edu.
Fayetteville Technical Community College (FTCC) Students and Graduates: We've Added New Services to Our FTCC Alliance
Learn how you can earn credits for prior experience or apply additional courses at FTCC after graduation toward a Purdue Global bachelor's degree. Contact our FTCC Relationship Manager Jane Jean-Barnard at 443-454-4016 or jane.jeanbarnard@purdueglobal.edu for more information.
NOTES AND CONDITIONS
* Purdue Global cannot guarantee transferability of credit. See the University Catalog for the Prior Learning Assessment policy.
†Testing option may not apply to all courses.
‡ Source: 2016-2017 Kaplan University Capstone Survey; nearly 10,200 students completed the survey. Note: this survey was conducted prior to the March 2018 purchase of Kaplan University by Purdue University and subsequent creation of Purdue University Global.