Indiana Community College Transfer Pathways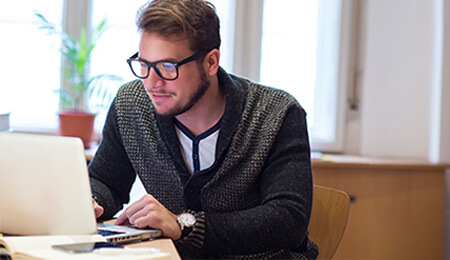 Transfer Your Entire Associate's Degree Through the Indiana TSAP Program
The Indiana TSAP is among the most rewarding transfer programs at Purdue Global, offering students in eligible associate's degree programs customized articulation pathways to approved bachelor's degrees. Graduate sooner and save on tuition.
Customized Credit Transfer Pathway
Your eligible associate's degree earns you a custom credit evaluation, including fulfillment of most, if not all, of your required lower-level major courses.
Seamless Transfer to a Bachelor's Program
The Indiana TSAP ensures a smooth transition between your eligible associate's degree and an approved bachelor's degree at Purdue Global.
Indiana TSAP and Purdue Global Program Alignment
Approved Bachelor's Degree Pathways for Qualifying Associate's Degrees
ITCC=Ivy Tech Community College; VU=Vincennes University
Why Choose Purdue Global for Your TSAP Bachelor's Degree?
Guaranteed Admission
No minimum GPA is required for TSAP associate's degree graduates.* Enroll immediately for your bachelor's degree.
In-State Tuition for Indiana Residents
Receive a 25% reduction on undergraduate tuition with resource fees waived (10% off graduate tuition and resource fees).†
Earn a 4-Year Degree in Just 2 Years‡
100% of the credits required for your associate's degree feed directly into one of our approved bachelor's programs.
Meet General Education Requirements
TSAP associate's degrees include Indiana College Core—so you don't need to repeat those courses in your bachelor's program.
More Ways to Add Credits to Your Degree
A portion of your elective credits remain in place, so you can transfer in additional credits earned from eligible military or work experience, certifications, or exams.§
World-Class Education With Online Flexibility
Study on your own schedule, without affecting your responsibilities on the job or at home.
NOTES AND CONDITIONS
*Purdue Global's BS in Nursing has GPA and licensure requirements that must be met for admission to the program.
†Contact an Admissions Advisor for details. May not be combined with other Purdue Global tuition reductions or ExcelTrack™ pricing.
‡Completion time based on a full-time schedule. Programs will take longer for part-time students to complete.
§Purdue Global does not guarantee transferability of credit from any of these sources. See the University Catalog for the Prior Learning Assessment policy.