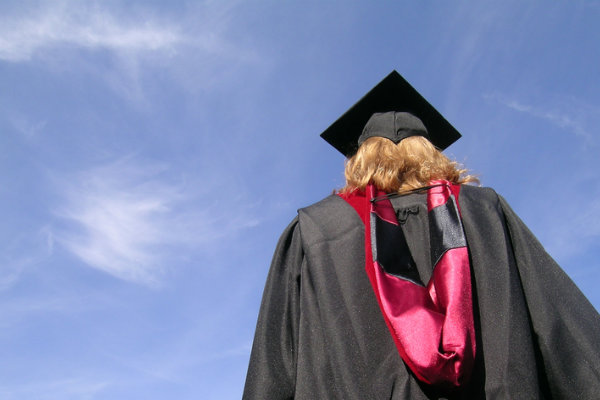 September 6, 2019 | Purdue Global
Perhaps you've gone as far as you're going to go in your career with the skills you have. What next? Many professionals consider getting a master's degree, but may ask themselves: is a master's degree worth it?
From sharpening your current skills to making yourself more competitive for new job opportunities, a graduate degree can be a smart move. According to the National Center for Education Statistics, 805,000 people earned master's degrees in 2016 to 2017, the latest year for which data is available. Business (187,000 degrees), education (146,000 degrees), and health professions and related programs (119,000 degrees) led the number of degrees earned.
Here are five reasons why pursuing a master's degree may make sense for you, too.
1. A Master's Degree Can Give You Greater Career Opportunities
A master's degree can make it easier to transition into more senior positions, such as management and leadership.* In fact, occupations that typically require a master's degree for entry are projected to grow the fastest, according to the U.S. Bureau of Labor Statistics—almost 17% from 2016 to 2026.†
Some of that movement is already happening. A CareerBuilder survey found that 38% of employers have raised their educational requirements in the past few years. Also, 33% of employers are hiring those with master's degrees to fill positions that used to go to those with four-year degrees.
Why the new emphasis on master's degrees? The skills required for those jobs have evolved, 61% of employers tell CareerBuilder, requiring more education. A master's degree can help you get in on this trend and solidify your career opportunities.
2. A Master's Degree Can Grow or Sharpen Your Skills
With a master's degree, you can learn new skills and improve your existing ones. Such hard and soft skills may include:
Managing relationships
Understanding industry issues
Communication and problem solving
Critical thinking and analysis
Leadership
Writing and research
Employers appreciate these skills, and they can help you excel in your role.
3. A Master's Degree Can Help You Become More Competitive in the Job Market
Competition for jobs is increasing, and a master's degree from an accredited college or university can level the playing field or even make your resume stand out. The number of people 25 and older who hold a master's degree has doubled to 21 million since 2000, according to the U.S. Census Bureau.
A master's degree can also give you a greater sense of confidence, mastery, and understanding in your field. Those skills can set you apart from the competition.
4. A Master's Degree Can Help You Get Increased Credibility and Respect
Earning a master's degree is worthy of respect due to the time involved and sacrifice made to obtain it. Many organizations view a master's degree as a strong testament to a person's capabilities and drive to succeed. That may make them more willing to trust graduate-degree holders in positions of power.
5. A Master's Degree Can Help You Make a Career Change
According to the BLS, the average person changes jobs around 12 times during their lifetime. But it's one thing to change a job and another thing entirely to change careers.
Earning a master's degree offers you versatility and opens up your options by making you more marketable. That may be the best way to break the cycle and get into a job you really enjoy. In fact, the unemployment rate for those with a master's degree is lower than for those who hold only a bachelor's degree or less, the BLS reports.
These five questions can help you decide if it's time to go back to school.
Learn More: Online Master's Degrees From Purdue Global
Pursuing a master's degree can be the key that unlocks the door to a better career. Is it time for you to make a change? Learn more about Purdue Global University's online master degree programs or request more information today.
---
Your Path to Success Begins Here
Learn more about online programs at Purdue Global and download our program guide.
Request Information