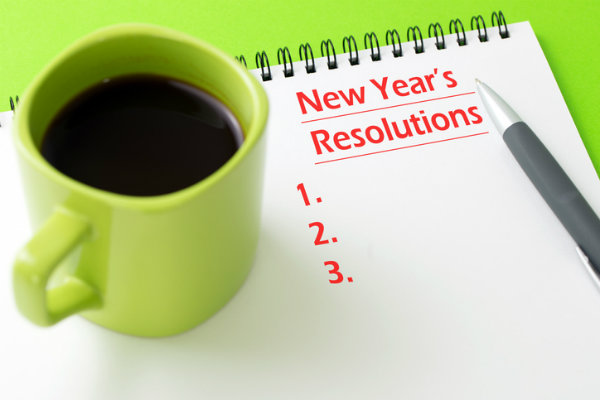 January 7, 2019 | Purdue Global
Come the second or third week of January, many people start to slack on their New Year's resolutions. The fitness tracker gets tossed in a drawer, the effort to eat healthy gets replaced with a late-night run to the drive-thru, and goals give way to the chaos of life.
According to U.S. News & World Report, 80% of those who make New Year's Resolutions fail by February. But you don't have to be part of this statistic. Here are some tips for making and keeping your resolutions.
1. Be Realistic
New Year's resolutions are often made of lofty and impressive goals: Exercise every day. Lose 50 pounds. Put half your paycheck into savings. It's okay to set big goals, but don't resolve to change so much that it becomes overwhelming or impossible.
2. Make a Vision Board
Get inspired. Hang a picture of your desired vacation destination on your fridge. Print out that quote that keeps you moving in the direction of your goals. Cut out the pictures in magazines that make you happy. This collage board should be aspirational and full of words and pictures that inspire you to be a better version of yourself. For further guidance, read this article on how to make a vision board.
3. Write About It
Writing down your goals and the progress you're making toward them enables you to hold yourself accountable, and it's a way to remind yourself why you're doing all this. It doesn't have to be a journaling exercise (though it can be). Email a friend, family member, or significant other your resolutions and your plan to get them done so they can help support your goals.
4. Make a Plan
Set specific, attainable goals and a plan for reaching them. It may help to work backward by looking at your ultimate goal and creating small milestones along the way that move you toward the big goal. Consider how you will you reach each milestone and what you need to do to make it happen. Attach each step to a schedule, and then follow through with this next tip.
5. Commit to Show Up
If you've made it a goal to exercise, show up at the gym or for your run three times a week. If you've committed to eating more veggies, create a meal plan where you bring a salad for lunch three times a week. Supplement your specific goals with small everyday choices—such as walking the dog for an extra 20 minutes each day or taking the stairs instead of the elevator. Make it easy to grab healthy snacks instead of stocking your pantry with chips and sugary snacks. Read this article for more health and wellness tips.
6. Manage Your Time
Lack of willpower isn't the only thing that leads people to abandon their resolutions—oftentimes, life is simply busy. Block out your schedule with time dedicated to your resolution, and then stick to those committed blocks. Put aside study time, exercise time, and time for yourself to relax and wind down. Here are some other time management tips.
7. Arm Yourself With Resources
Take advantage of resources that can help you reach your goals. For example, if you're trying to save money, use a budgeting app like Simple or Mint. These can help you curb spending habits and reach your savings goal.
If your goal is to improve your interview skills and advance your career, visit a career center that can help you practice and give you feedback on your interview skills. Review current interview strategies and practice with a friend or mentor.
8. Ask for Support
It's likely that you have others around you who are willing to help you reach your goals. If your goal is to earn better grades, find a group or instructor you can talk to about your resolution. Meetup.com or your local library may have study groups available to join. If your goal is to eat healthier, make plans with a friend to share one new healthy recipe with each other every week.
9. Don't Give Up
Give yourself the freedom to have setbacks. If you skip a workout or eat a piece of cake, it doesn't have to derail your resolutions. Slip-ups are normal, but get back on track quickly.
10. Treat Yourself
When you reach a goal—even a small milestone—reward yourself. Better yet, create a built-in reward system during your planning phase. Have you stuck to your exercise plan for the last month? Treat yourself to a massage. Have you been acing your tests? Enjoy a night out with friends.
Purdue Global: Helping People Reach Their Education Goal
If earning a college degree is part of your life's goals, learn more about Purdue Global. We offer 175+ online programs, from postsecondary certificates all the way to master's and doctoral degrees. Part of the respected Purdue University system, our online format is tailored to the unique needs of working adults. We can help you reach your goals. Check out our degree programs today.
---
Your Path to Success Begins Here
Learn more about online programs at Purdue Global and download our program guide.
Request Information