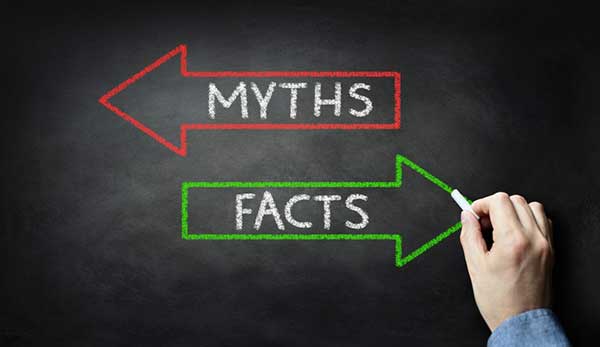 September 27, 2018 | Purdue Global
When online classes were first offered in the late 1990s and early 2000s, many people thought the programs were easy or that they weren't "real" degrees.
Of course, the popularity of online college has skyrocketed since the early days of the internet. In fall 2016 (the latest date for which data is available), almost 6.3 million Americans were taking at least one class online, and nearly 3 million of them were going to college exclusively online, according to the National Center for Education Statistics. Today, most online universities are accredited by agencies recognized by the U.S. Department of Education or Council for Higher Education Accreditation (CHEA) and offer degree programs with the flexibility needed to help you meet your work and family responsibilities.
Still, some misconceptions persist. If you're considering going to college online, don't fall prey to these common myths.
Myth #1: Online Education Is Easy
Online programs from reputable institutions adhere to academic standards and accreditation requirements. In addition, online learning requires excellent self-motivation and time-management skills. When you're enrolled in an online program, you're responsible for motivating yourself to attend school in the midst of the distractions and duties of life, such as managing a family or working. This requires discipline and a strong commitment.
Myth #2: The Quality of the Education is Lower
Similar to on-campus college courses, online courses from accredited universities have to meet certain criteria, curriculum, and standards. In addition, academic research suggests that there is little difference in the level of learning between online and traditional classroom experiences.
Myth #3: Online Schools Don't Accept Transfer Credits
A reputable online college will evaluate your past coursework and accept credits that meet their academic standards.
There may be other ways you can earn credits, too. For instance, at Purdue Global, you could earn credit for previously completed college courses, military training, or work experience. Get more information on transferring college credits to Purdue Global.*
Myth #4: Online Universities Are Not Accredited
Reputable online colleges will have either national or regional accreditation. Look up who accredited the school and what their standards are for accreditation. For instance, Purdue Global is accredited by The Higher Learning Commission (HLC).† Certain programs have additional programmatic approvals and accreditation as well.
The Council of Higher Education Accreditation (CHEA) publishes an annual report that includes a list of accrediting bodies charged with evaluating colleges and universities. Use lists like these to learn more about the institutional accreditation for the online or on campus programs you're considering.
Myth #5: You Don't Interact With Your Instructor or Other Students
Students in online learning programs can get involved in student organizations and regularly communicate with fellow students and faculty via email and message boards. Online faculty even offer office hours during which they meet with students via phone calls, video conferencing, and chat or text messaging. At Purdue Global, you can also meet with classmates and take advantage of onsite study areas at regional facilities.
Online Learning: More Accessible Than Ever
Online learning offers flexible scheduling and individually tailored programs that fit your needs from respected and accredited educational institutions. Learn how an online degree from Purdue Global can challenge you, empower you, and help you achieve your dreams. Request more information today.
---
---
Your Path to Success Begins Here
Learn more about online programs at Purdue Global and download our program guide.
Request Information