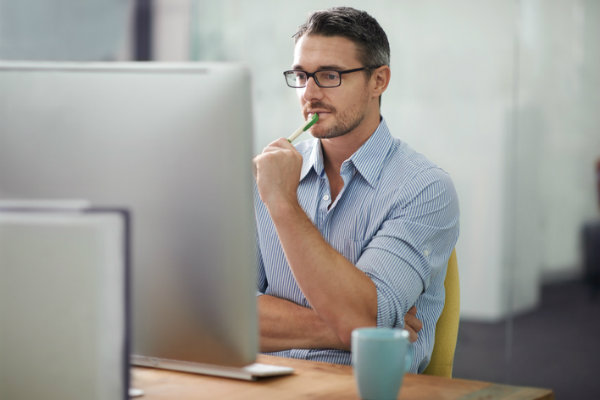 May 7, 2019 | Purdue Global
|
Updated June 30, 2020
In 2018, about 3.3 million students attended college exclusively online, according to the National Center for Education Statistics. Online learning provides many benefits for students who want flexibility while attending college. Some advantages include:
The ability to take courses on your schedule
The opportunity to learn on any connected device, without having to relocate or attend class in person
The opportunity to get to know students from different backgrounds in an online course setting
Between fall 2017 and fall 2018, the number of students who took at least some courses online grew 1.6% year-over-year. The benefits are clear, but online students may face some unique challenges compared to students who attend college on campus. Here are four issues to be aware of and how to overcome them.
1. Digital Literacy
To attend class online, you'll need a certain degree of technological proficiency—including the ability to successfully log in, participate in classes, submit work, and communicate with teachers and classmates.
This includes understanding online communication etiquette and knowing student rights and responsibilities in an online learning environment.
How to Overcome This Challenge
Choose a school that provides access to a full range of support services, including technical support by phone, email, and live chat, which you can access when you have tech questions.
Pay attention to how your instructors ask that you label and submit files, and adhere to those requirements. Keep in mind these netiquette best practices for the online learning environment:
Avoid typing in all caps (that's perceived as yelling).
Don't be sarcastic.
Contribute thoughtfully and meaningfully—only add comments or ask questions that are relevant.
Be respectful.
Online learning may be a little different than what you are used to, so don't be afraid to ask questions before you start participating in an online classroom.
You can learn more here about how online college works at Purdue Global.
2. Technical Issues
As an online student, you can access class wherever you have a connected device, but a strong internet connection is required. Low bandwidth and weak internet can affect how quickly you can connect and participate in class.
It may be easy to find a free Wi-Fi location, but the quality of that internet connection may be spotty. If you need to immediately work on something, you'll need a fast connection.
How to Overcome This Challenge
For an online student, a reliable internet connection is key. If you plan on doing a lot of schoolwork at home, you'll want a fast home internet connection. Opt for a high-quality home service, and know where to get help if you need technical assistance for your connection. It's also good to have a list of reliable, Wi-Fi connected places you can visit nearby, such as a public library or coffee shop.
3. Time Management
Best Colleges surveyed 1,500 online students and found convenience and flexibility were the top reasons why students chose an online format.
Flexible scheduling is great for online students, but they often need it because they have responsibilities outside of school, such as work and family. This can make juggling school, work, and personal responsibilities a challenge. Great time management skills are crucial to succeed.
How to Overcome This Challenge
There are only 24 hours in a day. When you add school to your already-busy schedule, you must use your time wisely.
Identify time-wasters. If you get distracted by social media or browsing the internet, use tools to block out these and other time-wasters when you need to focus on school. You can install a free website blocker app that blocks specific websites during certain times. When you complete a study task, reward yourself with a break to indulge in something fun and non-school related.
Break down responsibilities.Create a to-do list for the week or every day with what you need to get done. Break down large responsibilities into smaller tasks, and use your list to determine the best times of day to tackle each task. Try to establish routines that make time management practices more habitual and easier to adhere to.
Enlist help. Taking on the new challenge of being an online student means you'll have less time to do the things you were used to. Ask family members, your partner, or your roommates to help with certain tasks and errands around home as you embark on this new journey.
Avoid trying to multitask. It makes your work less effective and makes you less productive overall. Focus on completing one task at a time so you are constantly moving toward completing bigger goals.
Check out these additional time management tips for online students.
4. Motivation
Online learning requires motivation to complete tasks, stay engaged, and make progress. When you're not surrounded by classmates and instructors in a physical setting, it may be tempting to procrastinate.
Some online learners may start out fully engaged and then discover that their motivation wanes. When this happens, they may fall behind.
How to Overcome This Challenge
Lack of motivation is a common challenge for all types of students. Be aware that this may be an issue and know how to overcome it.
Show up. The more involved you are with your education, the more it's top of mind. Log in daily to see course updates and class discussions. Connect with other students and share questions or perspectives. Communicate with faculty. If you need help, ask for it.
Schedule study time.You should make school a part of your schedule so you already have the time blocked off to check in. Remember to focus on one task at a time and use your time management techniques to make your study sessions more effective.
Practice positive self-talk. Talking to yourself in affirming ways can help you stay focused on your goal and improve your confidence. Ultimately, you are the only person who determines your success. When you tell yourself positive statements regarding school, you'll start to ingrain those beliefs and reap the benefits.
It helps to keep your reason for pursuing your degree at the top of your mind, too; perhaps you want to provide a better life for your family or pursue your dream career.
Write down your reasons for attending school along with your short-term and long-term goals. Post them where you'll see them, and cross off goals as you achieve them. Share your vision with a loved one, and ask them to check in with you regularly so you stay accountable.
Here are more tips for how to stay motivated when you go to college online.
No Matter What Challenges You May Face, You're Not Alone
Online learning may be new and different, but it also allows you to take the courses you need to earn the degree you want—all in a supportive and convenient setting.
Even if you're facing challenges, believe that you can do this. Managing your time wisely and focusing on your goals are great ways to stay on track and accomplish what you want to get out of your program.
If you're interested in going to college online while continuing to work, check out Purdue Global—we're an accredited online university offering more than 175 degree programs.* Request more information today, and one of our friendly advisors will be in touch to discuss your goals.
---
Earn Your Degree Online
With more than 175 online programs, Purdue Global can help you achieve your educational and professional goals.
View our degree programs