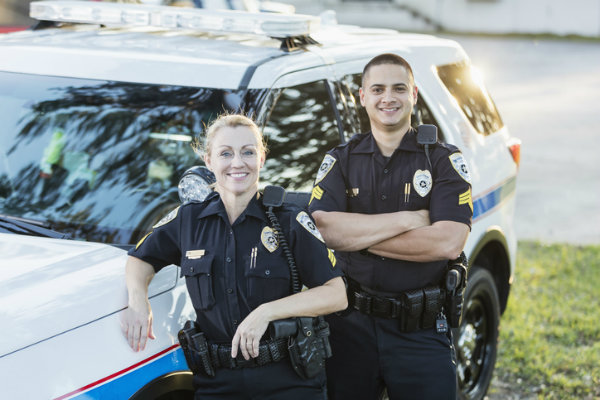 May 3, 2019 | Purdue University Global
An estimated 230,000 to 245,000 servicemembers leave the military each year, according to a report from the Watson Institute for International and Public Affairs. That's about 650 people a day who exit military life and start something new. If you're preparing to be one of them, you may be wondering: What's next for my career?
If you're contemplating a civilian career in criminal justice, this article can help. It examines how a criminal justice career may be a good fit for retiring servicemembers.
Military Training Lends Itself to a Career in Criminal Justice
"Civilian law enforcement is a military-type organization," says Kevin Nolan, a 32-year Army Military Police Corps veteran and member of the Military Outreach Team at Purdue University Global. "Civilian law enforcement appreciates the discipline that's been instilled in a soldier. They appreciate that they're going to be there on time, they're going to do the right thing, and they're going to accomplish the mission just as it's laid out.
"They also like the intrinsic values that are found in the military—things like loyalty, duty, respect, selfless service, honor, integrity, and personal courage. Those are not just words. We live by those every day."
In addition to the values that are learned in the military, servicemembers are also accustomed to high-stress and unusual situations, which are commonly encountered by those working in criminal justice.
The Military and the Criminal Justice Field Have Similar Cultures
Comparable training and values are not the only reason why a civilian criminal justice career might be a good fit for servicemembers. The two share a similar culture and sense of camaraderie.
"Servicemembers generally miss the excitement of being in the military, of being out on the line, of being in combat, and of doing those types of things," says Nolan. "When they transition, they often miss the brotherhood and excitement that comes with high-pressure situations.
"Plus, there's a real sense of serving your community in the military, and once you're all done, you may wonder, 'What do I do now?' A career in criminal justice can fulfill that."
What Types of Criminal Justice Jobs Might Be a Good Fit for Military Members?
Serving in civilian life as a police officer, firefighter, or other first responder is a priority for many younger servicemembers leaving the military.
"But for servicemembers who are a bit older and whose bodies won't take that level of activity anymore, many of them work in homeland security, on city or state drug task forces, in emergency management positions, or in private security," Nolan says.
Supervisory and managerial roles may also be a good fit, especially if you served for any length of time, as you were likely supervising people and developing plans as part of your military service.
A College Degree Is Becoming Increasingly Important to Civilian Career Success
It's important to note that many roles in the criminal justice field require a college degree to be considered for a position. For example, Nolan says that many younger servicemembers want to go into the FBI, "but, of course, one of the requirements for the FBI is a degree."
Servicemembers transitioning out of the military have tremendous opportunities to get degrees. In most cases, you can earn a Purdue Global degree with a significantly reduced tuition rate and associated fees. For more information, read this guide to Purdue Global's military benefits.*
What Can You Do With a Criminal Justice Degree?
With a Bachelor of Science in Criminal Justice, you may qualify for careers in†:
Law enforcement
Corrections
Homeland security
Cybercrime counterterrorism
Crime scene investigation
Fraud investigation
Parole and probation
Purdue Global Is Dedicated to Helping Military and Veteran Students Succeed
If you're preparing to leave the military, read our article, 5 Tips for Transitioning From Military Service to the Civilian Workforce. It includes advice and resources to help with the transition.
And if a career in criminal justice interests you, learn more about the online Bachelor of Science in Criminal Justice at Purdue Global. When you're ready to talk to one of our military advisors, please reach out.