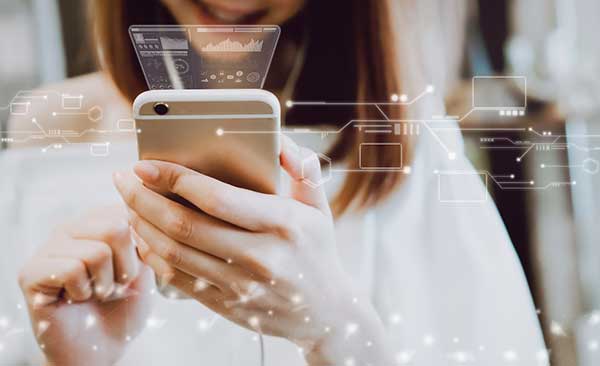 April 20, 2018 | Purdue Global
|
Updated April 12, 2022
It's no wonder information technology professionals are in high demand. Everything from vehicles to homes to the devices we wear is becoming connected, and organizations rely on technology more than ever. As the world increases its reliance on technology, the field of IT also grows.
The U.S. Bureau of Labor Statistics (BLS) Occupational Outlook Handbook reports that employment in the computer and information technology fields is expected to grow 13% from 2020 to 2030.* Software developers, computer network architects, information security analysts, computer and information systems managers, database administrators, and many more skilled professionals are needed to drive innovation and protect systems from cyber threats.
Here are five technology trends in 2022 affecting the state of IT today.
IT Trend 1: Automation
Next-level process automation and virtualization ties together several different technologies, according to a study by McKinsey and Company. These technologies will accelerate time to market, improve operational efficiency, and streamline routine tasks. According to McKinsey, 50% of today's work activities could be automated in the next few decades, spurring powerful changes to the future of work, labor costs, and public policy.
Today's IT professionals create the technology that makes automation more efficient, but the IT professionals of the future will recommend and develop unique solutions that use this technology.
>> Download our Free Ebook: How Automation and AI Will Affect the Future of Work
IT Trend 2: Machine Learning
Effective machine learning is needed for tasks to be successfully automated. In addition to focusing on automation, expect organizations to ramp up artificial intelligence usage in both in-house processes and external services. According to Deloitte's Tech Trends 2021 report, machine learning is increasingly becoming a key driver of organizational performance, poised to "overhaul enterprise operations and decision-making."
IT professionals optimize machine learning and make it more accurate for organizations, businesses, and customers. Machine learning is already powering self-driving cars, online recommendations, and brand sentiment collection from customer feedback and reviews.
Operating systems, hardware, and in-house software can provide data that can be analyzed with machine learning to predict trends and patterns, which can also help organizations protect themselves from fraud and cybersecurity threats.
IT Trend 3: Cybersecurity
Although cybersecurity is nothing new, damages from cybercrime are expected to rise to $10.5 trillion annually by 2025, up from $6 trillion in 2021,according to Cybersecurity Ventures. Cybersecurity spending is projected to exceed $1.75 trillion from 2021 to 2025, the company says. The increase in threats could triple the number of cybersecurity jobs, with information security analyst jobs expected to grow by 33% from 2020 to 2030, according to the BLS.
Expertise in combating cyber threats will be an essential skill for IT professionals. This type of crime permeates the lives of all computer users and requires experts who can fight it. National security, business dealings, infrastructure, and more are all vulnerable to cyber threats. Using machine learning and automation to detect threats, IT pros can alert stakeholders to risks their organizations are facing and more proactively manage such risks.
>> Read: The 12 Most In-Demand Cybersecurity Skills You Need to Be Successful
IT Trend 4: Cloud Computing
The exclusive use of physical servers continues to diminish as more systems move to the cloud. According to the Cloud Services Market by Service Type, Cloud Type, Enterprise Size and Industry Vertical: Global Opportunity Analysis and Industry Forecast, 2020–2027, the cloud services market size was valued at $264.80 billion in 2019 and is projected to reach $927.51 billion by 2027, growing at a CAGR of 16.4% from 2020 to 2027.
As the need for data collection becomes more prevalent, so does cloud adoption. Cloud computing expertise is a required skill for most IT professionals today and will be more necessary for organizations across diverse industries.
>> Learn more: 5 Great Reasons to Work in Cloud Computing
IT Trend 5: Internet of Things
Connected devices are everywhere, from smart watches and in-car navigation systems to vacuums, farm robots, cameras, and health care equipment. The global Internet of Things (IoT) market is expected to reach $1,319 billion by 2026, according to a report published by Verified Market Research, and there will be more than 75 billion connected devices by 2025, according to a report from Security Today.
Businesses will come to rely on more intelligent things in the office, too, from smart boards to remote video capabilities. If the objects we use in everyday situations can be made more efficient with technology, look for innovators to create ways to make it so.
IT Is More Important Than Ever
IT is continually changing and evolving, making this an exciting field to enter. With the projected job growth for IT experts moving at a faster than average pace, pursuing an education in IT can open the door to an array of fulfilling opportunities. Consider joining associations such as:
If you're interested in earning a higher education in information technology, learn more about online information technology degrees and certificates from Purdue Global. Request more information today.