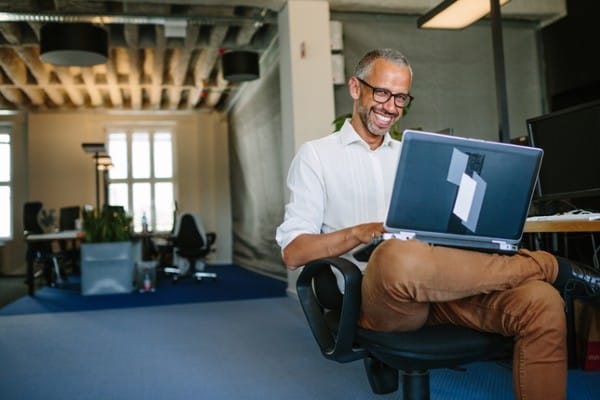 December 9, 2021 | Purdue Global
The business field just keeps growing. Employment in all business and financial operations jobs is projected to grow 8% from 2020 to 2030, about as fast as average for all occupations, according to the U.S. Bureau of Labor Statistics.*
Business development managers, or business developers, are vital to this growth. Business developers can be in entry-level positions right out of college, all the way up to CEO and other C-suite positions.
Blake Escudier, Purdue Global Faculty in the School of Business and Information Technology, helps us understand the duties and responsibilities of a business developer.
What Is Business Development?
Business development involves developing and implementing growth opportunities within and between organizations. The goal is to create long-term value from customers, markets, and relationships.
"Business development incorporates marketing and sales," Escudier says, "but there's much more to it."
While marketing focuses on reaching a wider audience, and sales typically leverages a one-to-one approach, business development seeks to grow a business. The goal is more than to increase profits; it's to make intelligent business decisions for the overall health of a business.
What Does a Business Development Manager Do?
A business developer's role is to contribute innovative ideas to help a company grow within its industry. They conduct market research and analyze a company's current products and services to identify opportunities to increase customer engagement.
Among the business developer's day-to-day roles, according to Indeed, are as follows†:
Coordinate with sales teams to develop mutually beneficial proposals
Develop and maintain client relationships
Gather actionable information from customer and competitor data
Identify and research potential clients
Make and give presentations to prospective clients and internal executives
Monitor project teams to ensure contracts are executed as agreed
Negotiate contract terms with clients and communicate with stakeholders
Business developers must stay knowledgeable about the current market to effectively target opportunities for growth. They are expected to have expert knowledge of their target audience and to engage with prospects to generate new business.
What Are the Skills Required for Business Development?
Business development requires a wide range of skills, from marketing to sales to project management and more.
"The skills could be very broad, depending on what level you're working on with the company," Escudier says. "But everyone in a company, in their own way, is doing business development just by doing their job."
Among the most common necessary skills are as follows:
Customer Service and Communication
Business developers must be able to write and speak confidently and clearly. They must call prospects, maintain long-term relationships with strategic partners, listen to concerns of potential clients, and share valuable information with stakeholders.
Marketing
Business developers need to have a basic understanding of marketing concepts in order to position goods and services effectively. Business developers should be able to analyze new markets, understand the competition, and identify and educate new target prospects.
Negotiation
A business developer should be able to negotiate. They must generate leads and keep them engaged as they move through the sales funnel, even though they might not be the one responsible for closing deals.
Planning and Project Management
Business development is an involved process, so managing it closely is vital to a business developer's success. Some of the skills needed to be a great project manager carry over to the business development industry, including leadership, team management, and personal organization.
Forecasting and Data Analysis
Business development professionals must know how to analyze data to forecast future trends and use that data to present to managers and executives. The metrics business developers track will vary depending on the sales cycle, needs of the company, and industry.
Sales Management
Similar to sales professionals, a business development professional must be able to identify members of the company's target audience and effectively find and follow up on opportunities for growth. Business developers typically work closely with sales team members to move prospects along the sales process.
Who Is a Good Fit for Business Development?
"Individuals who want to grow their career would be a good candidate for business development," Escudier says. "They think, 'What can I do to help my company?' That's what business development is all about."
According to the U.S. Chamber of Commerce, business development candidates benefit from these traits:
Adaptability: Good business developers don't take rejection personally, seeing it instead as a learning opportunity. They shift gears as needed to get positive results.
Listening: Good business developers should always be listening to clients and other employees. They need to take time to understand the client's needs and then tailor their pitches.
Negotiating: This goes hand in hand with listening. Working with your client and then finding the best way to negotiate with them will benefit the company.
Relationship and Trust Building: Business developers realize that potential clients prefer people they know, like, and trust. Successfully building relationships involves being trustworthy and collaborative.
How Do You Become a Business Development Manager?
Becoming a business development manager will require a mix of education and experience. Here are four steps you can take to help you enter business development:
Get an education. According to Indeed.com, many employers will require you to have a bachelor's degree in business administration or management, or other related fields, possibly with specializations in business development. You could also pursue a master's degree to increase your value.
Find a mentor. A good mentor will help you expand your professional network and teach you more about launching a career as a business development manager. You could seek out a teacher, former manager, fellow alumni from your school, or any other experienced professional who could share their experiences, guidance, and advice.
Develop a range of skills. Work on the hard skills listed above, such as marketing, sales, and project management, along with soft skills like listening and planning. You should also be familiar with customer relationship management software, spreadsheets, word processing, and business presentation software.
Consider career goals. As a business development manager, you can climb the ranks through senior management, or you can start your own business. Focus on your goal and focus your knowledge and skills on that outcome.
What Is the Future of Business Development?
Business development is a growing field. Business development positions are the sixth most in-demand emerging job roles, according to the 2020 Future of Jobs Survey, conducted by the World Economic Forum.‡
10 Jobs With Increasing Demand Across Industries
| Ranking | Job Title |
| --- | --- |
| 1 | Data Analysts and Scientists |
| 2 | AI and Machine Learning Specialists |
| 3 | Big Data Specialists |
| 4 | Digital Marketing and Strategy Specialists |
| 5 | Process Automation Specialists |
| 6 | Business Development Professionals |
| 7 | Digital Transformation Specialists |
| 8 | Information Security Analysts |
| 9 | Software and Applications Developers |
| 10 | Internet of Things Specialists |
Escudier says he sees a growth in open positions in business development.
"One online job search company shows over 33,000 different jobs for the term 'business development' right now," he says. The reasons are simple.
"Every business wants to maintain their position and not fail. Therefore, the company has to invest in business development," Escudier says. "Today, with advances in technology and information access, with the potential for more of the internet of things and artificial intelligence, business development experts are going to have more data available to evaluate and to do their jobs better."
Begin Your Career in Business Development
Purdue Global offers several paths to achieve the skills you need for a career in business development. Among the degrees you can explore are as follows:
Find out more by contacting Purdue Global today.
---
Your Path to Success Begins Here
Learn more about online programs at Purdue Global and download our program guide.
Request Information